Ecommerce
Les outils du ecommerçant open source (1) - Capitaine Commerce : Comme pendant à mon billet sur le ecommerce à domicile, voici quelques outils que j'utiliserai pour m'aider dans mon activité de e-commerçant.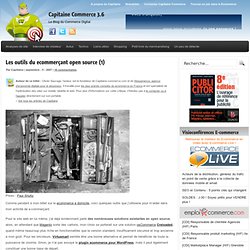 Pour le site web en lui même, j'ai déjà évidemment parlé des nombreuses solutions existantes en open source, alors, en attendant que Magento sorte des cartons, mon choix se porterait sur une solution osCommerce Creloaded, quand même beaucoup plus riche en fonctionnalités que la version standard, insuffisament sécurisé et trop ancienne à mon goût. Pour les bricoleurs, Virtuemart semble être une bonne alternative et permet de bénéficier de toute la puissance de Joomla. Envie d'entreprendre: Manuel pour cyber-commerçant autodida. Fonctionnalités complètes - Lengow. Lengow creates optimized product feeds for more than 350 CSEs in France and the rest of Europe every day.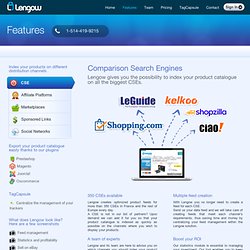 A CSE is not in our list of partners? Upon demand we can add it for you so that your product catalogue is indexed as quickly as possible on the channels where you wish to display your products. With Lengow you no longer need to create a feed for each CSE. Send us your data feed and we will take care of creating feeds that meet each channel's requirements, thus saving time and money by centralizing your feed management within the Lengow solution. Lengow and its team are here to advise you on which channels you should index your product catalogue according to your data feed and your budget. Rhoo. Ecommr: a collection of e-commerce interface and design elements. Www.deguilhermier.com. Fred's Home.
Etsy - Your place to buy and sell all things handmade.
---