Blog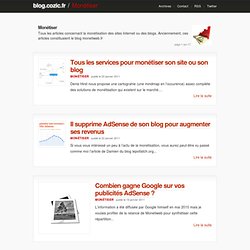 Denis Hirst nous propose une cartograhie (une mindmap en l'occurence) assez complète des solutions de monétisation qui existent sur le marché.... Si vous vous intéressé un peu à l'actu de la monétisation, vous aurez peut-être vu passé comme moi l'article de Damien du blog lepotlatch.org... L'information a été diffusée par Google himself en mai 2010 mais je voulais profiter de la relance de Monetiweb pour synthétiser cette répartition... J'ai profité du coup jeune donné à Monetiweb cette nuit pour modifier pas mal de choses dans les URLs du blog (changement du domaine .com vers... iAdvize est une solution de click to chat qui permet de répondre en direct à ses visiteurs et de les orienter vers la solution ou le produit qui répondra... Sur monetiweb.fr, nous vous avons souvent présenté des solutions de monétisation pour les blogs et notamment pour WordPress.
Three Minds On Digital Marketing @ Organic
News 08.28.2013 To commemorate the 50th Anniversary of the March on Washington and Dr. King's "I Have a Dream" speech, Organic in partnership with the National Park Foundation and Google, created an immersive and shared web and mobile experience, http://WeAreStillMarching.com 06.02.2013 AdAge's annual special report on women to watch in the advertising industry highlights Anna Banks, Organic's VP, Strategy. 05.23.2013 As part of the team behind Kimberly-Clark's U by Kotex "Break Up" and Depend "Great American Try On" programs, Organic received two Gold, two Silver and two Bronze awards. 04.23.2013 As part of our work for Kimberly-Clark's Depend brand, Organic and partner agencies were awarded a Gold medal at this year's Shopper Marketing Effie Awards. 07.18.2012 David Shulman has been named CEO of Organic, a leading digital marketing agency. Mr. Shulman joins from Wunderman, New York where he served as President.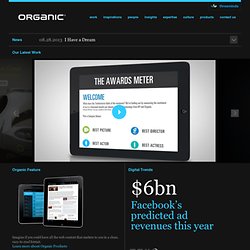 regarde : le blog des tendances et des curiosites creatives! Art