Agency
DELASOURCE : agence de production cross-media. Take Away Thinking. Cannes Lions Winners, Shortlists and Entries Listing: Cyber Lion. Eligibility dates1 March 2013 - 30 April 2014 Fees€500 per entry New categoriesThere is a new list of categories that reflect changes in the digital industry.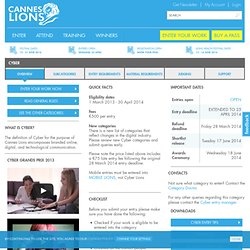 Please review new Cyber categories and submit queries early. Please note the price listed above includes a €75 late entry fee following the original 28 March 2014 entry deadline. Mobile entries must be entered into MOBILE LIONS, not Cyber Lions. 2Advanced Studios. Electric pulp, an interactive agency. we build websites. Hello | Erskine Design | Web design and development, Nottingham, User experience and web design consultants | Clearleft Ltd.
iPhone Development | Adobe AIR / Flex Development | Ajax Develop. MetaLab: We make interfaces. Rezoactif | Consulting SEO & Création de sites et blogs. Welcome to Cherp, Twitter Marketing and Branding Agency. Crispin Porter + Bogusky. - Sid Lee - Hello it's nice to meet you / SUM.
---