Agency
DELASOURCE : agence de production cross-media
Take Away Thinking
Eligibility dates1 March 2013 - 30 April 2014 Fees€500 per entry New categoriesThere is a new list of categories that reflect changes in the digital industry. Please review new Cyber categories and submit queries early. Please note the price listed above includes a €75 late entry fee following the original 28 March 2014 entry deadline. Checklist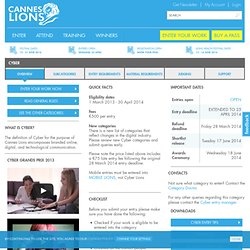 Cannes Lions Winners, Shortlists and Entries Listing: Cyber Lion
Hello, We're Electric Pulp We create beautiful things for web & mobile. Have an idea? We're here to help you get it off the ground.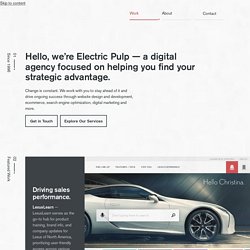 Hello | Erskine Design | Web design and development, Nottingham,
Weeknotes #42 It's a quiet week in 68 Middle St whilst much of the production team are working away from home. From Business To Buttons From Business To Buttons returned to Stockholm after a 5 year hiatus this month. We were invited to attend by a dear friend, the first ever Clearleft intern Emil Björklund. How could we refuse?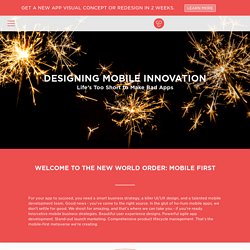 Are you an industry thought leader with a strong network in mobile, cloud, or web and the ability to build new business? Fed up with endless meetings, stifling bureaucracy, and caps on your potential? Explore a unique opportunity to drive your own future as Sourcebits Studio Director.
Rezoactif | Consulting SEO & Création de sites et blogs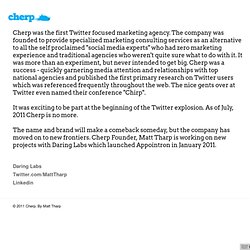 Cherp was the first Twitter focused marketing agency. The company was founded to provide specialized marketing consulting services as an alternative to all the self proclaimed "social media experts" who had zero marketing experience and traditional agencies who weren't quite sure what to do with it. It was more than an experiment, but never intended to get big. Cherp was a success - quickly garnering media attention and relationships with top national agencies and published the first primary research on Twitter users which was referenced frequently throughout the web.
Welcome to Cherp, Twitter Marketing and Branding Agency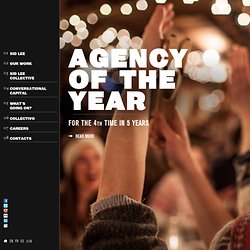 Vice-President, Account Group, Partner With Sid Lee since 2006 and having a passion for digital communications and content. The branded content produced by his team far surpasses the limits of traditional methods of communication. Stephane is in charge of the branded content for the whole Sid lee offices. Vice-President, Strategy, Partner
Hello it's nice to meet you / SUM