Psychology
Applied Behavior Analysis — ABA info to help your child with autism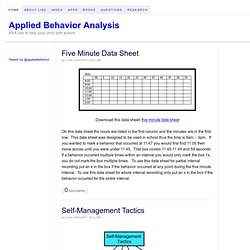 Early Autism Project (EAP), a leading provider of ABA therapy for children, is in search of motivated Board Certified Behavior Analysts (BCBAs) and Board Certified Assistant Behavior Analysts (BCaBAs) who are inspired to serve children who have autism or other related disorders. EAP is expanding its reach to provide ABA services throughout the country and is currently seeking candidates to staff programs in Georgia (Valdosta, & Savannah), South Carolina (Fort Mill, Rock Hill, Charleston, Columbia, Greenville, Aiken & Beaufort areas), Seattle Washington area, and the Washington, DC market. In general, our Applied Behavior Analysts are responsible for developing and supervising home, clinic and school-based ABA programs to meet the individual needs of our clients.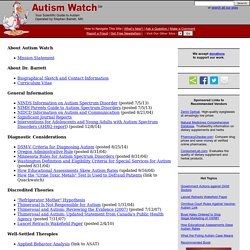 Autism Watch
About Autism Watch Mission Statement About Dr.
Psychology is the study of the human mind and mental processes in relation to human behaviors - human nature. Due to its subject matter, psychology is not considered a 'hard' science, even though psychologists do experiment and publish their findings in respected journals. Some of the experiments psychologists have conducted over the years reveal things about the way we humans think and behave that we might not want to embrace, but which can at least help keep us humble. That's something. 1.