Psychology
Applied Behavior Analysis — ABA info to help your child with autism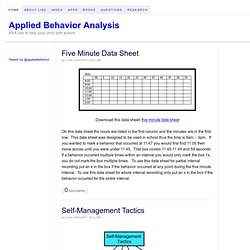 I recently had the following email exchange with someone who passed the BCBA exam and is highly recommending Dr. Weinberg's study materials. The emailer has asked that I share this information with you. Also while the emailer did not benefit from the BDS modules I feel very differently and really loved the BDS modules. At the end of this post please let me know how you feel about the study materials you used. Emailer: I had been reading your website while I was preparing to take the BCBA exam to get whatever information that I could to help me focus in the right direction for studying.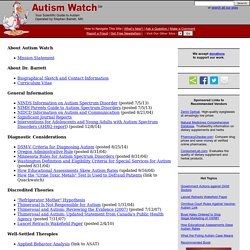 Autism Watch
About Autism Watch Mission Statement About Dr.
Psychology is the study of the human mind and mental processes in relation to human behaviors - human nature. Due to its subject matter, psychology is not considered a 'hard' science, even though psychologists do experiment and publish their findings in respected journals. Some of the experiments psychologists have conducted over the years reveal things about the way we humans think and behave that we might not want to embrace, but which can at least help keep us humble. That's something. 1.