Video 4
Guitar -Django Reinhardt and Stefan Grappe. New Internet. AOL Interview. House Rejects Net Neutrality. Live Network of Webcams and Streaming Vide. Welcome to the EarthCam Network!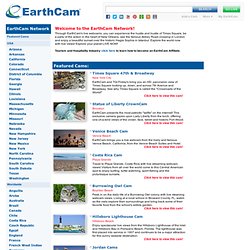 Through EarthCam's live webcams, you can experience the hustle and bustle of Times Square, be a party of the action in the heart of New Orleans, see the famous Abbey Road crossing in London and enjoy a beautiful sunset over the historic Hagia Sophia in Istanbul. Explore the world now with live views! The Little Girl Giant. Liquid Nitrogen Into A Swimming. Internet Selected Lectures sereis#1. Watch. Pump Cast New. Oui oui oui. Meteorite collision... averted! MAtrix Ping Pong. Gizmo Flushe. Evolution of Dance.
Breackdance. Where the Hell is Matt? Free Hugs Campaign. Inspiring St. 505706. Proper use of a firecracker roll. Flexible Gymnast. Stevie Ray Vaughan Guitar Lesson. BumpTop 3D Desktop Prototype. The Simpsons UK Promo.
More Google TechTalk Video. More Google TechTalk Videos There are many TechTalks on Google Video (some of them new), including: The Science and Art of User Experience at Google A Talk by Jen Fitzpatrick, an Engineering Director at Google (June 7, 2006) Evaluating Similarity Measures: A Large-Scale Study in Orkut Social Network A talk by Ellen Spertus, Software Engineer at Google (June 21, 2006) Building Large Systems at Google A talk by Narayanan Shivakumar, a Google Distinguished Entrepreneur (May 31, 2006) 15 Views of a Node Link Graph: An Information Visualization Portfolio A presentation by Tamara Munzner from the University of British Columbia (June 28, 2006) Computers vs Common Sense Dr.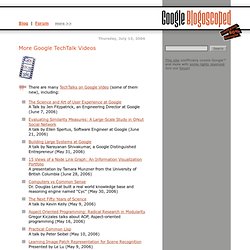 This is hot. Cétait un rendez-vous. E. O. Wilson - Wikipedia, the free encyclo. Edward Osborne "E.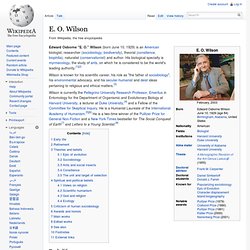 O. " Wilson (born June 10, 1929) is an American biologist, researcher (sociobiology, biodiversity), theorist (consilience, biophilia), naturalist (conservationist) and author. His biological specialty is myrmecology, the study of ants, on which he is considered to be the world's leading authority.[1][2] Wilson is known for his scientific career, his role as "the father of sociobiology", his environmental advocacy, and his secular-humanist and deist ideas pertaining to religious and ethical matters.[3] Noah takes a photo of himself ev. KRAFTWERK The Model(LIVE?) Kraftwerk - We are the robot. Watch. Myths about the developing world (Amazing. David Elsewhere Kollaboration Breakdancing.
Natural Hallucinogen.
---