Tutorial
A First Guide to PostScript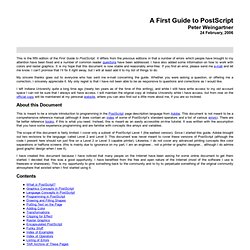 A First Guide to PostScript Peter Weingartner 24 February, 2006 This is the fifth edition of the First Guide to PostScript. It differs from the previous editions in that a number of errors which people have brought to my attention have been fixed and a number of common reader questions have been addressed. I have also added some information on how to work with colors and raster graphics.
Step by step tutorials on using CSS to create background image lists, rollover lists, nested lists and horizontal lists. Go to Listutorial. Step by step tutorials on using CSS to create floating images, images with captions, next and back buttons, drop caps, inline lists and more. Go to Floatutorial. The structure of rules, the document tree, types of selectors and their uses.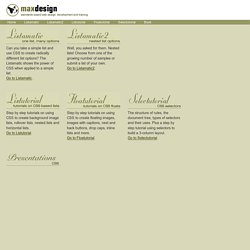 Cross Knot
Here's a little project that we've been working towards for a long time: a custom-painted leather flight jacket ("bomber jacket") featuring the "Classic Lego Space" logo. (Yes, I totally spent years serving in the Lego space corps!) And, if you've ever wanted to make your own painted leather jacket — whatever the theme — here's how to do it.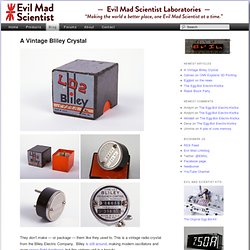 Evil Mad Scientist Laboratories - How to make the simplest elect
The Programmers Stone
How To Write Unmaintainable Code
Use this website to create a PDF file which can be printed and folded to create a paper CD case. For folding directions, see the about section. To add more tracks, a mailing address, or graphics to the case, use the advanced form. Mix CD cases created with the advanced form can be optionally added to our public mix CD database. To create a case for an existing CD, use our CD search engine to find the CD and it will fill in this form for you. Jewel case inserts can also be created.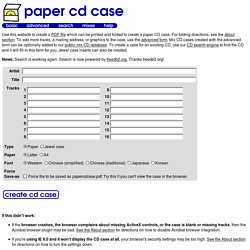 om3ga: Scratched CDs? No Problem!
amp; Professionally Fold Yo
Download a 12 sided calendar Download a dodecahedral calendar. You can choose between PostScript and PDF format. Choose PostScript format if you want to mark holidays and birthdays. The PostScript file explains how to do it.