Svm
Machine Learning and Data Mining Group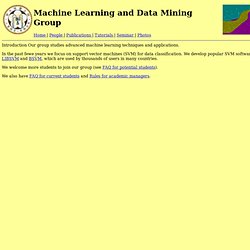 Introduction Our group studies advanced machine learning techniques and applications. In the past fewe years we focus on support vector machines (SVM) for data classification. We develop popular SVM software LIBSVM and BSVM, which are used by thousands of users in many countries. We welcome more students to join our group (see FAQ for potential students). We also have FAQ for current students and Rules for academic managers.
Machine Learning Group at National Taiwan University Contributors We recently released LibShortText, a library for short-text classification and analysis. It's built upon LIBLINEAR.
LIBLINEAR -- A Library for Large Linear Classification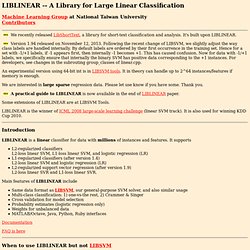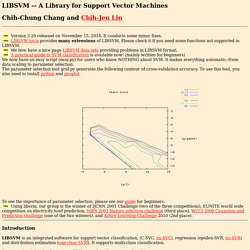 LIBSVM -- A Library for Support Vector Machines Chih-Chung Chang and Chih-Jen Lin Version 3.18 released on April Fools' day, 2014. It conducts some minor fixes.
SVM - Support Vector Machines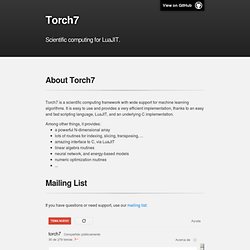 Torch3: The Dream Comes True
About Torch7 Torch7 is a scientific computing framework with wide support for machine learning algorithms. It is easy to use and provides a very efficient implementation, thanks to an easy and fast scripting language, LuaJIT, and an underlying C implementation. Among other things, it provides: a powerful N-dimensional array lots of routines for indexing, slicing, transposing, ... amazing interface to C, via LuaJIT linear algebra routines neural network, and energy-based models numeric optimization routines ...