Russia
Google Answers Returns, But Only in Russia. After closing Google Answers last year, Google launched a new version of the service, this time only in Russian (here's the English translation, powered by Google Translate).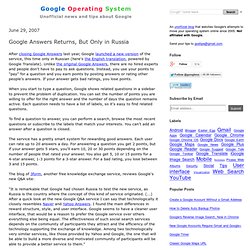 Unlike the original Google Answers, there are no hired experts and people don't have to pay to ask questions. Instead, you use your points to "pay" for a question and you earn points by posting answers or rating other people's answers. If your answer gets bad ratings, you lose points. Russian Family Bistro - San Bruno. Six Apart Sells LiveJournal to Russia's SUP.
Google Launches "Question and Answers" In Russia. Googling Google reports Google Russia has launched a Questions & Answers service in Russia.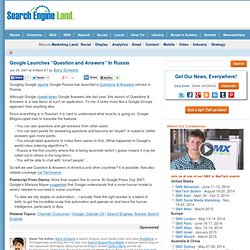 Although Google closed down Google Answers late last year, this launch of Questions & Answers is a new flavor of such an application. To me, it looks more like a Google Groups approach than anything else. Since everything is in Russian, it is hard to understand what exactly is going on. Google Blogoscoped tries to translate the features: - You can ask questions and get answers from other users. - You can earn points for answering questions and become an "expert" in subjects; better answers gain more points. - You should label questions to make them easier to find. Официальный блог - Google Россия. Anatoly Vorobey's journal. Google Russian Translator. Google Translate added a new language: Russian.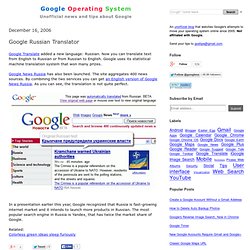 Now you can translate text from English to Russian or from Russian to English. Google uses its statistical machine translation system that won many prizes. Gary Colet- The State of Knowledge Ma. My trip was in order to spend a fascinating 2 days in Moscow with fellow speakers Jerry Ash, Chris Collison and Richard Cross at the very first Knowledge Management conference in Russia.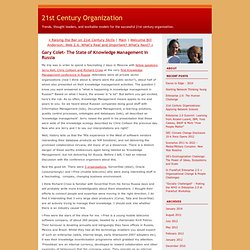 Attendees were all private sector organizations (now I think about it, where were the public sector?) , about half of whom also presented on their knowledge management activities. The question I know you want answered is "what is happening in knowledge management in Russia?" Valeriy Siutkin - Daleko. Tatu - Not gonna get u. Pachka sigaret. Kino - Viktor Tsoy - Gruppa Krov. Gruppa Krovi. DDT - Dozhd. DDT - Chto Takoe Osen. The Empire That Was Russia: The Prokudin-G. The photographs of Sergei Mikhailovich Prokudin-Gorskii (1863–1944) offer a vivid portrait of a lost world—the Russian Empire on the eve of World War I and the coming revolution.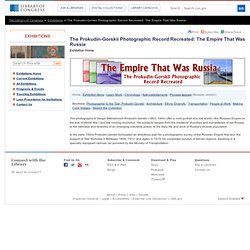 His subjects ranged from the medieval churches and monasteries of old Russia, to the railroads and factories of an emerging industrial power, to the daily life and work of Russia's diverse population. In the early 1900s Prokudin-Gorskii formulated an ambitious plan for a photographic survey of the Russian Empire that won the support of Tsar Nicholas II. Between 1909–1912, and again in 1915, he completed surveys of eleven regions, traveling in a specially equipped railroad car provided by the Ministry of Transportation. AMBAR: Main Page.
---