Reputation
ScholarlyCommons@Penn - Andrew G. West, Sampath Kannan, Insup Le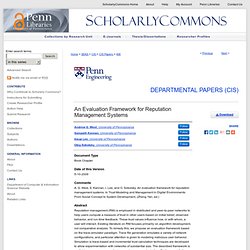 Abstract
Two points: It seems a question of scope is in order here; what exactly is the purpose of a recommendation system? Is it a system to forward to users that which they want to see, or is it a system that suggests various opinion of high quality to users?
Startup News | Distributed karma: an idea for fixing recommendat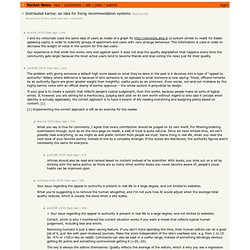 Home Page - Luca de Alfaro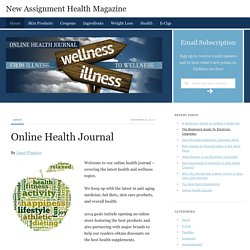 A Community Driven to Do The Right Thing -- Social News Sites Fi
A frequent theme at NewAssignment.Net has been the proliferation of socially driven news sites into offbeat territories.
Intro: I was part of a group of people asked by Beth Noveck to advise the Community Patent review project about the design of a reputation and ranking system, to allow the widest possible input while keeping system gaming to a minimum.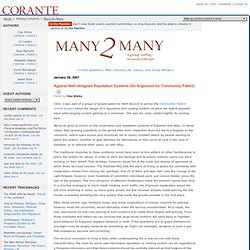 Against Well-designed Reputation Systems (An Argument for Commun
Reputation Managers are Happening (Alertbox Sept. 1999)
Manifesto for the Reputation Society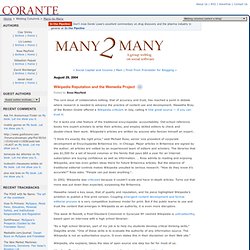 The core issue of collaborative editing, that of accuracy and trust, has reached a point in debate where research is needed to advance the practice of content use and development.
Wikipedia Reputation and the Wemedia Project
Reputation management
Reputation management is the practice of understanding or influencing an individual's or business's reputation .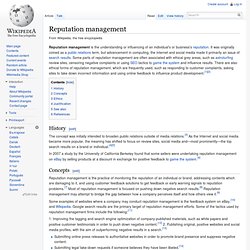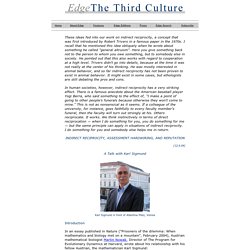 INDIRECT RECIPROCITY, ASSESSMENT HARDWIRING, AND REPUTATION: A T
These ideas fed into our work on indirect reciprocity, a concept that was first introduced by Robert Trivers in a famous paper in the 1970s. I recall that he mentioned this idea obliquely when he wrote about something he called "general altruism".