incentives
Get flash to fully experience Pearltrees
Для выявления самых активных пользователей на проекте Ответы@Mail.Ru используется система баллов и рейтингов.
Interesting news from Jensense - Yahoo is trying out yet more revenue sharing, this time paying users of Yahoo Answers .
To encourage participation and reward great answers, Yahoo! Answers has a system of points and levels. The number of points you get depends on the specific action you take.
by Oliver Reichenstein After looking closer at what made the web in 2006 , it is time for some bold predictions:
I've been mulling over an idea for several months now. It goes something like this:
Every managerial generation rediscovers the need for innovation to drive growth but, decade after decade, "grand declarations about innovation are followed by mediocre execution that produces anemic results, and innovation groups are quietly disbanded in quiet cost-cutting drives."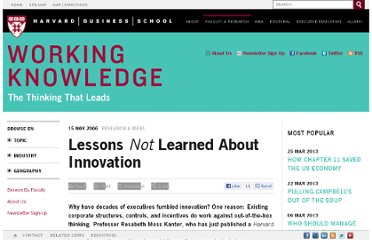 "What gets measured is what gets done" is an old business maxim that's as relevant today as ever. Sure, companies that win big today play by different rules. But they still have to keep score -- whether they're building for future growth or living on past accomplishments. What's particularly interesting about companies that change the game is that they often find new ways to measure their performance. We asked the leaders of 12 organizations -- from the CEO of Sun Microsystems to the dean of the London Business School to the commissioner of the Women's National Basketball Association -- to identify the metrics that matter most to them. What indicators do they track to determine whether their organization measures up?