Health
The Atlantic Online | November 2009 | Does the Vaccine Matter? |
Whether this season's swine flu turns out to be deadly or mild, most experts agree that it's only a matter of time before we're hit by a truly devastating flu pandemic—one that might kill more people worldwide than have died of the plague and aids combined. In the U.S., the main lines of defense are pharmaceutical—vaccines and antiviral drugs to limit the spread of flu and prevent people from dying from it. Yet now some flu experts are challenging the medical orthodoxy and arguing that for those most in need of protection, flu shots and antiviral drugs may provide little to none. So where does that leave us if a bad pandemic strikes?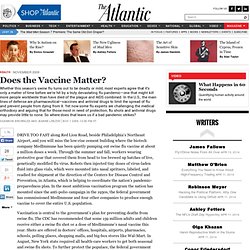 100 Excellent Web Tools for Healthy Eating - Nursing School Sear
Waist is usually measured at one inch above the navel. Body-Mass Index (BMI) The body-mass index (BMI) is calculated by dividing your weight (in kg) by the square of your height (in meters).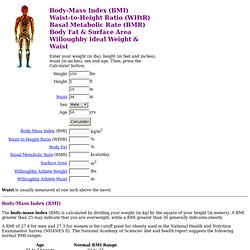 Body-Mass Index, Waist-to-Height Ratio and More...
New Ways To Fight Aging
Results from a new study in laboratory mice show that nighttime exposure to artificial light stimulated the growth of human breast tumors by suppressing the levels of a key hormone called melatonin. The study also showed that extended periods of nighttime darkness greatly slowed the growth of these tumors. The study results might explain why female night shift workers have a higher rate of breast cancer.
New Research Shows Artificial Light at Night Stimulates Breast C