Health
Body-Mass Index, Waist-to-Height Ratio and More... Waist is usually measured at one inch above the navel.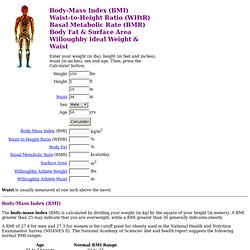 Body-Mass Index (BMI) The body-mass index (BMI) is calculated by dividing your weight (in kg) by the square of your height (in meters). 10 Machines You Shouldn't Use - Page 1 - MSN Health & F. New Ways To Fight Aging. New Research Shows Artificial Light at Night Stimulates Breast C.
Results from a new study in laboratory mice show that nighttime exposure to artificial light stimulated the growth of human breast tumors by suppressing the levels of a key hormone called melatonin.
The study also showed that extended periods of nighttime darkness greatly slowed the growth of these tumors. The study results might explain why female night shift workers have a higher rate of breast cancer.
---