flash
Get flash to fully experience Pearltrees
with linux_base-f10 and flash player10 i can get flash ,after that run firefox from command line and see if any missing module ,let say you get: Code: libltdl.so.3: cannot open shared object file: No such file or directory go to pbone.net search for it and then download it (you have download the package you are run in emulator in our case is fedora 10) . $ wget download.fedora.redhat.com/pub/fedora/linux/releases/10/Fedora/i386/os/Packages/libtool-ltdl-1.5.26-4.fc10.i386.rpm now exract the rpm content and move it to /compat/linux rpm2cpio libtool-ltdl-1.5.26-4.fc10.i386.rpm | cpio -idv you will find in current directory usr or lib that is depend in the content of package and how the hirachi of lib's .
Finally - Adobe have released Flash 9 for Linux . I have been using the beta version of Flash 9 for some time now. Still no flash for 64 bit Linux .
Advertise About us Site map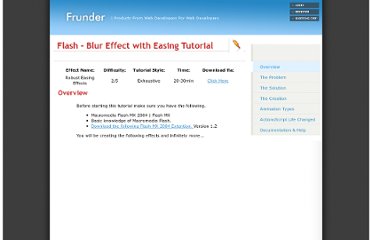 First we need to get our minds around how this whole thing works. Instead of adding motion tweens and working with frames, we are working with empty frames with actions. Here is an example of what a RPEE looks like. #include "lmc_tween.as" ball.slideTo(254,192, 1.8, "easeOutBounce"); day.alphaTo(0, 3, "linear") sunset.alphaTo(0,3,"linear",3) this.inner.rotateTo(945,8,"easeInOutSine") this.outer.rotateTo(-1260,7,"easeInOutSine") If at first you are a little overwhelmed, that is fine.