Firefox
Aardvark Firefox Extension
The Aardvark bookmarklet is a tool for web developers/designers as well as casual users. To quickly see it in action on this page, run the demo . close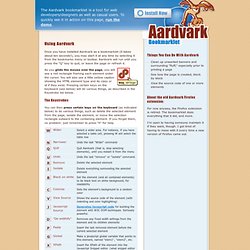 mozdev.org - mozile: index
Spinfox - Spinning Firefox logo throbber r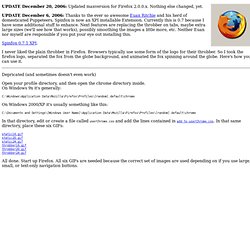 UPDATE December 20, 2006: Updated maxversion for Firefox 2.0.0.x. Nothing else changed, yet. UPDATE December 6, 2006: Thanks to the ever so awesome Euan Ritchie and his herd of domesticated Puppeteers, Spinfox is now an XPI installable Extension.
mozdev.org - greasemonkey: index
Vertebrate Silence: The Blog & Blog Archi
The Extensions Mirror
SEO Bookmarks for Firefox
SEO Tools Tools to help you build and market your website.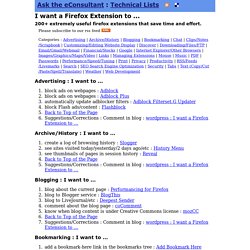 200+ extremely useful firefox extensions that save time and effort. Please subscribe to our rss feed Categories : Advertising | Archive/History | Blogging | Bookmarking | Chat | Clips/Notes/Scrapbook | Customizing/Editing Website Display | Discover | Downloading/Files/FTP | Email/Gmail/Webmail | Financial/Stocks | Google | Internet Explorer/Other Browsers | Images/Graphics/Maps/Video | Links | Managing Extensions | Mouse | Music | PDF | Passwords | Performance/Speed/Tuning | Print | Privacy | Productivity | RSS/Feeds/Livemarks | Search | SEO Search Engine Optimization | Security | Tabs | Text (Copy/Cut/Paste/Spell/Translate) | Weather | Web Development
Speed up Firefox up to
by Gina Trapani Click to view The Firefox homepage calls the web browser "fully customizable to your online life," and that's not just marketing claptrap.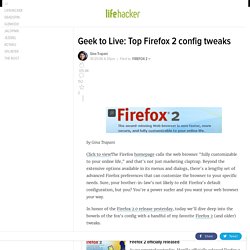 Geek to Live: Top Firefox 2 config tweak
Firefox Secrets & Extension
The Firefox keyboard and mouse shortcuts listed here were originally based on the works of David Tenser but they have been fully rewritten, tested, and updated by Otto de Voogd of 7is7.com.
Firefox Large Print Keyboard and Mouse Sho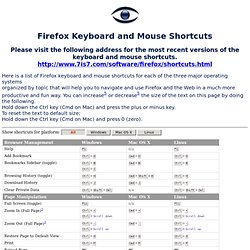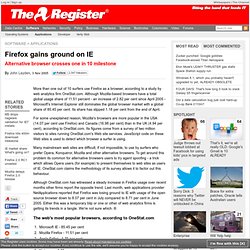 More than one out of 10 surfers use Firefox as a browser, according to a study by web analytics firm OneStat.com. Although Mozilla-based browsers have a total global usage share of 11.51 percent - an increase of 2.82 per cent since April 2005 - Microsoft's Internet Explorer still dominates the global browser market with a global share of 85.45 per cent.
Firefox gains ground on IE | The Register
Firefox Ad - Google Video
Extend Firefox Contest Finalists :: Mozill
Console&; :: Mozilla Add-ons :: Add Featur
Auto Copy :: Mozilla Add-ons :: Add Featur
The page you are looking for might have been removed, had its name changed, or is temporarily unavailable. Please try the following: Make sure that the Web site address displayed in the address bar of your browser is spelled and formatted correctly.
126 Resources on Best Firefox Extensions f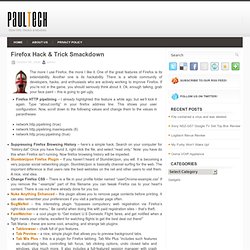 October 5th, 2006 admin The more I use Firefox, the more I like it.
Firefox Hack &038; Trick Smackdown & Pa
A List of Over 100 Best Firefox Exten
Listible's list on Firefox extension has been increased to whooping 123 extensions!