Firefox
Aardvark Firefox Extension
To install Aardvark, just bookmark the following link, by dragging it to the bookmarks toolbar: Then, to activate Aardvark on a web page, click the bookmark. Not seeing the bookmarks toolbar in Chrome?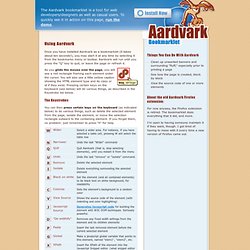 mozdev.org - mozile: index
Spinfox - Spinning Firefox logo throbber r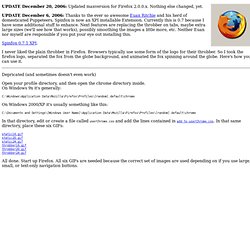 UPDATE December 20, 2006: Updated maxversion for Firefox 2.0.0.x. Nothing else changed, yet. UPDATE December 6, 2006: Thanks to the ever so awesome Euan Ritchie and his herd of domesticated Puppeteers, Spinfox is now an XPI installable Extension.
mozdev.org - greasemonkey: index
The Extensions Mirror
SEO Bookmarks for Firefox
SEO Tools Tools to help you build and market your website.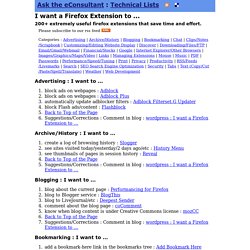 200+ extremely useful firefox extensions that save time and effort. Please subscribe to our rss feed Categories : Advertising | Archive/History | Blogging | Bookmarking | Chat | Clips/Notes/Scrapbook | Customizing/Editing Website Display | Discover | Downloading/Files/FTP | Email/Gmail/Webmail | Financial/Stocks | Google | Internet Explorer/Other Browsers | Images/Graphics/Maps/Video | Links | Managing Extensions | Mouse | Music | PDF | Passwords | Performance/Speed/Tuning | Print | Privacy | Productivity | RSS/Feeds/Livemarks | Search | SEO Search Engine Optimization | Security | Tabs | Text (Copy/Cut/Paste/Spell/Translate) | Weather | Web Development
Speed up Firefox up to
@jdsmn: I haven't seen a way to move statusbar icons elsewhere.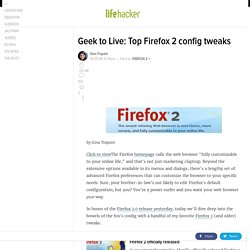 Geek to Live: Top Firefox 2 config tweak
Firefox Secrets & Extension
The Firefox keyboard and mouse shortcuts listed here were originally based on the works of David Tenser but they have been fully rewritten, tested, and updated by Otto de Voogd of 7is7.com.
Firefox Large Print Keyboard and Mouse Sho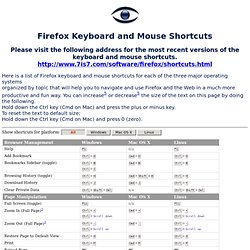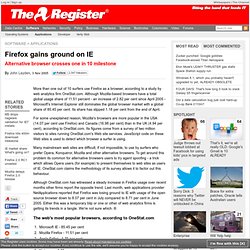 A guide to transactional email More than one out of 10 surfers use Firefox as a browser, according to a study by web analytics firm OneStat.com.
Firefox gains ground on IE | The Register
The page you are looking for might have been removed, had its name changed, or is temporarily unavailable. Please try the following: Make sure that the Web site address displayed in the address bar of your browser is spelled and formatted correctly.
126 Resources on Best Firefox Extensions f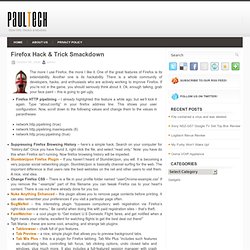 October 5th, 2006 admin The more I use Firefox, the more I like it.
Firefox Hack &038; Trick Smackdown & Pa
A List of Over 100 Best Firefox Exten
Listible's list on Firefox extension has been increased to whooping 123 extensions!