Facebook
blog.pmarca.com: How to effortlessly inject your content into Fa
Blog Archive » The Non Personals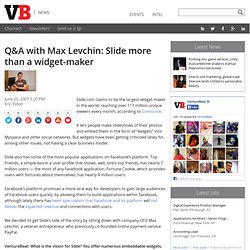 Q&A with Max Levchin: Slide more than a widget-maker
Slide.com claims to be the largest widget-maker in the world, reaching over 117 million unique viewers every month, according to Comscore . It lets people make slideshows of their photos and embed them in the form of "widgets" into Myspace and other social networks. But widgets have been getting criticized lately for, among other issues, not having a clear business model. Slide also has some of the most popular applications on Facebook's platform. Top Friends, a simple box in a user profile that shows, well, one's top friends, has nearly 7 million users — the most of any Facebook application. Fortune Cookie, which provides users with fortunes about themselves, has nearly 4 million users.
Earlier today (or should I say yesterday) I attended Facebook's Seattle Engineering Road Show which was a part technical talk and part recruiting event where Mike Shroepfer and a number of other Facebook engineers gave a fairly deep technical talk about the technologies used by Facebook. Below are my notes on the presentation and ensuing Q&A session. One thing I found interesting about the talk was how similar their architecture for the platform that powers the Facebook news feed is to what my team has built for powering the Windows Live What's New feed .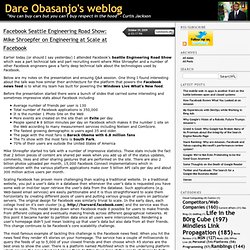 facebook engineering interview
EarlyStageVC: More Than Who You Know, It's What You Know
Facebook Inc. has bucked the Silicon Valley acquisition trend, remaining independent of larger technology companies. Now the social-networking start-up is seeking ways to reach the big leagues on its own. On Thursday, the Palo Alto, Calif., company will announce a new strategy to let other companies provide their services on special pages within its popular Web site. These companies will be able to link into Facebook users' networks of online friends, according to people familiar with the matter. For instance, an online retailer could build a service in Facebook to let people recommend music or books to their friends, based on the relationships they've already established on the site.
Facebook Opens Its Pages As a Way to Fuel Growth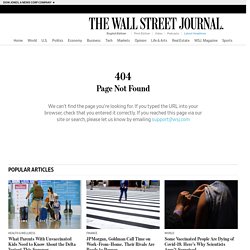 Our list today will look at the top 10 apps for utility . These are apps that are in some way useful. This was a pretty broad list, and probably took us the longest to cut down to a top ten. As a result, we were unfortunately forced to leave off a lot of good apps.
Top 10 Facebook Apps: Utility
Facebook's plan to hook up the world - May. 24, 2007
NEW YORK (Fortune) -- Imagine that when you shopped online for a digital camera, you could see whether anyone you knew already owned it and ask them what they thought. Imagine that when you searched for a concert ticket you could learn if friends were headed to the same show. Or that you knew which sites - or what news stories - people you trust found useful and which they disliked.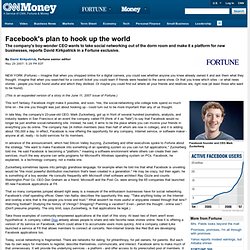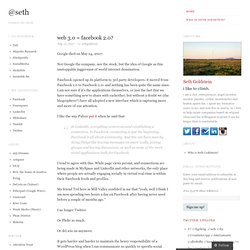 Seth Goldstein » Blog Archive » web 3.0 = facebook 2.0?
Google died on May 24, 2007. Not Google the company, nor the stock, but the idea of Google as this unstoppable juggernaut of world internet domination. Facebook opened up its platform to 3rd party developers- it moved from Facebook 1.0 to Facebook 2.0- and nothing has been quite the same since.
A Day in the Life of Facebook Operations: Velocity 2010, Web Per
Facebook is now the #2 global website, responsible for billions of photos, conversations, and interactions between people all around the world running on top of tens of thousands of servers spread across multiple geographically-separated datacenters. When problems arise in the infrastructure behind the scenes it directly impacts the ability of people to connect and share with those they care about around the World. Facebook's Technical Operations team has to balance this need for constant availability with a fast-moving and experimental engineering culture. We release code every day. Additionally, we are supporting exponential user growth while still managing an exceptionally high radio of users per employee within engineering and operations.