Digg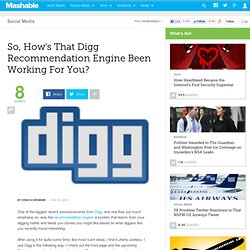 So, How's That Digg Recommendation Engine Been Working For You?
One of the biggest recent announcements from Digg , and one they put much emphasis on, was the recommendation engine ; a system that learns from your digging habits and feeds you stories you might like based on what diggers like you recently found interesting. After using it for quite some time, like most such ideas, I find it utterly useless. I use Digg in the following way: I check out the front page and the upcoming Technology section for interesting stories.
DiggFilter vs. DiggSuggest: Third Party Recommendation Engines H
Spotback - Personal News
… if you are relying on the (potential) swarm of Digg visitors to click on your Adsense ads. Personally, I think the spike in traffic you will get by getting a home-page link on Digg won't be worth anything at all, unless you are selling something that Digg users want. Now, I don't know what that something is, but whatever it is, it is going to be a hard sell.
Ravi's Rants » Blog Archive » Digg Traffic Is Worth Diddly Squat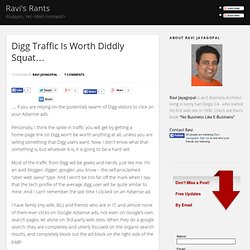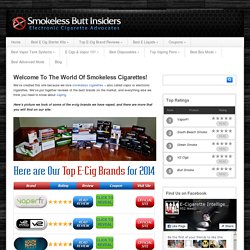 Dear OffTheBus members, Back in July 2007 I showed up at HuffPost's Manhattan office with a suitcase packed with enough clothes to get me through the month while I looked for an apartment and started OffTheBus. Even before our official launch many of you were peppering my inbox with emails, wanting to know what you could do to help. Among that initial circle of my newfound friends and acquaintances were Mayhill Fowler — who later rocked the campaigns and campaign journalism with what we now know as "Bittergate"; Beverly Davis — a veteran reporter who provided invaluable insight into the role that citizen journalists could play on the trail; Richard Riehl — the editor of the much loved Roadkill, that tasty, daily collection of candidate gaffes; and Ethan Hova — a Shakespearean actor from Los Angeles who co-wrote our first big story, "Romney Buys Conservatives."
David Cohn's blog
Netscape Represents the Future of News @ Blogcritics.org
The jury is certainly still out on whether or not the "new" Netscape.com -– revamped into what some would herald as an innovative experiment in social news and others would deride as yet another Digg-clone wannabe –- is a success or not. But it doesn't matter in the long run. I like to think of the Netscape model as a hybrid approach to social news, as it builds upon the "Digg model" of user submitted stories + everyone votes for their favorite stories = a user controlled front page of your "online newspaper." Netscape has a strong social news base (in terms of how they feature and emphasize this form of people power) and also employs Netscape Navigators, human editors who submit their own stories, make some stories "sticky" by featuring them in an admin-controlled area on the front page, and commenting, friending, and generally taking an active social networking-style role on the site that is diametrically opposed to Digg's human-hands-off- way -off style.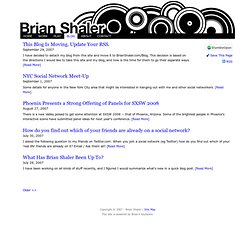 Brian.Shaler.name | Blog
This Blog Is Moving. Update Your RSS. September 29, 2007 I have decided to detach my blog from this site and move it to BrianShaler.com/Blog. This decision is based on the directions I would like to take this site and my blog, and now is the time for them to go their separate ways. [ Read More ] NYC Social Network Meet-Up
Socially Given
3monkeys » Observations on Digg's Quality
One of the reasons I have become somewhat disenchanted with digg is the quality of the content. There have been many theories as to why the quality has dropped. When I pondered this issue and how to analyze it, the first line of attack was to determine who was submitting the majority of articles to digg. Digg allows each and every user to view this information, simply navigate to http://digg.com/topusers and sort by submitted. Below is a screen shot at the time this article was written. If we consider the numbers, this shows that between the top 8 submitters a total of 23,953 stories have been submitted, of which only 2442 stories have reached the front page of digg.
Will Digg Get Flanked? « Meditations on Meaning
Hot Deals, Free Coupons, Rebates, Dell, Amazon, Best Buy, Buy.co
Digg and the So-Called "Wisdom of Mobs" - Mashable!
In a recent post about Digg , I wrote: "it's obvious to see that Digg users are growing in power. And while this could be a force for good, it also means that an unsupported claim on a blog could quickly be blown out of proportion." Unfortunately, this is exactly what happened to the O'Reilly contributor Steve Mallett, who was accused of stealing Digg's CSS by an anonymous blogspot blogger. This O'Reilly post explains more: Steve Mallett, O'Reilly Network editor and blogger, was very publicly accused, via a Digg story, of stealing Digg's CSS pages. The story was voted up rapidly and made the homepage, acquiring thousands of diggs (thumbs-up) from the Digg community along the way.
Alex Bosworths Weblog: Dynamics of Digg
Digg View
Digg the rigged? A closer look at Diggs de
& Diggs 8 million social freeloaders | Di
According to Digg CEO Jay Adelson, "The point of Digg is to capture the interests of the Internet masses and use that interest to help organize the huge amounts of information on the Web." Digg's masses, however, are passive readers of other's "Diggs," rather than active contributors to a Digg "collective wisdom." Digg reportedly attracted 8.5 million visitors in May, but only has 304,000 registered users, submitting, on average, about 2000 stories a day.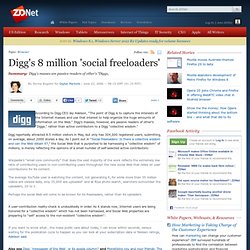 digg lab
digg.com is a System. Systems Need Constant Improvment. There's no such thing as perfection.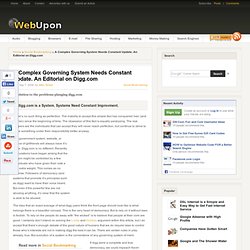 A Complex Governing System Needs Constant Update. An Editorial o
Digg.com:A brilliant idea flawed by it's users
There's been quite a bit of recent discussion about how gaming of Digg 's system shows that " The Wisdom of Crowds " is failing. The problem is that Digg doesn't implement the wisdom of crowds. And, it seems, most of the participants in the discussion don't know the difference. The criteria for when the effect that the book talks about kicks in are fairly simple. They require that every member of a wise crowd is acting without knowing anyone else's actions before they choose. That means that, if Digg were actually based on the WOC principle, you'd never see how many people had dugg an article before you choose to digg it yourself.
Why Digg Isn't "The Wisdom of Crowds"-- The Glass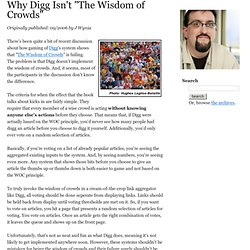 This past week's Digg controversy is one in a growing number of incidents that suggest that a small group of users are having an undue influence on the promotion of stories. In response, Digg is changing the way that it handles votes by adding complexity to its ranking algorithm. I think that's the wrong approach, so here's another idea: change the actual design of the site…that's the real problem. The most recent controversy happened on September 5th, when someone named jesusphreak posted Digg the Rigged?
Social Web Design » Digg's Design Dilemma
How Digg Gets Everything Backwards.. And How to Fix It
1. Digg is a wonderful idea.. but it's horribly broken. Of course many people have been raising concerns about the manipulation and irrationality of Digg front page items (for example here , here , here , here , here , and here ). Recently the problem of "cabals" of Digg story promoters is getting more and more attention. To their credit, the Digg administrators have made it possible to track who is submitting and promoting which stories, and the results are dramatic. A tiny portion of Digg members are submitting stories, and tiny networks of friends are promoting each other's stories, resulting in a very tiny elite group of people determining an overwhelming amount of content that gets attention on the Digg front pages.
Digg as a Game
Update : This article was dugg and made it to the Digg front page. The traffic came and I discuss the aftermath here . Below is the voting chart for that story: