Art 3
Garden Showcase - Compton Acres Gardens Information kindly submitted by Paul Miley, Kaye Merna and Chris Allen Compton Acres is one of the finest privately owned gardens in the South with a unique series of stunning tranquil gardens offering spectacular views of Poole Harbour, Brownsea Island, and the Purbeck Hills beyond. It features a large number of gardens including Roman Garden Grotto Italian Garden Palm Court Wooded Valley Rock Garden Wildlife Walk Winter Garden Water Garden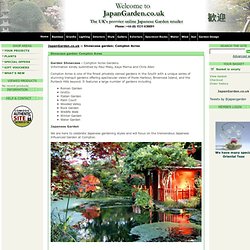 Showcase garden: Compton Acres :: JapanGar
Arborsculpture World Tour
Visions Fine Art Gallery - Sedona Arizona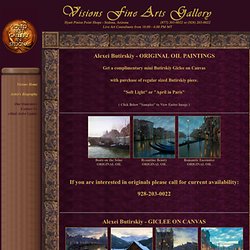 Alexei Butirskiy - ORIGINAL OIL PAINTINGS Get a complimentary mini Butirskiy Giclee on Canvas with purchase of regular sized Butirskiy piece. "Soft Light" or "April in Paris" ( Click Below "Samples" to View Entire Image ) Boats on the SeineORIGINAL OIL Byzantine BeautyORIGINAL OIL
Visions Fine Art Gallery - Sedona Arizona
Visions Fine Art Gallery - Sedona Arizona
Holiday Shopping Message The last day for shipping before the new year will be December 15th. Shadowscapes will be closed for holiday shipping from December 15 until - January 2! You may still place your orders during that time, but be aware that items will not be shipped until January 2, 2012. If you wish for your order to be upgraded to Priority or Express Mail, please -contact us- with your request.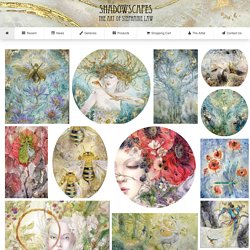 Robert Bateman Presents "Out of the White
Eric J. Heller Gallery || Torus IV
The dynamics of a system of two degrees of freedom involves two positions and the rate of change of these positions, i.e. two velocities. Altogether, this makes four coordinates. Thus, a system of two degrees of freedom "lives" in four mathematical dimensions.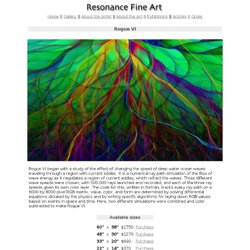 Eric J. Heller Gallery || Rogue VI
Rogue VI began with a study of the effect of changing the speed of deep water ocean waves traveling through a region with current eddies. It is a numerical ray path simulation of the flow of wave energy as it negotiates a region of current eddies, which refract the waves. Three different wave speeds were chosen, with 500,000 rays launched and recorded, and each of the three ray speeds given its own color layer. The code for this, written in fortran, tracks every ray path on a 6000 by 8000 pixel RGB matrix.
gallery/roadtrip2.jpg
hethe_&8482;
doodleBug - oodles of doodle
drawball.com hall of fame
The old method These instructions can be followed with pencil and paper or using any computer based drawing or drafting program. I have used Corel Draw, Adobe Illustrator, and AutoDesk AutoCad for various projects, but my favorite is Corel Draw. In the tutorial below I show the method that I use in Corel Draw; however, I have deliberately left out program-specific instructions.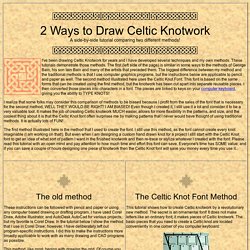 Last updated 16 January 2008 Money Origami Folding paper money (or "money origami") is my one true creative output.
Money Origami
Jeff Lees POV-Ray Gallery
geneticArt IV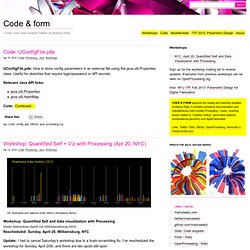 Nov 11, 2013 | Marius Watz: Sound as Data Workshop, ITP NYUDownload: See GitHub As part of my on-going ITP residency I am doing a few workshops on specialized code topics. This weekend I revisited my previous work on using sound as an input for visuals or geometry, using Processing and Minim. It was only a 3 hour workshop, but we covered the basics: Opening line in or sound file inputsAccessing sound bufferNormalizing volumeUsing damping to control FFT behavior
Surreal Citie
Smelly Bean
humor/pictures/573373610Coolest...
Image Savant - Genetic Experiment
Electric Sheep is a collaborative abstract artwork founded by Scott Draves. It's run by thousands of people all over the world, and can be installed on any ordinary PC, Mac, Android, or iPad. When these computers "sleep", the Electric Sheep comes on and the computers communicate with each other by the internet to share the work of creating morphing abstract animations known as "sheep". Anyone watching one of these computers may vote for their favorite animations using the keyboard. The more popular sheep live longer and reproduce according to a genetic algorithm with mutation and cross-over.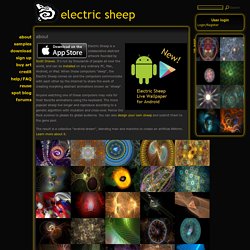 Arcane Fractals Home Page
// Dark Project Studios v3.0
HumanDescent
zebra
Yin Yang
Writing With Water (Water-Curtain) (water
Linn posted on Aug 31st 2006 7:33PM Liepzig based Popp has devloped a technological device to make a waterfall of a liquid screen and each drop of water is a falling pixel. "Water words" such as "Sécu", "Liberté" and "Vivre" fell from a device suspended over the breadth of a street - onlookers ran underneath and came out shaking themselves off with drops of water which had been part of the oeuvre a few seconds earlier. You can type in the text from all over the world via the web. the effect is amazing!
Visions Fine Art Gallery - Sedona Arizona
images%5Cfadingbeauty-ss....
tumbleupon.com/mainpics/477575.jpg
mainpics/1632805.jpg
Tropical.gif
Pinfan / Chen-Shu Fen: 07
誰にも知られずに相談できる。恋に迷ったら恋愛相談を。 恋愛は一人でするものではありません。
Pinfan / Chen-Shu Fen: 02
PaperCut- Nghá»\u2021 thuật Ä\u2018á»\u2122c Ä\u2018áo - ~o