Art 3
Fractals. Photo 2. Photo 3. Photo 4. Photo 5. Photo 6. Photo 7. Photo 8. Photo 9. Photo 10.
Showcase garden: Compton Acres :: JapanGar. Garden Showcase - Compton Acres Gardens Information kindly submitted by Paul Miley, Kaye Merna and Chris Allen Compton Acres is one of the finest privately owned gardens in the South with a unique series of stunning tranquil gardens offering spectacular views of Poole Harbour, Brownsea Island, and the Purbeck Hills beyond.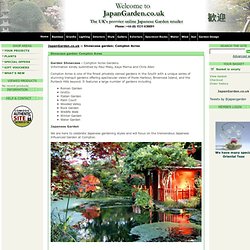 It features a large number of gardens including Roman Garden Grotto Italian Garden Palm Court Wooded Valley Rock Garden Wildlife Walk Winter Garden Water Garden. Arborsculpture World Tour. Visions Fine Art Gallery - Sedona Arizona. Visions Fine Art Gallery - Sedona Arizona. Alexei Butirskiy - ORIGINAL OIL PAINTINGS Get a complimentary mini Butirskiy Giclee on Canvas with purchase of regular sized Butirskiy piece.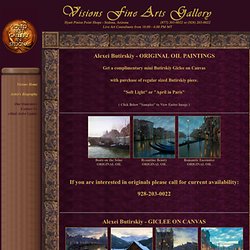 "Soft Light" or "April in Paris" ( Click Below "Samples" to View Entire Image ) Boats on the SeineORIGINAL OIL Byzantine BeautyORIGINAL OIL. Visions Fine Art Gallery - Sedona Arizona. The Art of Craig Mullin. Stephanie Pui-Mun Law - Shadowscapes - Fan. Robert Bateman Presents "Out of the White. Index. Idewalk chalk guy. Eric J. Heller Gallery || Torus IV. The dynamics of a system of two degrees of freedom involves two positions and the rate of change of these positions, i.e. two velocities.
Altogether, this makes four coordinates. Thus, a system of two degrees of freedom "lives" in four mathematical dimensions. Eric J. Heller Gallery || Rogue VI. Rogue VI began with a study of the effect of changing the speed of deep water ocean waves traveling through a region with current eddies.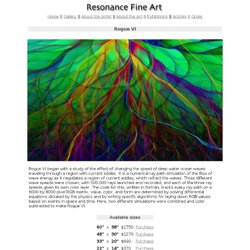 It is a numerical ray path simulation of the flow of wave energy as it negotiates a region of current eddies, which refract the waves. Three different wave speeds were chosen, with 500,000 rays launched and recorded, and each of the three ray speeds given its own color layer. The code for this, written in fortran, tracks every ray path on a 6000 by 8000 pixel RGB matrix. ENCHGALLERY HOME. Gallery/roadtrip2.jpg. Hethe_&8482;.
DoodleBug - oodles of doodle. Drawball.com hall of fame. 2 Ways to Draw Celtic Knotwork. The old method These instructions can be followed with pencil and paper or using any computer based drawing or drafting program.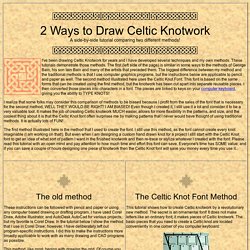 I have used Corel Draw, Adobe Illustrator, and AutoDesk AutoCad for various projects, but my favorite is Corel Draw. In the tutorial below I show the method that I use in Corel Draw; however, I have deliberately left out program-specific instructions. ~~ MrWongs SoupPartments ~~ The Original! Money Origami. Last updated 16 January 2008 Money Origami Folding paper money (or "money origami") is my one true creative output.
Jeff Lees POV-Ray Gallery. GeneticArt IV. Code &form & Computational aesthetic. Surreal Citie. Smelly Bean. Humor/pictures/573373610Coolest... Image Savant - Genetic Experiment. Electricsheep.org. Gallery of Computatio. Arcane Fractals Home Page. // Dark Project Studios v3.0. HumanDescent. Zebra.
Yin Yang. Www.jasonchanart.com. Writing With Water (Water-Curtain) (water. Linn posted on Aug 31st 2006 7:33PM Liepzig based Popp has devloped a technological device to make a waterfall of a liquid screen and each drop of water is a falling pixel.
"Water words" such as "Sécu", "Liberté" and "Vivre" fell from a device suspended over the breadth of a street - onlookers ran underneath and came out shaking themselves off with drops of water which had been part of the oeuvre a few seconds earlier. You can type in the text from all over the world via the web. the effect is amazing! Visions Fine Art Gallery - Sedona Arizona. Images%5Cfadingbeauty-ss....
Tumbleupon.com/mainpics/477575.jpg. Mainpics/1632805.jpg. Tropical.gif. PaperCut- Nghá»\u2021 thuật Ä\u2018á»\u2122c Ä\u2018áo - ~o.
---