Art 1
Molecular Expressions: Featured Microscopi. Karl E.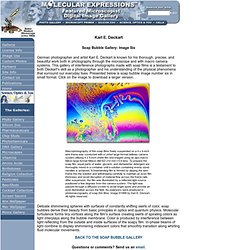 Deckart Soap Bubble Gallery: Image Six. Media.damnfunnypictures.com/dfp/cool_illus... Kennethahuff.com/Works/WorksImages/2002/20... Karl Bang Visionary Art. Karl Bang Karl Bang's collection of art masterpieces could easily be called Goddess Central.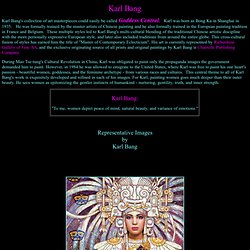 Karl was born as Bong Ka in Shanghai in 1935. He was formally trained by the master artists of Chinese painting and he also formally trained in the European painting tradition in France and Belgium. These multiple styles led to Karl Bang's multi-cultural blending of the traditional Chinese artistic discipline with the more personally expressive European style, and later also included traditions from around the entire globe. Image Savant - S P O R E. i9.photobucket.com/albums/a64/Nanjsk/flame...
i57.photobucket.com/albums/g209/cmoreno_20... i20.photobucket.com/albums/b235/MMint/P721... i2.photobucket.com/albums/y20/mebijus/Dill... Genkakuzai. Features.cgsociety.org/gallerycrits/64489/... EDEN. Images/pa01/PA27.html. Candice16ap3.jpg (JPEG Image, 800x360 pixe. Artists Against War. Art MoCo: "Human Candles" Walter Martin and Paloma Munoz have been collaborating since 1993 to produce some excellent examples of sassy sculpture for private collections as well as public art.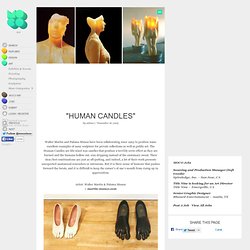 The Human Candles are life-sized wax candles that produce a terribly eerie effect as they are burned and the humans hollow out, wax dripping instead of the customary sweat. Their shoe/feet combinations are just as off-putting, and indeed, a lot of their work presents unexpected anatomical reminders or intrusions.
But it is their sense of humour that pushes forward the twists, and it is difficult to keep the corner's of one's mouth from rising up in appreciation. Artist: Walter Martin & Paloma Munoz + martin-munoz.com They Cannot Speak. &the art of david ho& Metro Arts and Architecture - Metro Bits - Moscow Metro. Let's be frank - this is the mother of all metros - elegant and impressive compared with the rather grubby affairs in London and New York, and full of passion and style if you ever feel like putting it up against the soulless affairs of the Far East.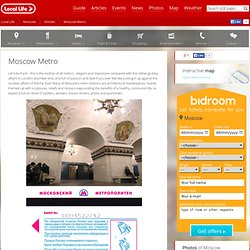 Many of Moscow's metro stations are architectural masterpieces, heavily themed-up with sculptures, reliefs and mosaics expounding the benefits of a healthy communist life, so expect a full-on dose of soldiers, workers, tractor-drivers, artists and sportsmen. The Moscow Metro not only looks good - it really works efficiently too. Asian Historical Architecture: a Photograp. Perl-bin/animedb.pl. : : p u p p y 5 2 . c o m : : Rapid Prototyping Models --- George W. Hart. Background Rapid Prototyping or Solid Freeform Fabrication refers to a range of new technologies which construct physical three-dimensional objects by assembling thin layers of material under computer control.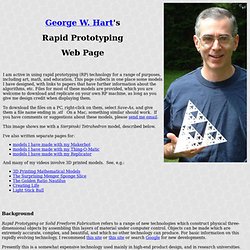 Objects can be made which are extremely accurate, complex, and beautiful, and which no other technology can produce. For basic information on this rapidly evolving technology, I recommend this site or this site or search Google for new developments. Presently this is a somewhat expensive technology used mainly in high-end product design, and in research universities. Candle.jpg (JPEG Image, 369x600 pixels) 1151263419_14.jpg (JPEG Image, 600x450 pixels) Morning_paper_lrg.jpg (JPEG Image, 550x432 pixels) Soap06small.jpg (JPEG Image, 340x246 pixels) Lifesthetics :: hugo liu :: a new æsthetic. 1d05b4b0-bf81-4963-b6d3-80a2369d7dd9 (GIF Image, 363x544 pixels) Fractal-070205v61951vf149v.jpg (JPEG Image, 800x519 pixels) Paradise-Found.jpg (JPEG Image, 1000x667 pixels) - Scaled (94%)
5.jpg (JPEG Image, 640x428 pixels) Madonnablue9yd2ta.jpg (JPEG Image, 750x525 pixels) AVirtualSpaceTimeTravelMachine : GALLERY -Visual Version- : ART. Chinese_chun.jpg (JPEG Image, 400x600 pixels) "This Is Your Brain on Music" | Salon Books. If you happened to have been born between about 1978 and 1981, there's a fair chance you count yourself an obsessive of the Southern California rock band Weezer.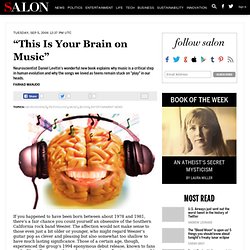 The affection would not make sense to those even just a bit older or younger, who might regard Weezer's guitar pop as clever and pleasing but also somewhat too shallow to have much lasting significance. Those of a certain age, though, experienced the group's 1994 eponymous debut release, known to fans as the Blue Album, as a thing of precise and overflowing emotion — 10 tracks that functioned like keys to secret locks in the teenage brain, opening up all the awkwardness and anxiousness of those melodramatic high school years. KAGAYA Gallery.
---