Games how
40 Beautiful Free Fonts For Creating Attractive Typography Headlines. FreebiesBy TimothyBlake · On April 19, 2010 A sweet collection of carefully handpicked high quality free fonts, which are all suitable to be used for creating attractive typography headlines which will attract people's attention.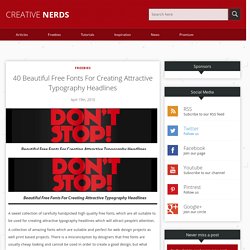 A collection of amazing fonts which are suitable and perfect for web design projects as well print based projects. There is a misconception by designers that free fonts are usually cheap looking and cannot be used in order to create a good design, but what designers don't realise is that there is the odd good free font it just takes time in order to find the perfects ones. This is the exact purpose of this article to be bookmarked by designers and to referred to in the future when working on a design projects where money may be tight and the client can't afford to splash out on big expensive fonts.
25 More Most Incredible Photoshop Tutorials. Elite By Design Web Design & Photoshop Inspiration Follow me on Twitter blog > 25 More Most Incredible Photoshop Tutorials 25 More Most Incredible Photoshop Tutorials After the astonishing success of our first installment of 23 Most Incredible Photoshop Tutorials, I've decided to make a much needed update to features some of the newer tutorials that have been released over the last month or so.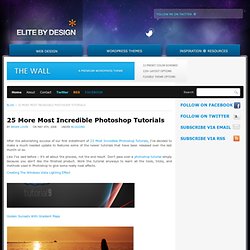 50 Insanely Weird but Awesome Photoshop Brushes. Remember, remember the fifth of November - gunpowder, treason and plot!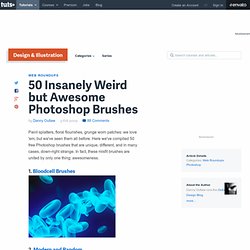 It's Guy Fawkes Night i... Remember, remember the fifth of November - gunpowder, treason and plot! It's Guy Fawkes Night in the UK, which is also known as Bonfire Night. It's the anniversary of the day Guy Fawkes was caught trying to blow up the House of Lords using gunpowder. Dead End Thrills | WTF? Not Found, Error 404 The page you are looking for no longer exists.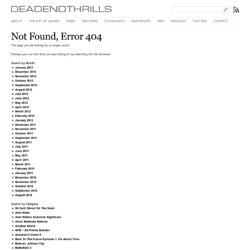 Perhaps you can find what you are looking for by searching the site archives! July 2012. Misc Examples - Ever wanted to be able to save and load tiles?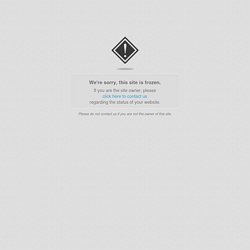 Probably not, but someone did and so I made them an example with a couple of scripts... And I liked them so much I´ve decided to post them here! The first is the saving script and will save the details of the tiles into a txt file using the ds_grid_write codes. It will create a directory for this, and if you use it multiple times (for multiple rooms) it will number the files sequentially (even if you give them different names)... I´ve tried to make the script as customisable as possible, and it will work for just about any tile size, tile depth and room_size, BUT it will not work if more than one tile occupies the same square on the grid...
GameMaker Tutorials. The Game Maker Language Book - YoYoGames Forums. How to Add an Inventory System to Your Game. Create an Awesome Grass Texture in Photoshop. This is the fourth and final installment of my series on creating textures in Photoshop.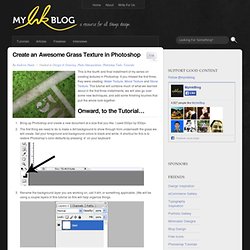 If you missed the first three, they were creating: Water Texture, Wood Texture and Stone Texture. This tutorial will combine much of what we learned about in the first three installments, we will also go over some new techniques, and add some finishing touches that pull the whole look together. Bring up Photoshop and create a new document at a size that you like. I used 500px by 500pxThe first thing we need to do is make a dirt background to show through from underneath the grass we will create.
Set your foreground and background colors to black and white. Animation tutorial - walk cycle parts 1 and 2. Photoshop Cel Shading Tutorial by *celesse on deviantART. How to Set Gravity in a Game Maker. Create A Skin Texture In Photoshop - Smooth Skin Technique - Photoshop Tutorial From Dave Seeram. Buy.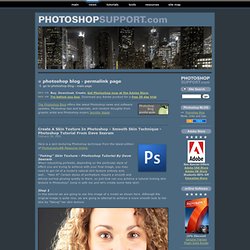 Download. Create. How To Resize Images And Maintain Original Sharpness. Buy.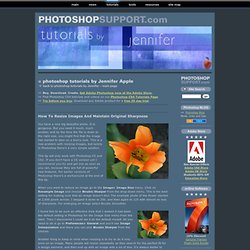 Download. Create. An approximate guide to selling Indie games. « Grey Alien Games. Welcome to my approximate guide of how to sell an Indie game that you have made.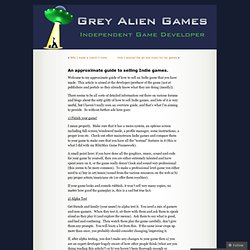 This article is aimed at the developer/producer of the game (not at publishers and portals as they already know what they are doing (mostly)). There seems to be all sorts of detailed information out there on various forums and blogs about the nitty gritty of how to sell Indie games, and lots of it is very useful, but I haven't really seen an overview guide, and that's what I'm aiming to provide. So without further ado here goes: How Can I Change The Loading Screen.
---