Xen
Ganeti - Project Hosting on Google Code. Ganeti is a cluster virtual server management software tool built on top of existing virtualization technologies such as Xen or KVM and other open source software.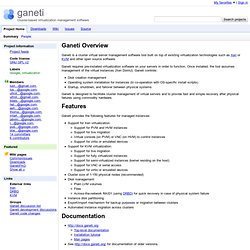 Ganeti requires pre-installed virtualization software on your servers in order to function. Once installed, the tool assumes management of the virtual instances (Xen DomU). Ganeti controls: Disk creation management Operating system installation for instances (in co-operation with OS-specific install scripts) Startup, shutdown, and failover between physical systems Ganeti is designed to facilitate cluster management of virtual servers and to provide fast and simple recovery after physical failures using commodity hardware. Xen Orchestra. Hypervisor. The Hypervisor is developed by a world-wide community of individuals, researchers and employees of companies and that follow the Xen Project Governance process based on openness, transparency and meritocracy.
The project is supported by the Xen Project Advisory Board made up of project member companies that fund the Xen Project. You can find a recent contribution breakdown in the Xen Project 4.4 and Xen Project 4.3 Contribution Acknowledgments. Introduction to the Hypervisor What's in Xen Project 4.4. Project xen-api-5.0.0-5.jar - GrepCode.com - Java Source Code Se. Repo1.maven.org$maven2@net.java.dev.vcc.thirdparty$xen-api@5.0.0-5 snapshot repo1.maven.org$maven2@net.java.dev.vcc.thirdparty$xen-api.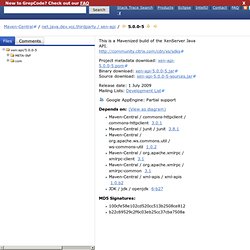 Re: [Xen-API] Simple Java API example. This program should show all VMs' UUIDs.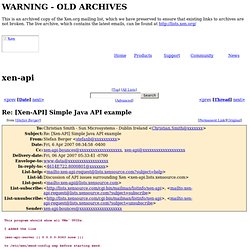 I added the line (xen-api-server (( 0.0.0.0:9363 none ))) to /etc/xen/xend-config.sxp before starting xend. Stefan. Download SDKs » XenServer - Citrix Community. XenServer can be programatically managed using the XenAPI or XAPI.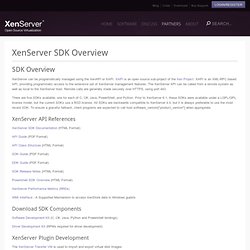 XAPI is an open source sub-project of the Xen Project. XAPI is an XML-RPC based API, providing programmatic access to the extensive set of XenServer management features. The XenServer API can be called from a remote system as well as local to the XenServer host.
---