Xen
This wiki page lists various best practices for running Xen hypervisor. Information here applies to opensource Xen from xen.org, not necessarily to Citrix XenServer or XCP. Xen dom0 dedicated memory and preventing dom0 memory ballooning You should always dedicate fixed amount of RAM for Xen dom0. This can be done by specifying "dom0_mem=512M" option for Xen hypervisor (usually xen.gz) in grub.conf/menu.lst.
XenBestPractices
XenOverview Xen is a robust, secure, high performance type 1 baremetal hypervisor, or a virtual machine monitor (VMM). Xen can securely execute multiple virtual machines, each running its own OS, on a single physical system with close-to-native performance. Xen is open source, and it's used as the core virtualization engine for many vendors products.
Ganeti is a cluster virtual server management software tool built on top of existing virtualization technologies such as Xen or KVM and other Open Source software. Ganeti requires pre-installed virtualization software on your servers in order to function. Once installed, the tool will take over the management part of the virtual instances (Xen DomU), e.g. disk creation management, operating system installation for these instances (in co-operation with OS-specific install scripts), and startup, shutdown, failover between physical systems. It has been designed to facilitate cluster management of virtual servers and to provide fast and simple recovery after physical failures using commodity hardware. Ganeti provides the following features for managed instances: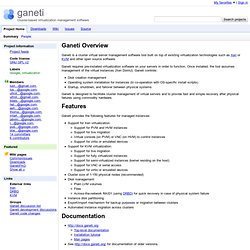 Xen Orchestra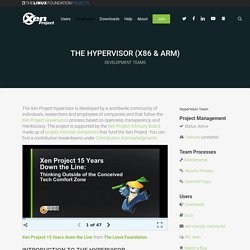 What is the Xen® Hypervisor? Xen is an open-source type-1 or baremetal hypervisor , which makes it possible to run many instances of an operating system or indeed different operating systems in parallel on a single machine (or host). Xen is the only type-1 hypervisor that is available as open source.
Hypervisor
repo1.maven.org$maven2@net.java.dev.vcc.thirdparty$xen-api@5.0.0-5 snapshot repo1.maven.org$maven2@net.java.dev.vcc.thirdparty$xen-api
Project xen-api-5.0.0-5.jar - GrepCode.com - Java Source Code Se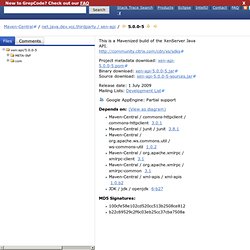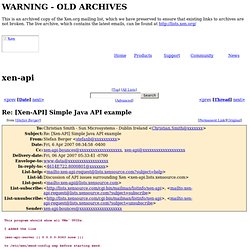 Re: [Xen-API] Simple Java API example
This program should show all VMs' UUIDs. I added the line (xen-api-server (( 0.0.0.0:9363 none ))) to /etc/xen/xend-config.sxp before starting xend. Stefan
Download SDKs » XenServer - Citrix Community
Overview XenServer includes a XML-RPC based API, providing programmatic access to the extensive set of XenServer management features and tools. The XenServer API can be called from a remote system as well as local to the XenServer host. Remote calls are generally made securely over HTTPS, using port 443. There are five SDKs available, one for each of C, C#, Java, PowerShell, and Python.