Tomcat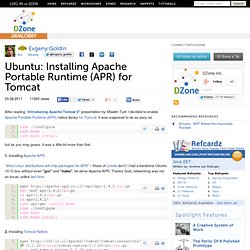 We Recommend These Resources After reading "Introducing Apache Tomcat 6″ presentation by Mladen Turk I decided to enable Apache Portable Runtime (APR) native library for Tomcat.
Ubuntu: Installing Apache Portable Runtime (APR) for Tomcat
You wouldn't necessarily be very excited about reliable, graceful app server restarts — unless you go to restart your server and it doesn't restart, or unless the restart script corrupted your webapp data.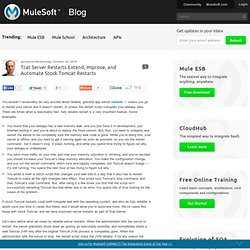 From the Mule's Mouth » Blog Archive » Tcat Server Restarts Extend, Improve, and Automate Stock Tomcat Restarts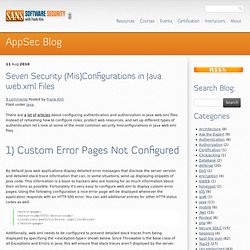 Seven Security (Mis)Configurations in Java web.xml Files
There are a lot of articles about configuring authentication and authorization in Java web.xml files.
technology, life, fun: Running Tomcat on port 80 in a user account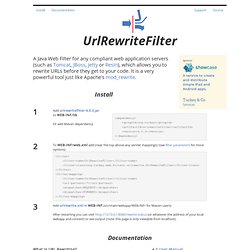 A Java Web Filter for any compliant web application servers (such as Tomcat, JBoss, Jetty or Resin), which allows you to rewrite URLs before they get to your code. It is a very powerful tool just like Apache's mod_rewrite. Install
UrlRewriteFilter - Rewrite URL's in Java Web Application Servers
Java and Tomcat on Mac OS X, Part I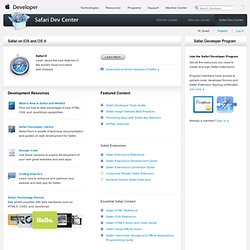 Safari 6 Learn about the new features in the world's most innovative web browser.
In Defense of Tomcat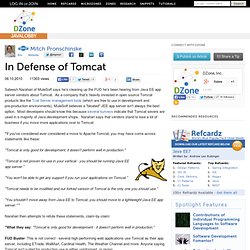 Sateesh Narahari of MuleSoft says he's cleaning up the FUD he's been hearing from Java EE app server vendors about Tomcat. As a company that's heavily invested in open source Tomcat products like the Tcat Server management tools (which are free to use in development and pre-production environments), MuleSoft believes a "bloated" JEE app server isn't always the best option. Most developers should know this because severalsurveys indicate that Tomcat severs are used in a majority of Java development shops.
I don't know why, but when I saw the original report about this little app on the newswire, I thought it was a joke. I was expecting the punch-line to be something like "and it is written entirely in Flash."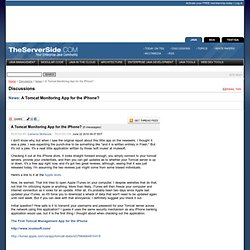 A Tomcat Monitoring App for the iPhone? - TheServerSide.com
A Session Manager for Clustering Cloud-friendly Sessions on Tomc
Cloud architectures are different. They are designed to scale up and down quickly to make the most efficient use of the resources and minimize the cost.