Search
IndexTank is now open source! We are proud to announce that the technology behind IndexTank has just been released as open-source software under the Apache 2.0 License!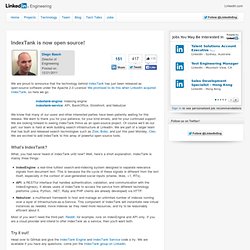 We promised to do this when LinkedIn acquired IndexTank, so here we go: indextank-engine: Indexing engine indextank-service: API, BackOffice, Storefront, and Nebulizer We know that many of our users and other interested parties have been patiently waiting for this release. We want to thank you for your patience, for your kind emails, and for your continued support. We are looking forward to seeing IndexTank thrive as an open-source project.
Lucene
Realtime Search With Lucene at Twitter. Detect Stolen and Duplicate Tweets with Solr. We Recommend These Resources A new feature "duplication detection" is implemented for the open source webapp jetwick and seems to work pretty good thanks to the great performance of Solr.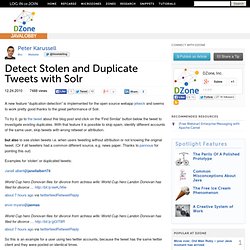 To try it, go to the tweet about this blog post and click on the 'Find Similar' button below the tweet to investigate existing duplicates. With that feature it is possible to skip spam, identify different accounts of the same user, skip tweets with wrong retweet or attribution. Welcome to Apache Lucene! ElasticSearch - Open Source, Distributed, RESTful Search Engine.
---