Pearltrees
Pearltrees is a free app to collect, organize and share all your interests in one place. Its unique visual interface lets you organize and retrieve all the things you like from anywhere. Leverage the Pearltrees community to discover amazing stuff related to your passions and enrich your account with those you like best.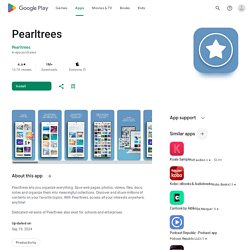 Search Pearltrees
Crunchpad: le prototype de lancement est prêt
Pearltrees in the French Medias
Annonce Techcrunch
RGraph - Tree Animation
Edit Storyline On a fall night in 2003, Harvard undergrad and computer programming genius Mark Zuckerberg sits down at his computer and heatedly begins working on a new idea.