Linkback: pingback, trackback,...
Getting pingbacks & trackbacks working with Disqus & WordPress | Fublo + Blog = Fublog
Écrit par: papoo dans la catégorie: Lanceurs Article mis à jour le : 3 décembre 2013 Nouvelle Version 1.4.0
Rufus – Créer vos clés USB bootable
Foxit Reader 5.1.4 Fr portable
NetworkTrafficView 1.25 Fr
PearlTrees – Classez, partagez et utilisez vos liens autrement
Écrit par: papoo dans la catégorie: Internet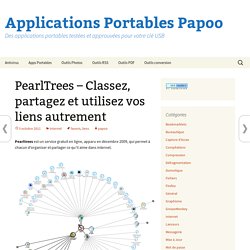 WizbangTech Trackback Pinger
TrackBack Settings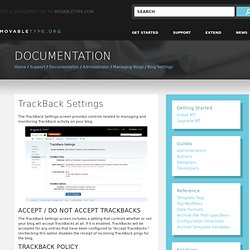 The TrackBack Settings screen provides controls related to managing and monitoring TrackBack activity on your blog.
Successful blogging is a long term play.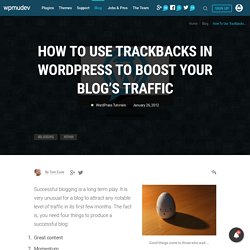 How To Use Trackbacks In WordPress To Boost Your Blog's Traffic
Blog and Ping!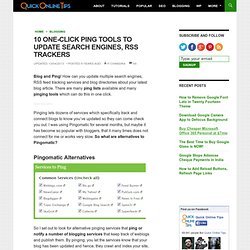 10 One-Click Ping Tools to Update Search Engines, RSS Trackers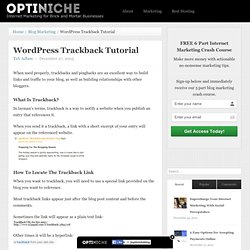 WordPress Trackback Tutorial
When used properly, trackbacks and pingbacks are an excellent way to build links and traffic to your blog, as well as building relationships with other bloggers. What Is Trackback? In layman's terms, trackback is a way to notify a website when you publish an entry that references it. When you send it a trackback, a link with a short excerpt of your entry will appear on the referenced website. How To Locate The Trackback Link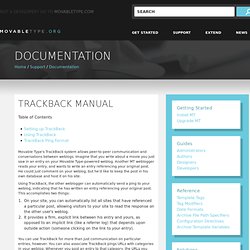 TrackBack Manual
Table of Contents Movable Type's TrackBack system allows peer-to-peer communication and conversations between weblogs. Imagine that you write about a movie you just saw in an entry on your Movable Type-powered weblog.
Working with Pingback and TrackBack
Trackbacks
Trackbacks are a way to notify legacy blog systems that you've linked to them. If you link other WordPress blogs they'll be notified automatically using pingbacks, no other action necessary. Think of trackbacks as the equivalent of acknowledgements and references at the end of an academic paper or chapter in a text book.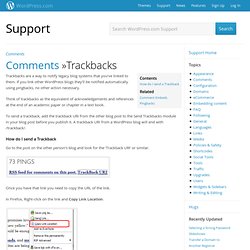 Linkback
A linkback is a method for Web authors to obtain notifications when other authors link to one of their documents. This enables authors to keep track of who is linking to, or referring to, their articles. The four methods (Refback, Trackback, Pingback and Webmention) differ in how they accomplish this task. "LinkBack" is the generalized term we use to reference three methods of communication between Websites.[1] Any of the four terms—Linkback, Trackback, Pingback, or (rarely) Refback—might also refer colloquially to items within a section upon the linked page that display the received notifications, usually along with a reciprocal link; Trackback is used most often for this purpose.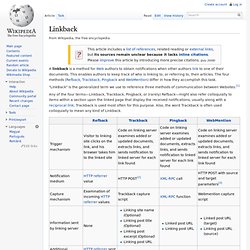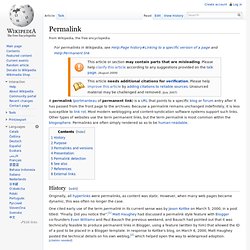 Permalink
A permalink (portmanteau of permanent link) is a URL that points to a specific blog or forum entry after it has passed from the front page to the archives. Because a permalink remains unchanged indefinitely, it is less susceptible to link rot. Most modern weblogging and content-syndication software systems support such links.
Refback
A refback is one of three types of linkbacks, methods for Web authors to request notification when somebody links to one of their documents.
Reblogging
Reblogging (or, in Twitter parlance, retweeting) is the mechanism in blogging which allows users to repost the content of another user's post with an indication that source is another user. It was first developed by Jonah Peretti at Eyebeam Art and Technology Center's R&D program under the project 'Reblog' (from where the term originates) as an open-source tool for individually-run blogs.[1] Tumblr then built it into their social network for re-sharing posts within the network, and similar features ("Retweet" on Twitter, "Share" on Facebook) then followed.
Ping (blogging)
In blogging, ping is an XML-RPC-based push mechanism by which a weblog notifies a server that its content has been updated.[1] An XML-RPC signal is sent to one or more "ping servers,"[clarification needed] which can then generate a list of blogs that have new material. The technology was first introduced by Dave Winer to Weblogs.com in October 2001.[2] Today, most blog authoring tools automatically ping one or more servers each time the blogger creates a new post or updates an old one. Open ping servers, like Moreover Technologies' Weblogs.com, let other web services subscribe to a list of blogs that have recently pinged them.
Pingback
Trackback