Linkback: pingback, trackback,...
… previously a digital agency Hi. You're looking at this page because you've followed a link to a page on fublo.net - this was previously the website of Fublo Ltd, a small digital agency in London that closed in August 2012. Fublo will close for business at the end of August. An updated home page is in the pipeline.
Getting pingbacks & trackbacks working with Disqus & WordPress | Fublo + Blog = Fublog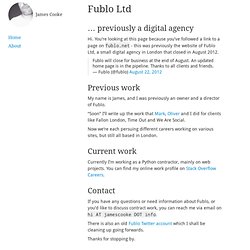 Écrit par: papoo dans la catégorie: Lanceurs Article mis à jour le : 27 mars 2014 Nouvelle Version 1.4.6 Rufus (Reliable USB Formatting Utility) est un petit utilitaire gratuit et portable qui permet de formater et de rendre bootable vos clés ou disques durs USB. Au lancement de l'application votre périphérique USB sera automatiquement détecté, sélectionner ensuite l'image ISO désirée pour installer le système d'exploitation choisi. Rufus vous proposera alors de formater votre périphérique et installera ensuite le système en extrayant le contenu de l'image sélectionnée sur le périphérique USB. Taille sur le disque : 407 Ko
Rufus – Créer vos clés USB bootable
Foxit Reader 5.1.4 Fr portable
NetworkTrafficView 1.25 Fr
PearlTrees – Classez, partagez et utilisez vos liens autrement
Écrit par: papoo dans la catégorie: Internet Pearltrees est un service gratuit en ligne, apparu en décembre 2009, qui permet à chacun d'organiser et partager ce qu'il aime dans internet. Pearltrees propose trois fonctionnalités principales : organiser ses marque-pages sous la forme de cartes thématiques (les pearltrees)se connecter à d'autres cartes et les inclure au sein de ses propres cartesfaire découvrir un domaine particulier à ses contacts en partageant ses cartes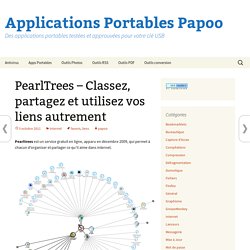 WizbangTech Trackback Pinger
TrackBack Settings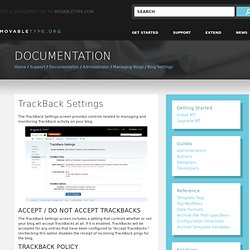 The TrackBack Settings screen provides controls related to managing and monitoring TrackBack activity on your blog. Accept / Do Not Accept TrackBacks The TrackBack Settings screen includes a setting that controls whether or not your blog will accept TrackBacks at all. If it is enabled, TrackBacks will be accepted for any entries that have been configured to "Accept TrackBacks." Unchecking this option disables the receipt of incoming TrackBack pings for the blog.
Successful blogging is a long term play. It is very unusual for a blog to attract any notable level of traffic in its first few months. The fact is, you need four things to produce a successful blog: Great contentMomentumConnectionsStellar Marketing If you are brand new to blogging, you could feasibly nail the first requirement – but the other three are likely to be more of a challenge.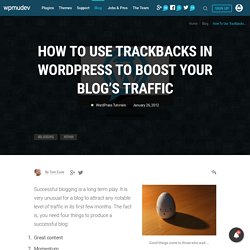 How To Use Trackbacks In WordPress To Boost Your Blog's Traffic
Blog and Ping! How can you update multiple search engines, RSS feed tracking services and blog directories about your latest blog article. There are many ping lists available and many pinging tools which can do this in one click. Advertisements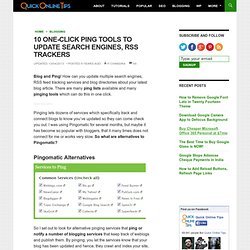 10 One-Click Ping Tools to Update Search Engines, RSS Trackers
Welcome to Ohloh Code, the world's largest, most comprehensive free code search engine! Koders has now merged with Ohloh to become your one-stop resource for both code and analysis. Check out our FAQ for more info.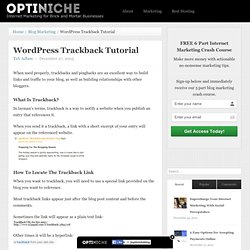 WordPress Trackback Tutorial
When used properly, trackbacks and pingbacks are an excellent way to build links and traffic to your blog, as well as building relationships with other bloggers. What Is Trackback? In layman's terms, trackback is a way to notify a website when you publish an entry that references it. When you send it a trackback, a link with a short excerpt of your entry will appear on the referenced website. How To Locate The Trackback Link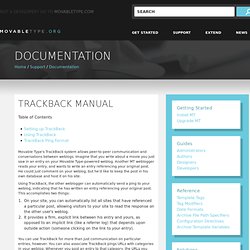 TrackBack Manual
Table of Contents Movable Type's TrackBack system allows peer-to-peer communication and conversations between weblogs. Imagine that you write about a movie you just saw in an entry on your Movable Type-powered weblog.
Working with Pingback and TrackBack
Trackbacks
Trackbacks are a way to notify legacy blog systems that you've linked to them. If you link other WordPress blogs they'll be notified automatically using pingbacks, no other action necessary. Think of trackbacks as the equivalent of acknowledgements and references at the end of an academic paper or chapter in a text book.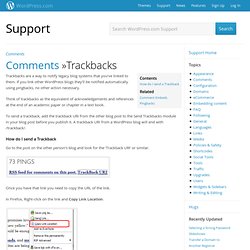 Linkback
A linkback is a method for Web authors to obtain notifications when other authors link to one of their documents. This enables authors to keep track of who is linking to, or referring to, their articles. The four methods (Refback, Trackback, Pingback and WebMention) differ in how they accomplish this task. "LinkBack" is the generalized term we use to reference three methods of communication between Websites.[1] Any of the four terms—Linkback, Trackback, Pingback, or (rarely) Refback—might also refer colloquially to items within a section upon the linked page that display the received notifications, usually along with a reciprocal link; Trackback is used most often for this purpose.
Permalink
A permalink (portmanteau of permanent link) is a URL that points to a specific blog or forum entry after it has passed from the front page to the archives. Because a permalink remains unchanged indefinitely, it is less susceptible to link rot. Most modern weblogging and content-syndication software systems support such links.
Refback
A refback is one of four types of linkbacks, methods for Web authors to request notification when somebody links to one of their documents. This enables authors to keep track of who is linking to, or referring to their articles. A Refback is simply the usage of the HTTP referrer header to discover incoming links. Whenever a browser traverses an incoming link from Site A (originator) to Site B (receptor) the browser will send a referrer value indicating the URL from where the user came. Site B might publish a link to Site A after visiting Site A and extracting relevant information from Site A such as the title, meta information, the link text, and so on.[1]
Reblogging
Ping (blogging)
Pingback
Trackback