Cassandra
The History of Apache Cassandra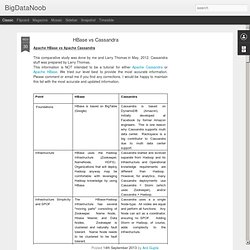 HBase vs Cassandra
By default, Phoenix distribution is unable to connect to secure cluster. But, Phoenix can connect to a secure HBase cluster by modifying sqlline.sh script and setting up some more java parameters. Great thing about this solution is that no java code modification is required.
Making Things Easier with Cassandra GUI 2.0
Cassandra GUI evolved from its first version and new version includes bug fixes and enhanced features. New features. Complete pagination for Row view of explorerSearch rows by their names.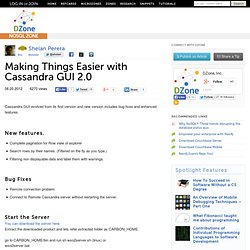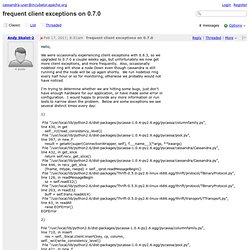 cassandra-user - frequent client exceptions on 0.7.0
Hello, We were occasionally experiencing client exceptions with 0.6.3, so we upgraded to 0.7.0 a couple weeks ago, but unfortunately we now get more client exceptions, and more frequently.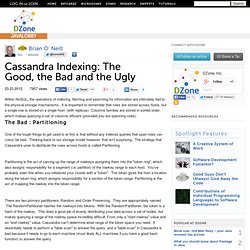 We Recommend These Resources
Cassandra Indexing: The good, the bad and the ugly
Cloud Architecture Tutorial - Running in the Cloud (3of3)
Announcing Astyanax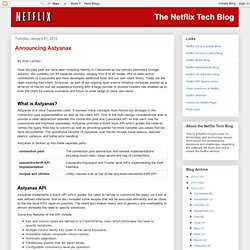 AstyanaxContext<Keyspace> context = new AstyanaxContext.Builder() .forCluster("ClusterName") .forKeyspace("KeyspaceName")
Compressed families not created on new node
Cassandra NYC 2011: Nathan Milford - Cassandra for System Admins
Cassandra for LOBS | Ruby Zone
Database storage is expensive. This is especially true if you build a traditional SAN based M+N cluster.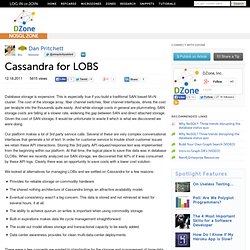 "Building on Quicksand" Paper for CIDR (Conference on Innovative Database Research) - PatHelland's WebLog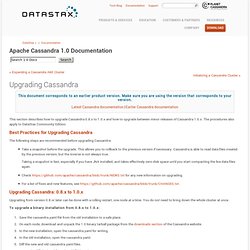 Upgrading Cassandra: 0.8.x to 1.0.x | DataStax Cassandra 1.0 Documentation
This section describes how to upgrade Cassandra 0.8.x to 1.0.x and how to upgrade between minor releases of Cassandra 1.0.x.
What's new in Cassandra 1.0: Compression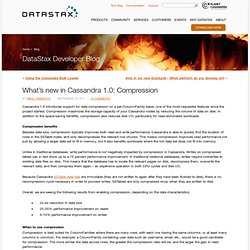 Cassandra 1.0 introduces support for data compression on a per-ColumnFamily basis, one of the most-requested features since the project started. Compression maximizes the storage capacity of your Cassandra nodes by reducing the volume of data on disk.
Netflix Benchmarks on AWS Show Cassandra NoSQL Still Has the Goods
A little more than a year ago, Apache Cassandra's reputation was untouchable.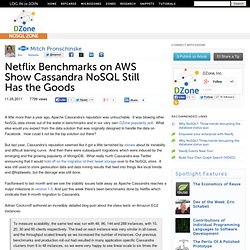 Tu veux leur passer un coup de fil ? by nicolas Nov 7
The Apache Cassandra Project
Intro — Hector v0.8.x documentation
sebgiroux/Cassandra-Cluster-Admin - GitHub
Tuning Cassandra | DataStax Cassandra 0.8 Documentation
Effective tuning depends not only on the types of operations your cluster performs most frequently, but also on the shape of the data itself.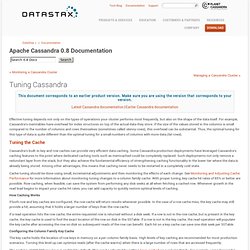 zznate/cassandra-stress - GitHub
SLF4J
More and more instrumentation is being added to Cassandra via standard JMX apis. The nodetool utility (nodeprobe in versions prior to 0.6) provides a simple command line interface to these exposed operations and attributes. See Operations for a more high-level view of when you would want to use the actions described here.
NodeTool - Cassandra Wiki
I was looking at Cassandra, one of the major NoSQL solutions, and I was immediately impressed with its write speed even on my notebook. But I also noticed that it was very volatile in its response time, so I took a deeper look at it. First Cassandra Write Test I did the first write tests on my local machine, but I had a goal in mind. I wanted to see how fast I could insert 150K data points each consisting of 3 values.
Cassandra Write Performance – A quick look inside Application Performance
MX4J - Open Source Java Management Extensions
Linux performance basics
I want to write about Cassandra performance tuning, but first I need to cover some basics: how to use vmstat, iostat, and top to understand what part of your system is the bottleneck -- not just for Cassandra but for any system.
Sometimes, data comes with an expiration date, either by its nature or because it's simply intractable to keep all of a rapidly growing dataset indefinitely.
What's new in Cassandra 0.7: expiring columns
Contents | DataStax Cassandra 0.8 Documentation
Clustering | DataStax Cassandra 0.7 Documentation
Operations - Cassandra Wiki
cassandra load balancing
database design - What's The Best Practice In Designing A Cassandra Data Model
Cassandra: RandomPartitioner vs OrderPreservingPartitioner « Dominic Williams
driftx/chiton - GitHub
Apache Cassandra Glossary
API - Cassandra Wiki
User Guide - GitHub
Hector – a Java Cassandra client | PrettyPrint.me
zznate/cassandra-tutorial - GitHub
up and running with cassandra