Recipes
Yummly | The best site for recipes, recommendations, food and cooking. DIY Homemade Herb Soap Tutorial | henry happened. White Chicken Enchiladas. Great basic recipe.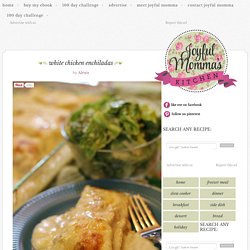 Here is my version of this recipe that makes the chicken filling more flavorful and moist. Enjoy! Potato Rings with Homemade Buttermilk Ranch. If french fries and onion rings ever got married and had a baby, I think it would be something like this…a potato ring.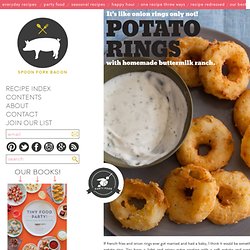 You have a light and crispy outer coating with a soft potato and caramelized onion center…why? Because we can I guess, who knows…but it's kind of fun, right?! Cheddar Bay Biscuits. A couple of months ago I wanted to make the coveted Red Lobster biscuits but I didn't have Bisquick at the time so I made these Cheese Muffins instead.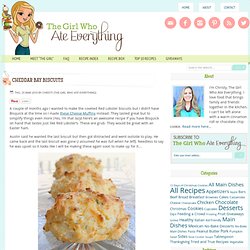 They tasted great but to simplify things even more (Yes, I'm that lazy) here's an awesome recipe if you have Bisquick on hand that tastes just like Red Lobster's. These are grub. They would be great with an Easter ham. Million Dollar Spaghetti. Million Dollar Spaghetti is my family's FAVORITE meal, so I thought I would share it with all of you!!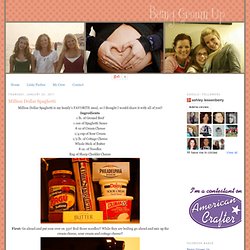 Ingredients 1 lb. of Ground Beef. Craving > Dutch Baby for Breakfast | foodiecrush. Growing up my family didn't do many baked breakfasts.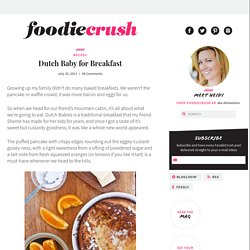 We weren't the pancake or waffle crowd, it was more bacon and eggs for us. So when we head for our friend's mountain cabin, it's all about what we're going to eat. Dutch Babies is a traditional breakfast that my friend Sherrie has made for her kids for years, and once I got a taste of it's sweet but custardy goodness, it was like a whole new world appeared. The puffed pancake with crispy edges rounding out the eggey-custard-gooey-ness, with a light sweetness from a sifting of powdered sugar and a tart note from fresh squeezed oranges (or lemons if you like it tart) is a must-have whenever we head to the hills. photo > foodiecrush. How To Make Wine In Just One Week. Ok, there are tons of homemade wine recipes on the internet.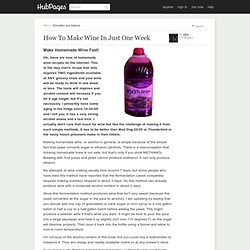 This is the lazy man's recipe that only requires TWO ingredients available at ANY grocery store and your wine will be ready to drink in one week or less. The taste will improve and alcohol content will increase if you let it age longer, but it's not necessary. I presently have some aging in the fridge since 10-29-09 and I tell you, it has a very strong alcohol aroma and a real kick. Flashback: One-Week Wine. With berry season right around the corner, I got to thinking back on Alastair Bland's One-Week Wine tutorial from the pages of CRAFT Volume 03.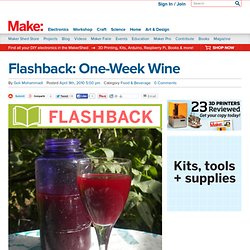 Alastair crafted his first batch using wild-harvested mulberries, while bike-touring around the Greek countryside. Doesn't get much eco-friendlier than that! Read on to whip up your own batch and pick up a back issue of CRAFT Volume 03, if you don't already have it, for lots more evergreen projects.Make wine anywhere — even on a bike trip. What The Fuck Should I Make For Dinner? Vanilla Extract Recipe, How to Make Vanilla Extract. Commercial vanilla extract usually has simple syrup (sugar water) added to the extract to give it a sweet aftertaste.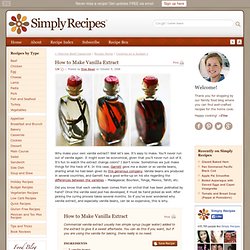 You can do this if you want, but if you are using the vanilla for baking, there really is no need. Method 1 Use kitchen scissors or a sharp paring knife to cut lengthwise down each vanilla bean, splitting them in half, leaving an inch at the end connected. 2 Put vanilla beans in a glass jar or bottle with a tight fitting lid (mason jars work well). How to Make Your Own Homemade Jam or Jelly. One of the best ways to save money is to cook from scratch as much as possible.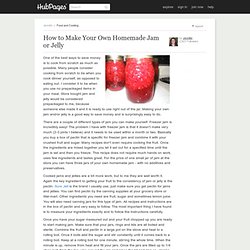 Many people consider cooking from scratch to be when you cook dinner yourself, as opposed to eating out. I consider it to be when you use no prepackaged items in your meal. Store bought jam and jelly would be considered prepackaged to me, because someone else made it and it is ready to use right out of the jar. Recipe: Homemade peanut butter granola bars. Hummus Recipes for Kids - 5 Hummus Recipes Your Kids Will Love. When I am cooking for my children, I really try to think about what foods they like and what new tastes I can introduce to them.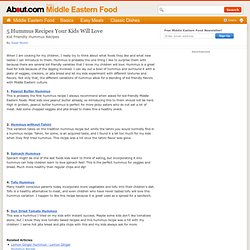 Hummus is probably the one thing I like to surprise them with because there are several kid friendly varieties that I know my children will love. Hummus is a great food for kids because of the dipping involved. I can lay out a bowl of hummus and surround it with a plate of veggies, crackers, or pita bread and let my kids experiment with different textures and flavors. Not only that, the different variations of hummus allow for a blending of kid friendly flavors with Middle Eastern culture. 1. Roasted Red Pepper Hummus Recipe - How to Make Roasted Red Pepper Hummus. When you want hummus with a little "kick", you should make roasted red pepper hummus. It is the easiest recipe! You can buy fresh roasted red peppers in the deli of your supermarket or on the shelf in a jar. The recipe also contains tahini, which can be made easily, or also purchased in a supermarket.More hummus recipes Prep Time: 10 minutes.
How to Make Ice Cream (with video) Steps Method 1 of 3: Making Cream-Based Ice Cream 1Mix your base. It's easy to make a wide variety of ice cream flavors by starting with a good vanilla ice cream base. The Secret For Making Your Own BBQ Sauce. You can develop your own signature BBQ sauce Wednesday, April 16, 2014 BBQ sauce is one thing every grill chef is particular about. How to Make Pretzels. Smokey Porter Molasses Chicken Skewers Beer is a natural meat tenderizer.
When it comes to grilling and cook-outs, nothing pulls double duty like a good brew. It'll give you malty flavor and tender chicken, all while giving you something nice to sip while you're in … Tampiqueña Steaks with Grilled Avocados I was born and raised in El Paso and am a border town girl all the way. How to Make Pesto like an Italian Grandmother Recipe.
If you've ever tasted pesto in Italy you know that the pesto here in the United States just isn't the same. I received a lesson in how to make pesto from a real Italian grandmother last week and now I understand the difference and what makes it so. My friend Francesca makes the trip from her small town near the pesto-epicenter of Genoa, Italy to San Francisco once or twice a year - this time (lucky for us) she brought her mom and two-year old son Mattia. Her mom makes a beautiful pesto (and perfectly light, potato gnocchi to go along with it) and offered to show me and my friend Jen how it is done. Oven-fried Potato Chips Recipe. Recipes. 3 DIY wines you can make at home. Do a dance for yogurt that isn't in plastic tubs. Homemade peanut butter. How to Make Fresh Pasta - Gourmet Cooking Techniques. Simplest Homemade Beer.
Recipe: Garden fresh pasta sauce.
---