Desserts
Homemade Marshmallow Milkshakes. I got the idea to make these from my friend Val.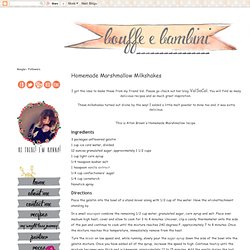 Please go check out her blog ValSoCal. You will find so many delicious recipes and so much great inspiration. BERRY PEACH PIES. Did you know that you can almost remove a toe with your food processor?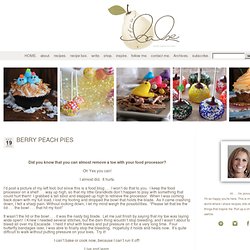 Oh Yes you can! I almost did. It hurts. PRETZEL BITES – Parmesan or Cinnamon and Sugar with glaze. Do you need a perfect snack for the big game?
These Pretzel bites will hit the spot for sure. You can make a combination of Parmesan bites with a Cheese dip or Cinnamon and Sugar bites with a Vanilla glaze for dipping. Raspberry Balls. Here is a flashback from the 70'sEvery Holiday season my Grandmother would make these wonderful raspberry balls.It took me years and years to figure out the recipe, but I got it!!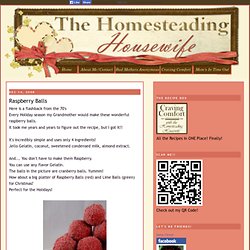 It's incredibly simple and uses only 4 ingredients! Jello Gelatin, coconut, sweetened condensed milk, almond extract. And... Gooseberry Patch cookbook giveaway with Best-Ever Cookies Cookbook Review & Recipes. These are the Best Ever Cookies on Pinterest!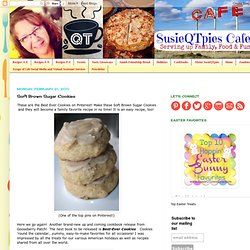 Make these Soft Brown Sugar Cookies and they will become a family favorite recipe in no time! It is an easy recipe, too! (One of the top pins on Pinterest!) Here we go again! Another brand-new up and coming cookbook release from Gooseberry Patch! Buttermilk Blueberry Breakfast Cake | alexandra's kitchen — seasonal recipes for everyone.
I swear buttermilk is magic.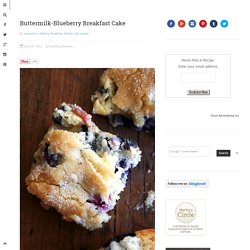 I've dwelled on this before. Buttermilk seems to turn everything to gold. Snickerdoodle Muffins. Last Friday I finished my exams and was planning on coming home and having a baking extravaganza, but then I tripped on my cat and fell down the stairs.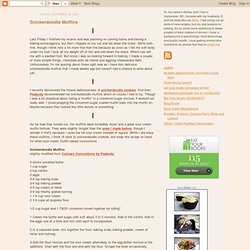 We're both fine, though I think he's a lot more fine than me because as soon as I felt his soft body under my foot I took all my weight off of him and slid down the stairs. Which has left me with a swollen foot. But since I was so looking forward to baking, I made a couple of more simple things, chocolate pots de creme and eggnog cheesecake bars. Paradise cafe. Lately i have been wanting to have a chocolate chip cookie from paradise cafe, but because of the sparse locations of this cafe, it's difficult to make that happen. i just recently ate a mrs. fields cookie and i just about died because it was so good. the highlight of my trips to this bakery and cafe are the cookies. the many different types of cookies. from oatmeal to chocolate chip, you name it...they are the best cookies i have ever eaten. i have been wanting to find the recipe to their chocolate chip cookie, but usually never could find it. then one day, i found it. i don't know how, but i did. i haven't tried out the recipe to see if it works or is anything like the cookie yet.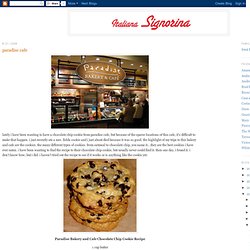 Paradise Bakery and Cafe Chocolate Chip Cookie Recipe 1 cup butter 1 cup sugar 1/2 cup brown sugar 2 eggs. Cabbagerose Tumblr Inspiration. Cinnamon Rolls 101. Hey!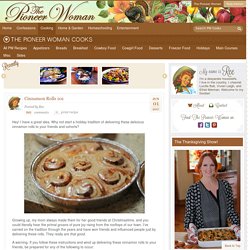 I have a great idea. Why not start a holiday tradition of delivering these delicious cinnamon rolls to your friends and cohorts? Growing up, my mom always made them for her good friends at Christmastime, and you could literally hear the primal groans of pure joy rising from the rooftops of our town. French Toast with Berry Butter. I cooked at the Lodge yesterday, and this was the final dish.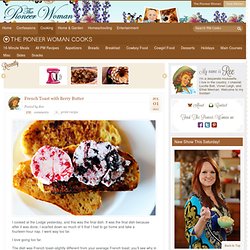 It was the final dish because after it was done, I scarfed down so much of it that I had to go home and take a fourteen-hour nap. I went way too far. I love going too far. Sopapilla Cheesecake | my yellow umbrella. My friend, Kelsey, is amazing. That I already knew…but then she brought these to small group: Ingredients:-2 cans pillsbury butter crescent rolls-2 (8oz) packages cream cheese (softened)-1 cup sugar-1 teaspoon vanilla-1/4 cup butter (melted)-Cinnamon & sugar Instructions: Unroll and spread 1 can crescent rolls on bottom of un-greased pan.
Combine softened cream cheese, sugar, and vanilla.
---