Design Inspiration
Picc.
Style.com: Queue
Issey miyake apoc collection. Weardrobe | who's wearing what. _lhk1llz0F11qzyxm8.jpg (500×373) Oscar de la Renta Metallic-Embroidered Cocktail Dress. Anne Hathaway. HANDLER: What do you think your best quality as an artist is?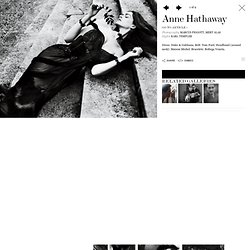 HATHAWAY: Work ethic. I heard Elia Kazan once said of Vivien Leigh—which I couldn't believe, because they worked together on A Streetcar Named Desire [1951], and she gives the most amazing performance as Blanche DuBois. But I guess he was pretty tough on his actresses, so he said that she's not the best actress in the world, but she'd have crawled over broken glass if she thought it would help her performance. That's how I see myself as an actress.
Fabric. _lokxq5zR9R1qdzu4lo1_500.jpg (500×332) _lozbxpAJKI1qf1kxjo1_500.png (500×599) _lobztsQxeX1qh6pe1o1_500.jpg (468×700) Mara Hoffman | Embroidered Story maxi kaftan  Christopher Kane | PVC gel-collared cotton shirt  106791_in_l.jpg (230×345) _lo0r594s4W1qg0l6xo1_1280.jpg (750×1280)
The real koko chanel. 20337192_010_b (712×950) 20859583_065_a (712×950) 89614311_46hRk8JW_c.jpg (500×602) Art Inspiration.
---