On Game-Based Learning
The Email Game for Chrome Awards Points for Quick Replies and Small Inboxes. ENGAGE Learning. :: ZAPdramatic :: My 5 Favorite Online Language Games | EFL 2.0 - Teacher Talk. Posted by ddeubel on Tuesday, March 29th 2011 Now and then, I post on my twitter @ddeubel , some "tired teacher tips".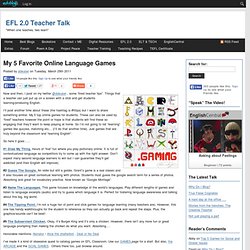 Things that a teacher can just put up on a screen with a click and get students learning/producing English. GAMES FOR LANGUAGE LEARNING. Assessment in Game-Based Learning « Game-Based Learning Talk. Assessment in game-based learning (GBL) programs can be far superior to your typical weekly multiple-choice test.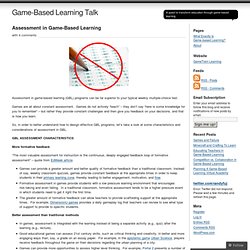 Games are all about constant assessment. Games do not actively "teach" – they don't say "here is some knowledge for you to remember" – but rather they provide constant challenges and then give you feedback on your decisions, and that is how you learn. So, in order to better understand how to design effective GBL programs, let's take a look at some characteristics and considerations of assessment in GBL.
More formative feedback. ESL games in adult classes - Articles. Larry Ferlazzo, Teacher. Why Use Games for Teaching English as a Second or Foreign Language? Teaching Tools: Using Online Simulations and Games. Students who are passionate gamers can talk a blue streak about the virtual online worlds where they invest their free time and energy.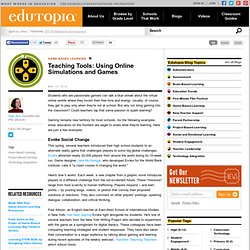 Usually, of course, they get to play only when they're not at school. But why not bring gaming into the classroom? Could teachers tap that same passion to spark learning? Gaming remains new territory for most schools. As the following examples show, educators on the frontiers are eager to share what they're learning.
---