Philosophy
Branches of Philosophy
Philosophy can be divided into five branches which address the following questions: There is a hierarchical relationship between these branches as can be seen in the Concept Chart . At the root is Metaphysics , the study of existence and the nature of existence. Closely related is Epistemology , the study of knowledge and how we know about reality and existence.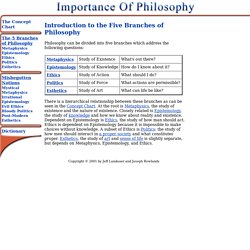 Basic Philosophy, A Guide for the Intellectually Perplexed, Meta-philosophy, Common Sense Philosophy, also, A Collection of Fundamental Ideas, and, Aphorisms for Liberal Education. A framework of fundamental and practical ideas for truth seekers, idea lov
The Noble Eightfold Path describes the way to the end of suffering, as it was laid out by Siddhartha Gautama. It is a practical guideline to ethical and mental development with the goal of freeing the individual from attachments and delusions; and it finally leads to understanding the truth about all things. Together with the Four Noble Truths it constitutes the gist of Buddhism. Great emphasis is put on the practical aspect, because it is only through practice that one can attain a higher level of existence and finally reach Nirvana. The eight aspects of the path are not to be understood as a sequence of single steps, instead they are highly interdependent principles that have to be seen in relationship with each other. Right view is the beginning and the end of the path, it simply means to see and to understand things as they really are and to realise the Four Noble Truth.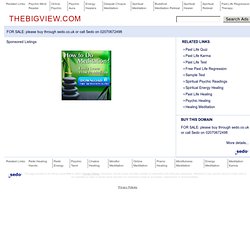 DailyTao.org :: The Book of The Way, Day by Day