Alexhes
Hack Google Leeched From Youtube!
Learning
Free online speed reading software | Spreeder.com. Spreeder is a free service provided by 7-Speed-ReadingTM.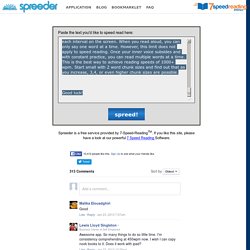 If you like this site, please have a look at our powerful 7 Speed Reading Software. Spreeder.com is a free online speed reading software designed to improve your reading speed and comprehension. Spreeding 1 word @ 300 wpm. DuckDuckGo. GradeFund | Inspiring Academic Achievement - Get Paid for Good Grades. Your Free Online Practice Exam Site! Empowered Quotes. The easiest way to write your life story | OhLife.
Videos. Personas. Apple. Peliculas. Publicidad. Diseño. Musica. Compilado paginas. Pearltrees videos. Help. Utilidades. Apps. Images. Sharing. Torrents.
WISESTART | UK's top startpage. Reach everything with just one click. Make WiseStart Your Homepage (click here) Search search:
ButtonAll :: Search it all on the internet's universal remote. Dipity - Find, Create, and Embed Interactive Timelines. Soovle - Let the web help. Joongel, Internet The Easy Way.
Storage
Convert. PRO Features. Moz Pro Subscription 12+ tools—including Moz Analytics, Open Site Explorer, Followerwonk, and more—to track and improve your SEO, social, branding, link building, and content marketing efforts.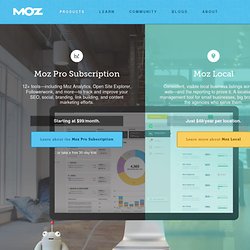 Starting at $99/month. Learn about the Moz Pro Subscription. Remember Everything | Evernote Corporation. Listhings (beta) - take sticky notes online. Headmagnet | Get stuff in your head and keep it there!
Products to Help Businesses and Consumers Control Their Online Lives : Reputation.com. The growth of the Internet has resulted in a significant increase in the amount of personal information online about you and your family.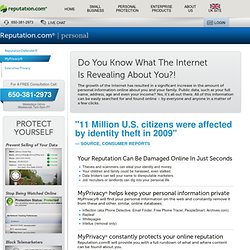 Public data, such as your full name, address, age and even your income? Yes, it's all out there. All of this information can be easily searched for and found online – by everyone and anyone in a matter of a few clicks. Your Reputation Can Be Damaged Online In Just Seconds.
---