Mobility
Ride the City. Based on what you know about biking in the city, please rate the route using the options below.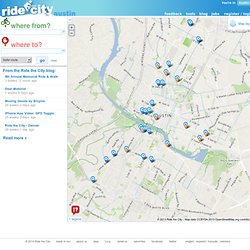 Excellent—just what I would have done Pretty good—close to the best possible route OK, but it took a few unusual turns Pretty bad—it was more wrong than it was right Terrible from start to finish In the box below, please let us know what you liked or disliked about this route (or about Ride the City in general). If you include your email address, we can respond when we fix the problem you identify -- or clarify the problem. In the box below, please let us know what you like or dislike about Ride the City.
If you include your email address, we can respond when we fix the problem you identify -- or just email you to say thanks for your input. Google Maps Adds Bike Routes. At long last, Google Maps has routes specifically for bikes.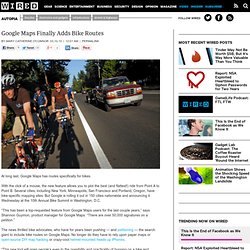 With the click of a mouse, the new feature allows you to plot the best (and flattest!) Ride from Point A to Point B. Several cities, including New York, Minneapolis, San Francisco and Portland, Oregon, have bike-specific mapping sites. But Google is rolling it out in 150 cities nationwide and announcing it Wednesday at the 10th Annual Bike Summit in Washington, D.C.
Bike Hugger. Google Adds Biking To Google Maps. Before heading to Florida on a work trip several years ago I lay sprawled across my den with a giant road map of the area, a set of highlighters, a guide book and my laptop.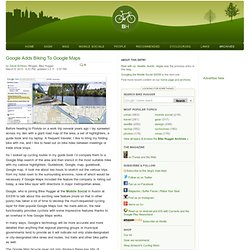 A frequent traveler, I like to bring my folding bike with me, and I like to head out on bike rides between meetings or trade show stops. As I looked up cycling routes in my guide book I'd compare them to a Google Map search of the area and then stencil in the most suitable rides with my various highlighters. Guidebook, Google, map, guidebook, Google map. It took me about two hours to sketch out the various trips from my hotel room to the surrounding environs, none of which would be necessary if Google Maps included the feature the company is rolling out today, a new bike layer with directions in major metropolitan areas. Google Maps 'Bike There' | …for a safer, healthier, happier worl. Google Maps Adds Directions for Cyclists - Gadgetwise Blog - NYT. Cycling enthusiasts tend to be a passionate bunch.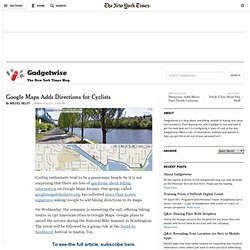 So it is not surprising that there are lots of questions about biking information on Google Maps forums. One group, called googlemapsbikethere.org, has collected more than 51,000 signatures asking Google to add biking directions to its maps. On Wednesday, the company is answering the call, offering biking routes in 150 American cities in Google Maps. Google plans to unveil the service during the National Bike Summit in Washington. The event will be followed by a group ride at the South by Southwest festival in Austin, Tex. Zimride. GoLoco. Avego - Efficiency in passenger transport. Untitled. RepairPal is an independent, unbiased resource designed to deliver repair price transparency and the expert information car owners need.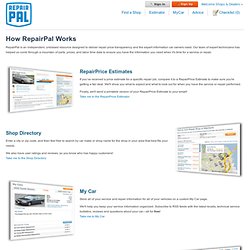 Our team of expert technicians has helped us comb through a mountain of parts, prices, and labor time data to ensure you have the information you need when it's time for a service or repair. RepairPrice Estimates If you've received a price estimate for a specific repair job, compare it to a RepairPrice Estimate to make sure you're getting a fair deal. We'll show you what to expect and what to look out for when you have the service or repair performed. Finally, we'll send a printable version of your RepairPrice Estimate to your email! Foursquare. Foursquare (service) Foursquare is a location-based social networking website for mobile devices, such as smartphones.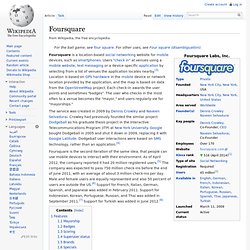 Users "check in" at venues using a mobile website, text messaging or a device-specific application by selecting from a list of venues the application locates nearby.[3] Location is based on GPS hardware in the mobile device or network location provided by the application, and the map is based on data from the OpenStreetMap project. Each check-in awards the user points and sometimes "badges". The user who checks in the most often to a venue becomes the "mayor," and users regularly vie for "mayorships. " GOOD. Design mind | business. technology. design. Hitchsters - Share. Save. Socialize. The best way to share a rid. Tour | Travel planning, advice & tips for the smart traveller.
Dopplr is a service for smart travellers.
Dopplr helps you make more of your travels by sharing your personal and business travel plans privately with the people you trust. Dopplr shows you coincidences, for example, telling you that two people you know will be in Tokyo when you will be there too. Why are the signs at New York's Penn Station so confusing? - By. Penn Station is a confusing place.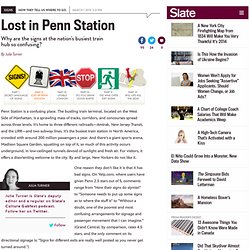 The bustling train terminal, located on the West Side of Manhattan, is a sprawling mass of tracks, corridors, and concourses spread across three levels. It's home to three different railroads—Amtrak, New Jersey Transit, and the LIRR—and two subway lines. ZipCar. Robin Chase on Zipcar and her next big idea. Robin Chase Profile. Yves Behar's supercharged motorcycle design.
---