Divertissement
Agenda des festivals par Les Inrocks. Remixito - Détournement, Parodie, Générateur d'images et Sous-titres de vidéos. Culture.fr : Actualité > Une. Le Guide des Festivals© Eté - Automne - Hiver - Printemps 2012 - 2013. L'autre tourisme rural | Tonton Marcel. Add Letters » Custom Picture of Bart Simpson Chalkboard Wallpaper Generator. Bart Simpson Chalkboard Wallpaper Generator NEW!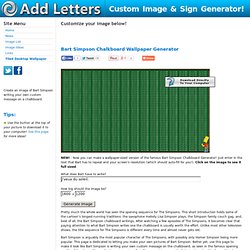 - Now you can make a wallpaper-sized version of the famous Bart Simpson Chalkboard Generator! Idée cadeau Happytime - coffrets et chèques cadeaux. Broadcast Yourself.
HAPPY BIRTHDAY!!! "The Wonder Hospital" [Full film, 12min] Sessions acoustiques | madmoiZelle.tv. Demotivateur - Image drôle, vidéo drôle, buzz. Movements and Nonsense | M.a.N. – Bringing you new Music, Art, and Nonsense. Tip Top : top listes et classements. Moustaches. Carnet Ordinaire de Mamzelle CarnetO.
---