Online Tools
ServerSniff.net - Your free "Swiss Army Knife" for networking, serverchecks and routing with many many little toys and tools for administrators, webmasters, developers, powerusers und security-aware users. Tools for webmasters and developers:Benchmarks and informations about servers, routing, IP-Stacks, encryption, security, nameservers and domains. Tools for powerusers:For powerusers ServerSniff.net offers computing Hashes for strings and files and simply a lot of information about servers, ssl-encryption, domains etc. pp. ServerSniff.net gathers only public information about servers and networks from publicly available sources or from asking the servers directly.With using ServerSniff.net you agree on your terms of use and acceptable use policy!
Domain - reports and all about ips, networks and dns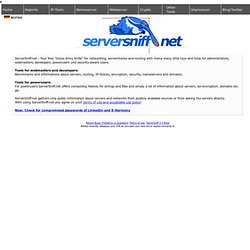 This Geo Ip Location service (IP Address Map lookup service) is provided for FREE by Geobytes, inc to assist you in locating the geographical location of an IP Address. Click here to checkout our other FREE localization services. Did you know that you can use this service programmatically?For example, in PHP you would access this service as shown in this sample: $tags = get_meta_tags('http://www.geobytes.com/IpLocator.htm?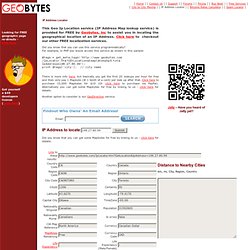 IP Address Locator - Enter an IP address to find its location - Lookup Country Region City etc
Whois, Ping, Port Scan, NSlookup and Traceroute Online Tools
Nmap Online
Nmap Online Scanner uses Nmap Security Scanner to perform scanning. It was designed to rapidly scan large networks, although it works fine with single hosts too. We suggest you to read the Nmap's documentation, especially the Nmap Reference Guide. You can also be interested in some examples of the Nmap's usage. Nmap Online Scanner supports most of the functionality of Nmap Security Scanner. It can be used as a simple and fast port scanner.