Calorie Restriction Extends Lifespan
Calorie Restriction & the Okinawans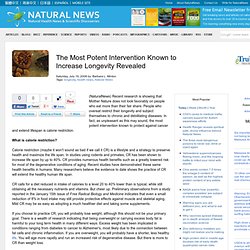 (NaturalNews) Recent research is showing that Mother Nature does not look favorably on people who eat more than their fair share. People who overeat restrict their longevity and subject themselves to chronic and debilitating diseases. In fact, as unpleasant as this may sound, the most potent intervention known to protect against cancer and extend lifespan is calorie restriction. What is calorie restriction? Calorie restriction (maybe it won't sound as bad if we call it CR) is a lifestyle and a strategy to preserve health and maximize the life span. In studies using rodents and primates, CR has been shown to increase life span by up to 40%.
The Most Potent Intervention Known to Increase Longevity Revealed
Mind & Brain::Mind Matters::March 3, 2009:: ::Email::Print A new study reports that reducing calories may improve memory in older adults. By Mohan Chilukuri and P. Murali Doraiswamy
Fewer Calories Improves the Brain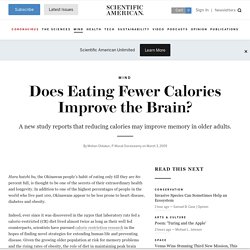 Calorie Restriction Extends life span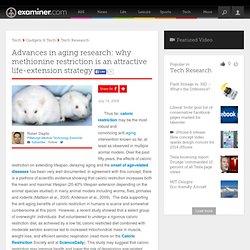 Thus far, caloric restriction may be the most robust and convincing anti- aging intervention known so far, at least as observed in multiple animal models.
Advances in aging research: why methionine restriction is an attractive life-extension strategy - Pittsburgh Medical Technology