Movie News and Bits
Goodbye Lenin: Universal Studios To Bring "Magic Of the Movies" To Moscow. MOSCOW - Universal Studios is bringing its world-famous amusement park to Russia.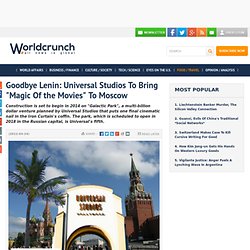 "Galactic Park," to be built in Moscow, will include the standard Universal Studios attractions, a water park and a retail-entertainment zone called Universal City Walk. The whole development is being promoted by businessman Sait-Salam Gutseriev, who plans to invest $2.8 billion on the project. Outside experts consider the estimate low, and say the construction alone could cost as much as $11 billion. Gutseriev began negotiations with Universal Studios, for whom this would be the first amusement park in Europe, in 2010. At the same time, he also pursued a partnership with Disney, but failed to reach a deal for the creation of a Russian Disneyland. No Joke, Platinum Dunes Getting Behind 'Halloween' Franchise. Exclusives While some of you may think this is an April Fool's joke, it's not.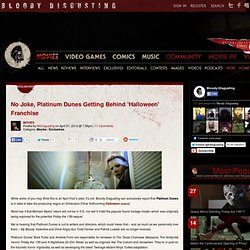 Bloody Disgusting can exclusively report that Platinum Dunes is in talks to take the producing reigns on Dimension Films' forthcoming Halloween sequel. 'Prometheus' Viral Introduces Weyland Android "David"; Second Russian Trailer! | Bloody Disgusting. Ready to kick off the day strong?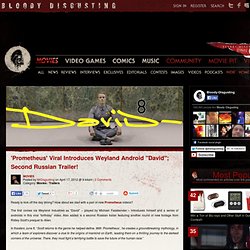 How about we start with a pair of new Prometheus videos? The first comes via Weyland Industries as "David" – played by Michael Fassbender – introduces himself and a series of androids in this viral "birthday" video. Also added is a second Russian trailer featuring another round of new footage from Ridley Scott's prequel to Alien. /Film Set Interview: 'The Avengers' Star Mark Ruffalo. In June 2011, Marvel invited a handfull of journalists to the set of The Avengers.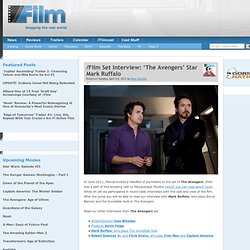 /Film was a part of this amazing visit to Albuquerque Studios (which you can read about here). While on set we participated in round table interviews with the cast and crew of the film. Early Buzz: First Reactions From 'The Avengers' Hollywood Premiere. The world premiere of Joss Whedon's The Avengers happened tonight in Hollywood.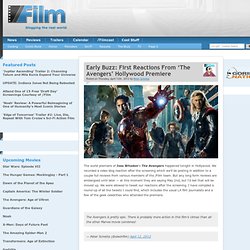 We recorded a video blog reaction after the screening which we'll be posting in addition to a couple full reviews from various members of the /Film team. But any long form reviews are embargoed until later — at this moment they are saying May 2nd, but I'd bet that will be moved up. We were allowed to tweet our reactions after the screening. I have compiled a round-up of all the tweets I could find, which includes the usual LA film journalists and a few of the geek celebrities who attended the premiere. 'Sabrina The Teenage Witch' To Get Her Own Superhero Movie. At the multiplex, male superheroes have all the fun.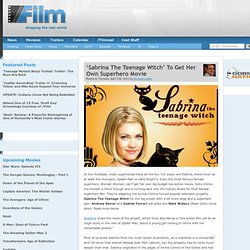 For every one Elektra, there must be at least five Avengers, Spider-Man or Dark Knight's. Even the most famous female superhero, Wonder Woman, can't get her own big budget live-action movie. Sony thinks the market is there though and is turning back into the history books for their female superhero film. 'Short Circuit' Remake Will Star Pre-Teen Actress, Aims To Be Family Friendly Movie About Modern War. Johnny 5 will once again be alive, but this time he'll befriend a teenage girl set against the back drop of modern robotics in war.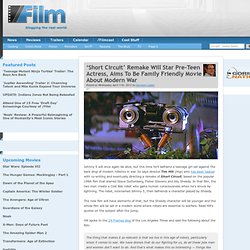 So says director Tim Hill (Hop) who has been tasked with co-writing and eventually directing a remake of Short Circuit, based on the popular 1986 film that starred Steve Guttenberg, Fisher Stevens and Ally Sheedy. In that film, the two men create a Cold War robot who gains human consciousness when he's struck by lightning.
---