Propaganda, Misinformation, and Advertisting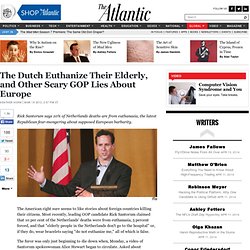 The Dutch Euthanize Their Elderly, and Other Scary GOP Lies About Europe - Heather Horn - International
Rick Santorum says 10% of Netherlands deaths are from euthanasia, the latest Republican fear-mongering about supposed European barbarity. Reuters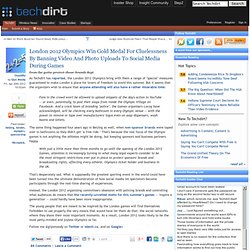 London 2012 Olympics Win Gold Medal For Cluelessness By Banning Video And Photo Uploads To Social Media During Games
As Techdirt has reported , the London 2012 Olympics bring with them a range of "special" measures guaranteed to make London a place for lovers of freedom to avoid this summer. But it seems that the organizers wish to ensure that anyone attending will also have a rather miserable time : Fans in the crowd won't be allowed to upload snippets of the day's action to YouTube -- or even, potentially, to post their snaps from inside the Olympic Village on Facebook. And a crack team of branding "police", the Games organisers Locog have acknowledged, will be checking every bathroom in every Olympic venue -- with the power to remove or tape over manufacturers' logos even on soap dispensers, wash basins and toilets. The same thing happened four years ago in Beijing as well, when non-sponsor brands were taped over in bathrooms so they didn't get "a free ride."
Journalists Smeared Online While Investigating Pentagon Propaganda [Updated]
Conservative Alleges New York Times Covered Up Recession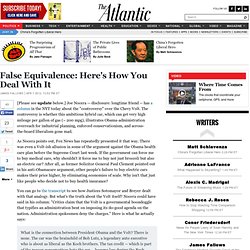 [Please see update below.] Joe Nocera -- disclosure: longtime friend -- has a column in the NYT today about the "controversy" over the Chevy Volt. The controversy is whether this ambitious hybrid car, which can get very high mileage per gallon of gas (~ 200 mpg), illustrates Obama-administration overreach for industrial planning, enforced conservationism, and across-the-board liberalism gone mad. As Nocera points out, Fox News has repeatedly presented it that way. There was even a Volt-ish allusion in some of the argument against the Obama health care plan before the Supreme Court last week. If the government can force me to buy medical care, why shouldn't it force me to buy not just broccoli but also an electric car?
False Equivalence: Here's How You Deal With It - James Fallows - Politics
Message Machine - Behind TV Analysts, Pentagon's Hidden Hand - Series
A new poll shows that Americans today are more afraid of Iran than they were of the USSR in 1985, a peak of the Cold War. Left, Russian troops move an intercontinental SS-19 missile. Right, parading a mid-range Shahab-3 missile in Tehran. AP In November 1985, CNN commissioned a poll asking Americans to gauge the Soviet Union's threat to the U.S.
Fear Itself: Americans Believe Iran Threat on Par With 1980s Soviet Union - Max Fisher - International
"For a long time I have known that this hour would come, and that there would be those of you who would stand affrighted at the momentous change from constitutional government to despotism, no matter how pure and exalted you might believe my intentions to be. "But in the long watches of the night, in the solitude of my tent, I conceived a plan of government which, by the grace of God, I hope to be able to give to the American people. … (H)ateful as is the thought of assuming supreme power, I can see no other way clearly." — from "Philip Dru: Administrator" "Philip Dru, Administrator: A Story of Tomorrow, 1920-1935″ is a novel about a successful rebellion against a hopelessly corrupt U.S. government. Its leader then becomes a benevolent dictator, and restores the rule of law to the Republic. Though he didn't put his name on the book, author Colonel Edward Mandell House was a Texas political insider who worked assiduously to make Woodrow Wilson president.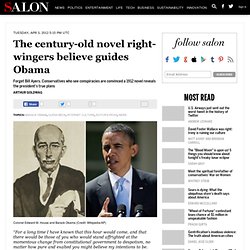 The century-old novel right-wingers believe guides Obama - Barack Obama
Facts, 360 B.C.-A.D. 2012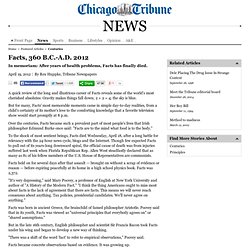 April 19, 2012 | By Rex Huppke, Tribune Newspapers A quick review of the long and illustrious career of Facts reveals some of the world's most cherished absolutes: Gravity makes things fall down; 2 + 2 = 4; the sky is blue. But for many, Facts' most memorable moments came in simple day-to-day realities, from a child's certainty of its mother's love to the comforting knowledge that a favorite television show would start promptly at 8 p.m.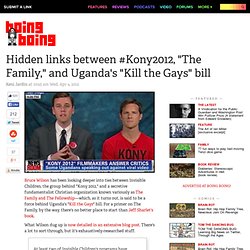 Bruce Wilson has been looking deeper into ties between Invisible Children, the group behind "Kony 2012," and a secretive fundamentalist Christian organization known variously as The Family and The Fellowship —which, as it turns out, is said to be a force behind Uganda's " Kill the Gays " bill. For a primer on The Family, by the way, there's no better place to start than Jeff Sharlet's book . What Wilson dug up is now detailed in an extensive blog post . There's a lot to sort through, but it's exhaustively-researched stuff.
Hidden links between #Kony2012, "The Family," and Uganda's "Kill the Gays" bill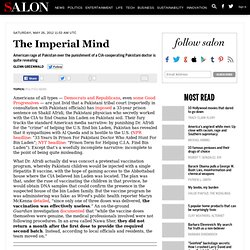 The Imperial Mind
Americans of all types — Democrats and Republicans , even some Good Progressives — are just livid that a Pakistani tribal court (reportedly in consultation with Pakistani officials) has imposed a 33-year prison sentence on Shakil Afridi, the Pakistani physician who secretly worked with the CIA to find Osama bin Laden on Pakistani soil. Their fury tracks the standard American media narrative: by punishing Dr. Afridi for the "crime" of helping the U.S. find bin Laden, Pakistan has revealed that it sympathizes with Al Qaeda and is hostile to the U.S. ( NPR headline : "33 Years In Prison For Pakistani Doctor Who Aided Hunt For Bin Laden"; NYT headline : "Prison Term for Helping C.I.A.
How Do You Sell a Car to a Millennial? - Jordan Weissmann - Business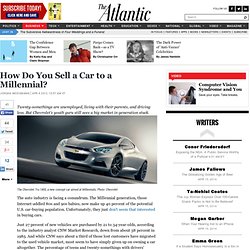 Twenty-somethings are unemployed, living with their parents, and driving less. But Chevrolet's youth guru still sees a big market in generation stuck. The Chevrolet Tru 140S, a new concept car aimed at Millennials; Photo: Chevrolet The auto industry is facing a conundrum.
ALEC Sends Out an SOS to Breitbart Bloggers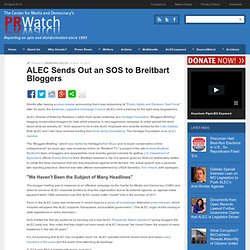 Share this Shortly after issuing a press release announcing that it was disbanding its " Public Safety and Elections Task Force " after 30 years, the American Legislative Exchange Council (ALEC) held a training for the right-wing blogosphere. ALEC Director of External Relations Caitlyn Korb spoke yesterday at a Heritage Foundation "Bloggers Briefing," begging conservative bloggers for help while prepping "a very aggressive campaign to really spread the word about what we actually do." Korb appears to be a new ALEC employee who recently worked for the Cato Institute . Both ALEC and Cato have received funding from Koch family foundations . The Heritage Foundation is an ALEC member .
Review & Outlook: Shutting Down ALEC
Article Excerpt Is it suddenly disreputable to advocate free-market policies? That's the question raised by a remarkable political assault on the American Legislative Exchange Council (ALEC), which promotes reform in the 50 states. Led by former White House aide Van Jones, various left-wing activists and media are bullying big business to cut off ALEC's funding.