Fun stuff!
Wall Photos. How to blog. Laptop isolated on a white background, Shutterstock I was invited to give a talk at Washington & Jefferson College about careers in blogging.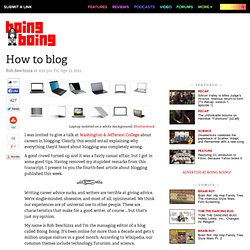 Clearly, this would entail explaining why everything they'd heard about blogging was completely wrong. A good crowd turned up and it was a fairly casual affair, but I got in some good tips. Having removed my stupidest remarks from this transcript, I present to you the fourth-best article about blogging published this week. How to murder your productivity. In this post, you are going to learn proven techniques that you can immediately put to use.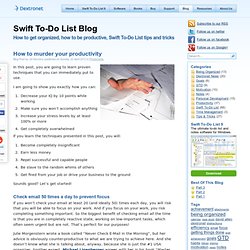 I am going to show you exactly how you can: Decrease your IQ by 10 points while workingMake sure you won't accomplish anythingIncrease your stress levels by at least 100% or moreGet completely overwhelmed If you learn the techniques presented in this post, you will: Become completely insignificantEarn less moneyRepel successful and capable peopleBe slave to the random whims of othersGet fired from your job or drive your business to the ground Sounds good? Wilco Continues To Get The Internet. We talk about all sorts of artists who really seem to "get" the internet, and how it can be used for good, rather than something to freak out about.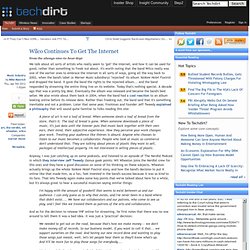 It's worth noting that the band Wilco really was one of the earlier ones to embrace the internet in all sorts of ways, going all the way back to 2002, when the band's label (a Warner Music subsidiary) "rejected" its album Yankee Hotel Foxtrot and dropped the band. It gave the band the rights to the rejected album... and the band responded by streaming the entire thing live on its website. Thedeadhatter: "You take the blue pill - the... Happy 404 Day! Here Are the Web's Funniest Error Messages [PICS] Is your Wednesday full of fail?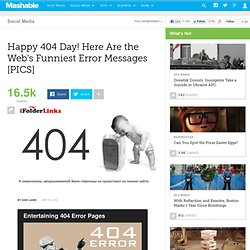 If so, it could be because today is April 4 — otherwise known as 4/04, the calendar's answer to the infamous 404 error message. We've all been there, furiously hitting the refresh button and muttering expletives while that page we just need to read refuses to load. Kurt Vonnegut's 8 Tips on How to Write a Great Story - Maria Popova - Entertainment. Why you should be cruel to your readers AP Images The year of reading more and writing better is well underway with writing advice the likes of David Ogilvy's 10 no-bullshit tips, Henry Miller's 11 commandments, Jack Kerouac's 30 beliefs and techniques, John Steinbeck's 6 pointers, and various invaluable insight from other great writers.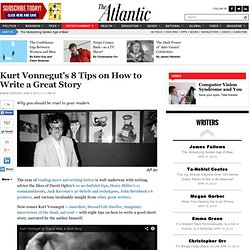 Now comes Kurt Vonnegut -- anarchist, Second Life dweller, imaginary interviewer of the dead, sad soul -- with eight tips on how to write a good short story, narrated by the author himself. 1. Protesters chase off police in Quebec. Satirical Alexandria: This happened. #Frothy htt... JuWZZ.jpg (JPEG Image, 500x375 pixels) 4555_63741_small. Lost Dark Knight Rises audio outtakes reveal that Morgan Freeman is a honey-voiced madman. Facebook. Facebook. Welcome | Your Bank Of America. Congressman Picks His Nose On C-SPAN. Blind Dog Living in a Trash Pile Gets the Most Beautiful Rescue. California Man Attacked By Lion, Rescued By Bear. Facebook. Mama dog rescues her pup from drowning.
Wait, why did you click on the story and comment then...?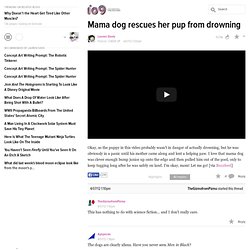 Are you saying that if people click on something it is Ok to have it there? I mean... Dog Takes Bullet to the Head for Owner, Lives. Facebook. Distracted, Texting Man Walks Into a Bear. Wednesday, Aug. 29, 2012 Subscribe to rss Home Top 5 Now Stars.
Facebook. Iggy pop-The Idiot-Sistermidnight. Nofx - Leave It Alone. Johnny Cash - In My Life. David Bowie - Heroes. First Aid Kit - Ghost Town // Mahogany Session. I Can't Write Left Handed (Live In Studio) Revolution - Dr. John (New Song 2012) Maxence Cyrin - Where Is My Mind (The Pixies Piano Cover) We Can't Have Phonies in the Army of God by gn0m0n. Birthday Dethday. The Band, The Weight.
---