Environment
Scientists call for global ban on bee-killing pesticides. Thousands of tons spilled at oil field in Russia. MOSCOW (AP) — Up to 2,000 tons of oil have spilled from a major field in northern Russia after workers struggled to contain the leak for two days, officials said.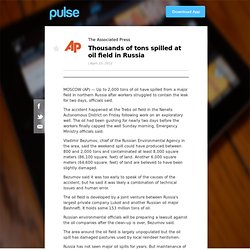 The accident happened at the Trebs oil field in the Nenets Autonomous District on Friday following work on an exploratory well. The oil had been gushing for nearly two days before the workers finally capped the well Sunday morning, Emergency Ministry officials said. Blamed for Bee Collapse, Monsanto Buys Bee Research Firm. Monsanto, the massive biotechnology company being blamed for contributing to the dwindling bee population, has bought up one of the leading bee collapse research organizations.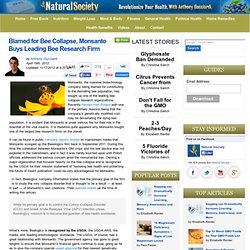 Recently banned from Poland with one of the primary reasons being that the company's genetically modified corn may be devastating the dying bee population, it is evident that Monsanto is under serious fire for their role in the downfall of the vital insects. It is therefore quite apparent why Monsanto bought one of the largest bee research firms on the planet. It can be found in public company reports hosted on mainstream media that Monsanto scooped up the Beeologics firm back in September 2011.
During this time the correlation between Monsanto's GM crops and the bee decline was not explored in the mainstream, and in fact it was hardly touched upon until Polish officials addressed the serious concern amid the monumental ban. Chevron halts Brazil drilling after new leak - Americas. Chevron has filed to temporarily halt production operations in Brazil after it detected a "small new seep" of oil in the same offshore field where it suffered a high-profile leak in November.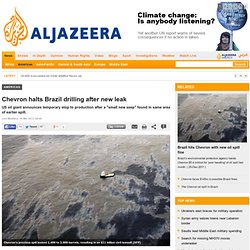 The US oil company said Friday it was taking the step as a precautionary measure to study its "reservoir management plans" in Brazil, where it has spent over $2bn developing the largest foreign-run oil field. If approved by Brazilian regulators, the suspension will shut down a field with the capacity to produce 80,000 barrels a day, more than 3 per cent of Brazil's oil output. "The suspension of production is designed to let us analyze scientifically what caused this," Rafael Jaen Williamson, Chevron's director of corporate affairs in Brazil, said at a news conference in Rio de Janeiro. So, is Dimock's Water Really Safe to Drink? Ray Kemble delivers fresh water to a home that had their water contaminated due to hydraulic fracturing on Jan. 18, 2012 in Dimock, Pa.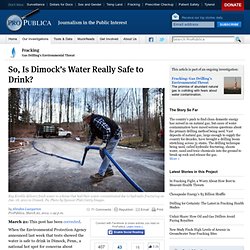 Photo by Spencer Platt/Getty Images. March 21: This post has been corrected [1]. When the Environmental Protection Agency announced last week that tests showed the water is safe to drink in Dimock, Penn., a national hot spot for concerns about fracking, it seemed to vindicate the energy industry's insistence that drilling had not caused pollution in the area. But what the agency didn't say – at least, not publicly – is that the water samples contained dangerous quantities of methane gas, a finding that confirmed some of the agency's initial concerns and the complaints raised by Dimock residents since 2009.
'World's Biggest Fracker' Pockets 1 Billion in Shady Deal | Jeff Goodell | Politics News. Human-made earthquakes reported in central US. When swarms of quakes occurred in Colorado and Oklahoma last year, the US Environmental Protection Agency asked the geologic survey to investigate possible links to energy extraction in the area. – File Photo from Creative Commons WASHINGTON: The number of earthquakes in the central United States rose "spectacularly" near where oil and gas drillers disposed of wastewater underground, a process that may have caused geologic faults to slip, US government geologists report.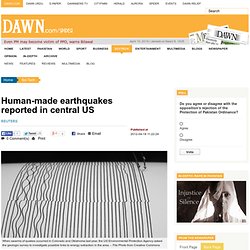 The average number of earthquakes of magnitude 3 or greater in the US midcontinent - an area that includes Arkansas, Colorado, Oklahoma, New Mexico and Texas - increased to six times the 20th century average last year, scientists at the US Geological Survey said in an abstract of their research. The abstract does not explicitly link rising earthquake activity to fracking - known formally as hydraulic fracturing - that involves pumping water and chemicals into underground rock formations to extract natural gas and oil. BP Covered Up Blow-out Two Years Prior to Deadly Deepwater Horizon Spill. Greg Palast Two years before the Deepwater Horizon blow-out in the Gulf of Mexico, another BP off-shore rig suffered a nearly identical blow-out, but BP concealed the first one from the U.S. regulators and Congress.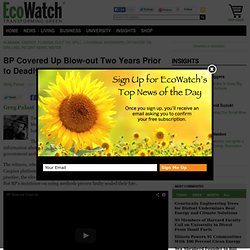 This week, EcoWatch.org located an eyewitness with devastating new information about the Caspian Sea oil-rig blow-out which BP had concealed from government and the industry. Deepwater Horizon Oil Spill Aftershocks on Louisiana Seafood - Page 1 | Culinary. Dynamic duo: Ryan Comardelle, in red, and Reggie Estay empty crab traps.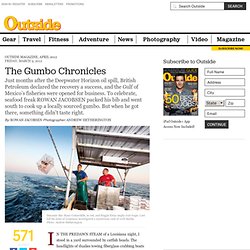 Last fall the state of Louisiana investigated a mysterious rash of crab deaths. Photo: Andrew Hetherington Oil spill map Map of Deepwater Horizon spill. BP Mix of Toxins Soaked Up by Wet Skin. Corexit® oil residue accelerates the absorption of toxins into the skin.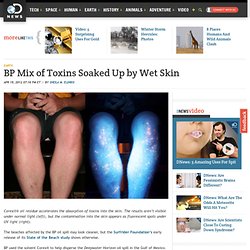 The results aren't visible under normal light (left), but the contamination into the skin appears as fluorescent spots under UV light (right). The beaches affected by the BP oil spill may look cleaner, but the Surfrider Foundation's early release of its State of the Beach study shows otherwise. BP used the solvent Corexit to help disperse the Deepwater Horizon oil spill in the Gulf of Mexico. Gulf of Mexico spill takes toll on health - Americas. Thousands of Dolphins Dying in Gulf Waters. The dolphins in the Gulf of Mexico are in the midst of a massive die-off.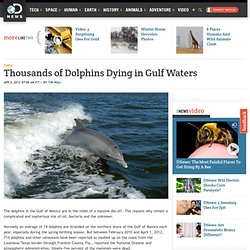 The reasons why remain a complicated and mysterious mix of oil, bacteria and the unknown. Normally an average of 74 dolphins are stranded on the northern shore of the Gulf of Mexico each year, especially during the spring birthing season. The horrific ramifications of the Gulf oil spill - AlterNet. Almost two full years after the BP oil spill, a panel of experts gathered at the 17th annual Tulane Environmental Law Summit, to present the continuing impacts of the BP Oil Spill.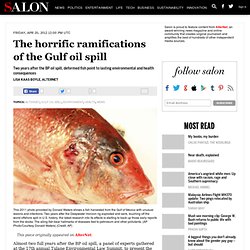 That spill began with the April 20, 2010, explosion of the Deepwater Horizon drilling unit used by BP 40 miles off the Louisiana coast. Eleven men lost their lives. The resulting spill of oil into the Gulf of Mexico stands as the largest oil spill in U.S. history and the second largest environmental disaster in this country to date besides the nearly decade-long Dust Bowl of the 1930s. Scientists at the summit presented recent photographs of shrimp with no eyes and fish with cancerous tumors born long after the gulf was declared "safe" for fishing. » 2 Years After the BP Oil Spill, Is the Gulf Ecosystem Collapsing? Alex Jones.
The BP oil spill started on April 20, 2010. We've previously warned that the BP oil spill could severely damage the Gulf ecosystem. Since then, there are numerous signs that the worst-case scenario may be playing out: Gulf seafood deformities alarm scientists - Features. New Orleans, LA - "The fishermen have never seen anything like this," Dr Jim Cowan told Al Jazeera. "And in my 20 years working on red snapper, looking at somewhere between 20 and 30,000 fish, I've never seen anything like this either. " Dr Cowan, with Louisiana State University's Department of Oceanography and Coastal Sciences started hearing about fish with sores and lesions from fishermen in November 2010. Cowan's findings replicate those of others living along vast areas of the Gulf Coast that have been impacted by BP's oil and dispersants. Gulf of Mexico fishermen, scientists and seafood processors have told Al Jazeera they are finding disturbing numbers of mutated shrimp, crab and fish that they believe are deformed by chemicals released during BP's 2010 oil disaster.
A Punishment BP Can't Pay Off. What is missing is a criminal prosecution that holds BP individuals responsible. Protective oil booms try to keep oil from the BP Deepwater Horizon spill from coating the wetlands along the Louisiana coast on June 11, 2010. It has been two years since the rig explosion led to the largest oil spill in U.S. history and the death of 11 workers. (Saul Loeb/AFP/Getty Images) This story was published as an op-ed in The New York Times. Regulator says leak found at Petrobras oil field. Stopping Climate Change Is Much Cheaper Than You Think | Wired Science. You've heard it before: politicians say they'd love to take action against climate change, but they're reeling from sticker shock. Today, a new report from the UK's leading climate change watchdog refutes this oft-cited argument that climate action will herald economic Armageddon.
The Committee on Climate Change report, with the hairy-sounding title "Statutory Advice on Inclusion of International Aviation and Shipping," says that in 2050, the UK's emissions reductions across the whole economy will cost 1-2 percent of the total GDP. This updates, in greater detail, the range predicted half a decade ago by the watershed Stern Review. Just how much is that? Mutant Heat Wave Shattering Records. Credit: NOAA/Southern Regional Climate Center More than 2,200 warm temperature records have been set so far in March. Take a look at the map above to see where temps are crazy departures from normal. This isn't your average heat wave.
Its duration, set against more than a century of record keeping, makes it one for the climate change chronicles. Saving the whales? Now there's an app for that, too. Shocking Conflict of Interest: Private Water Companies Partner With Fracking Lobby : occupywallstreet. Discovery's 'Frozen Planet' Is Silent on Causes of Climate Change.
---