Rédaction
How to Write the Perfect Blog Post. Headline Formulas That Convert | 7 Examples. My wife thinks I am weird.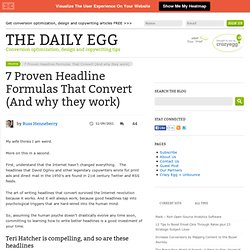 More on this in a second. First, understand that the Internet hasn't changed everything. The headlines that David Ogilvy and other legendary copywriters wrote for print ads and direct mail in the 1950′s are found in 21st century Twitter and RSS feeds. Be a Better Blogger: The Ultimate Resource Toolbox. Countless hours lost.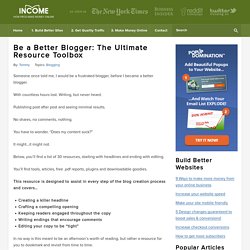 Writing, but never heard. You publish post after post, and see minimal results. No shares, no comments, nothing. The 10 Commandments of Landing Pages That Work. 3 Psychological Triggers that Can Move Your Audience from Indifference to Desire. The Anatomy of a Better Blog Post. 17 Copy-And-Paste Blog Post Templates | The Smart Passive Income Blog. I'm usually a trooper when it comes to pain…but this wisdom tooth extraction has just not been treating me very well.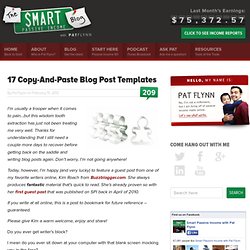 Thanks for understanding that I still need a couple more days to recover before getting back on the saddle and writing blog posts again. Don't worry, I'm not going anywhere! Today, however, I'm happy (and very lucky) to feature a guest post from one of my favorite writers online, Kim Roach from Buzzblogger.com. Le traitement anti-feuilles blanches : comment être inspiré et créatif. Note : Article invité rédigé par Johann, webentrepreneur, formateur et blogueur, auteur du blog Pro-Influence et de la méthode C.R.E.A.T.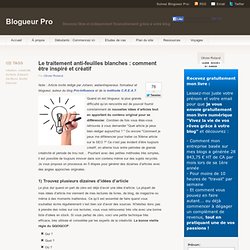 Quand on est blogueur, la plus grande difficulté qu'on rencontre est de pouvoir fournir constamment de nouvelles idées d'articles tout en apportant du contenu original pour se différencier. Combien de fois vous êtes-vous retrouvés à vous demander "Quel article je peux bien rédiger aujourd'hui ? " Ou encore "Comment je peux me différencier pour traiter ce 50ème article sur le SEO ? " Ce n'est pas évident d'être toujours créatif, on alterne tous entre périodes de grande créativité et période de trou noir… Pourtant avec des petites méthodes très simples, il est possible de toujours innover dans son contenu même sur des sujets recyclés.
Je vous propose un processus en 5 étapes pour générer des dizaines d'articles avec des angles approches originales. 7 Powerful Ways to End Your Next Blog Post. Are You Making These 7 Mistakes with Your About Page? Comment écrire de beaux articles pour votre blog ? Article rédigé par Kavel, un blogueur qui partage ses créations (wallpapers, icônes, smileys, flyers) ses tutos (Photoshop, Bryce, WordPress…) ainsi que le fruit de ses trouvailles en veille.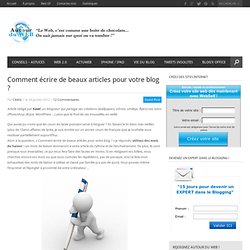 Qui aurait pu croire que les cours du lycée puissent servir à bloguer ? En faisant le tri dans mes vieilles (plus de 15ans) affaires de lycée, je suis tombé sur un ancien cours de Français que je souhaite vous restituer partiellement aujourd'hui. Alors à la question, « Comment écrire de beaux articles pour votre blog ? » je réponds, utilisez des mots de liaison ! Les mots de liaison donneront à votre article du rythme et de l'enchaînement. 10 SEO Blog Post Publishing Steps that Most Bloggers Forget. I see this time and time again.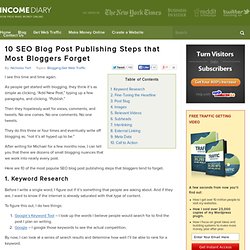 As people get started with blogging, they think it's as simple as clicking, "Add New Post," typing up a few paragraphs, and clicking, "Publish." Then they hopelessly wait for views, comments, and tweets. No one comes. No one comments. 11 Uncommon Blog Post Ideas for More Web Traffic. A really great blog post can bring a flood of visitors to your website when people who read your post share it with the world.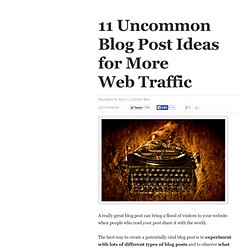 The best way to create a potentially viral blog post is to experiment with lots of different types of blog posts and to observe what has worked for other blogs. Below I'm going to share 11 blog post ideas you can use to get more traffic. These ideas each came by examining popular posts from some of my favorite blogs. These posts became some of the most popular posts on some incredibly popular blogs. Creating Blog Posts 101. Content This is the most important part of you blog post because it's what your visitors have come for, so if you want them to enjoy it and come back, you need to make sure it's up to a good standard.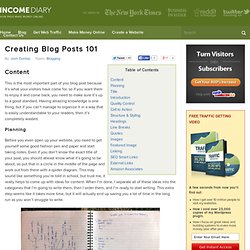 Having amazing knowledge is one thing, but if you can't manage to organize it in a way that is easily understandable to your readers, then it's completely wasted.
---