Stuffed cuteness
Tutowlrial
3 - Machine sewing Start sewing from one side of the opening, and follow the line all around the body. For straight corners, sew all the way to the corner, make sure the needle is down (so the fabric stays in place) then raise the foot of the sewing machine, pivot the fabric around, lower the foot and start sewing again. Do some backstitches at the beginning and the end of the line, to secure the thread. I usually leave the opening between the bottom legs, so it's less noticeable if I mess it up. In this case, I felt very confident and left it open betweent the ears (and the legs were to close to each other, too).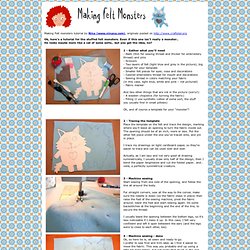 How to Sew a Puppy Dog Doll at WomansDay.com - Free Craft Ideas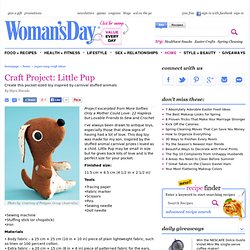 Project excerpted from More Softies Only a Mother Could Love: 22 Hapless but Lovable Friends to Sew and Crochet I've always been drawn to antique toys, especially those that show signs of having had a lot of love. This dog toy was made for my son, inspired by the stuffed animal carnival prizes I loved as a child. Little Pup may be small in size but he gives back lots of love and is the perfect size for your pocket.