Clothing
Spring Sewing ~ Spring Ruffle Top Tutorial. From Rae: This spring top is perfect for layering under cardigans in cool spring weather and can be worn right into summer!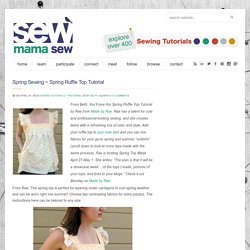 Choose two contrasting fabrics for extra pizzazz. The instructions here can be tailored to any size. Side view with pockets. Step 1: Take your chest and hip measurements. Joyful Ruffle Neck Top – Tutorial. Last week I showed you the top I made for my MIL's B-day, remember?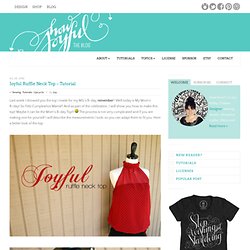 Well today is My Mom's B-day! So Feliz Cumpleaños Mamá!! And as part of the celebration, I will show you how to make this top! Maybe it can be the Mom's B-day Top!! The process is not very complicated and if you are making one for yourself I will describe the measurements I took, so you can adapt them to fit you. Babydoll – Tutorial. Last week I show you all the Babydoll I made for our honeymoon, since I already made it and didn't take pictures of the process, this time I draw the steps as clear as I could, hopefully you will all understand, but if not I will try to make another one, after all I can always use some extra of this I made this out of leftover chiffon and black ribbon, I burn the edges of all pieces carefully to prevent fraying – But be careful sometimes if it gets too burn you end up with a solid hard edge, not nice!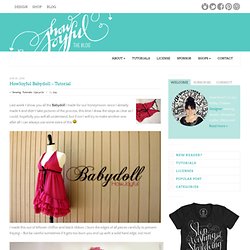 This are all the pieces you need to make: [Click on images to enlarge ] You can check more pictures of the one I made HERE! * This tutorial is provided for personal, non-commercial use only. The Shirt Skirt | Sew Like My Mom. July 28, 2010 I'm so excited to post about this!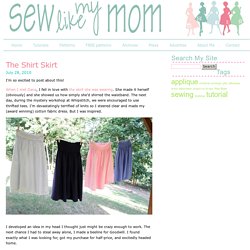 When I met Dana, I fell in love with the skirt she was wearing. She made it herself (obviously) and she showed us how simply she'd shirred the waistband. The next day, during the mystery workshop at Whipstitch, we were encouraged to use thrifted tees. I'm devastatingly terrified of knits so I steered clear and made my (award winning) cotton fabric dress. Bleach on fabric tutorial - Stencil Revolution. Here is my Bleaching Tutorial, exclusively for Stencil Revolution members.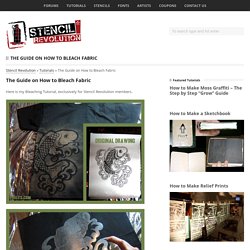 In 2002, I was hired by a small clothing company to invent a process by which we could produce images on garments that would be more "tattooed" into the fabric than screened on. I immediately thought about bleach and began two years of research and testing. I worked with chemists, fabric manufacturers, and artists.
---