Leadership
Clayton Christensen - The 50 Most Influential Management Gurus
We're sorry.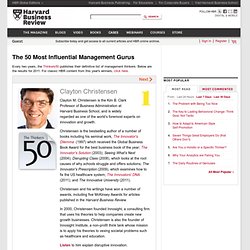 The programmer's dilemma: Building a Jeopardy! champion - McKinsey Quarterly - High Tech - Software
In This Article
Rethinking knowledge work: A strategic approach - McKinsey Quarterly - Organization - Strategic Organization
Few teams function as well as they could.
Three steps to building a better top team - McKinsey Quarterly - Organization - Talent
For all the benefits of the information technology and communications revolution, it has a well-known dark side: information overload and its close cousin, attention fragmentation.
Recovering from information overload - McKinsey Quarterly - Organization - Talent
All strategists grapple with the question of how to create and preserve competitive advantage.
How we do it: Strategic tests from four senior executives - McKinsey Quarterly - Strategy - Strategic Thinking
Leadership and Executive Coaching | MMI Communication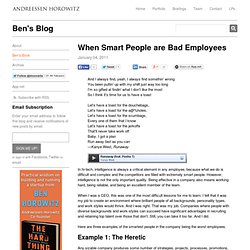 When Smart People are Bad Employees
And I always find, yeah, I always find somethin' wrong You been puttin' up with my sh#t just way too long I'm so gifted at findin' what I don't like the most So I think it's time for us to have a toast Let's have a toast for the douchebags, Let's have a toast for the a@%holes, Let's have a toast for the scumbags, Every one of them that I know Let's have a toast for the jerkoffs That'll never take work off Baby, I got a plan Run away fast as you can —Kanye West, Runaway Artist: Kanye West Track: Runaway Album: My Beautiful Dark Twisted Fantasy Released: 2010 Label: Roc-A-Fella, Def Jam Lyrics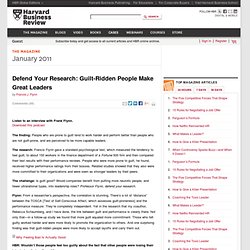 Listen to an interview with Frank Flynn. The finding: People who are prone to guilt tend to work harder and perform better than people who are not guilt-prone, and are perceived to be more capable leaders. The research: Francis Flynn gave a standard psychological test, which measured the tendency to feel guilt, to about 150 workers in the finance department of a Fortune 500 firm and then compared their test results with their performance reviews.
Defend Your Research: Guilt-Ridden People Make Great Leaders
When you have an idea, proposal, or recommendation that you believe in, it's easy to presume that getting it approved will be a breeze.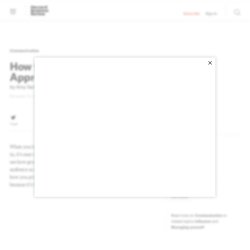 How to Get Your Idea Approved - Amy Gallo - Best Practices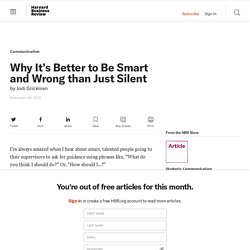 Why It's Better to Be Smart and Wrong than Just Silent - Jodi Glickman
by Jodi Glickman | 8:35 AM November 30, 2010 I'm always amazed when I hear about smart, talented people going to their supervisors to ask for guidance using phrases like, "What do you think I should do?" Or, "How should I...?"