architecture and design
Get flash to fully experience Pearltrees
It started out innocently enough with a simple question, ?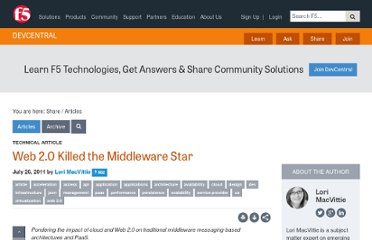 This talk explores when to start performance testing, how to avoid the common pitfalls, how to profile when the results cause your team to pull a funny face, and what you can do about that funny face. Martin Thompson Mar 29, 2013 , This talk investigate WebSocket and how trading systems can be designed to leverage this new web protocol for reliability,security and performance for desktop,mobile,datacenter and cloud environments.
Viddler is in the high quality Video as a Service business for a customer who wants to pay a fixed cost, be done with it, and just have it work. Similar to Blip and Ooyala, more focussed on business than YouTube. They serve thousands of business customers, including high traffic websites like FailBlog, Engadget, and Gawker.
Posted by Olaf Zimmermann on Mar 25, 2011 Sections Enterprise Architecture
A lot has happened since my first article on the Stack Overflow Architecture .
Quora has taken the tech and entrepreneurial world by storm, providing a system that works so fluidly that it is sometimes hard to see what the big fuss is all about. This slick tool is powered, not only by an intelligent crowd of askers and answerers, but by a well-crafted backend created by co-founders who honed their skills at Facebook.
Ken Rimple shows how to write Spring Roo commands and features using the OSGi-based add-on API and how to extend the Roo shell using various Roo objects such as the FileManager and the ProjectManager. Ken Rimple Mar 27, 2013 Assuring compliance across an enterprise needs a holistic approach for defining process & system controls. This article covers a new pattern-based framework to manage process compliance requirements.
Iasa congratulates the new certified CITA-P's Iasa is excited to introduce the new certified CITA-P's. They have demonstrated strengths and high level of competency in the rigorous board certification process. Earning a CITA-P validates your experience as an IT Architect on a global level. The certification is an industry standard, and the only truly global certification on the breadth of architectural skills and knowledge that is technology and vendor agnostic. Gurpreet Singh has over 13 years experience in Architecting, Designing, and Building solutions for a wide range of organizations and domains.