Tutoriaux
Apprendre La Photo | Photo synthèse
Je vous avais promis un truc ludique, eh bien le voici : la (aussi appelée la ). C'est une technique qui existait déjà à l'époque de l'argentique et qui consistait à prendre deux (voire plus) photos sur le même négatif. Concrètement, il n'y a aucune limite à l'utilisation de la . Certains appareils vous permettront de superposer 2 photos, d'autres iront jusqu'à 9, et peut-être même plus.
-Premier Reflex — NoWatch.net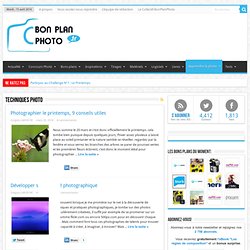 Archive | Trucs et astuces
Comment-photographier.com \ mariage \ préparer \ trucs et astuces [Trucs et astuces] Préparer ses photos de mariage Il y a quelques temps, je vous ai présenté mes petits « Trucs et astuces » pour photographier un mariage. Aujourd'hui, je vous propose, toujours dans le cadre des «Trucs et Astuces», un article rédigé par Stéphane, photographe professionnel et webmaster du site Comment-photographier.com. Stéphane aborde dans cet article les différents rendez-vous avec les mariés, étapes importantes de la préparation, qui vous permettront de [...] [Trucs et astuces] L'expérience au service de la créativité – La Boite à Photos
En novembre dernier, Darren Rowse du site digital photography school posait cette question simple à ces lecteurs : Qu'auriez vous aimez savoir avant de faire de la photographie ? L'idée m'a semblé intéressante. Vous rappelez-vous quand vous avez commencé la photo, le chemin que vous avez parcouru, les embûches que vous avez affronté, et peut être auriez vous pu les éviter avec quelques conseils simples.
10 vérités à connaitre avant de faire de la photo
We spent the last week learning all about the basics of photography, from the way your camera works to composing your photos to editing them in post.