Tutoriaux
Apprendre La Photo | Photo synthèse
Je vous avais promis un truc ludique, eh bien le voici : la (aussi appelée la ). C'est une technique qui existait déjà à l'époque de l'argentique et qui consistait à prendre deux (voire plus) photos sur le même négatif. Concrètement, il n'y a aucune limite à l'utilisation de la . Certains appareils vous permettront de superposer 2 photos, d'autres iront jusqu'à 9, et peut-être même plus.
-Premier Reflex — NoWatch.net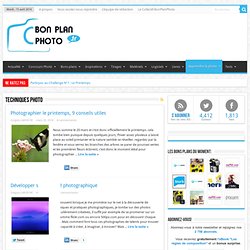 Archive | Trucs et astuces
astuces \ internet \ photo \ tirage \ trucs [Trucs et astuces] faire développer vos photos par Internet Lorsque nous revenons de vacances ou de ballades photographiques, deux options s'offrent à nous. Soit nous pouvons conserver nos clichés sur notre ordinateur, disque dur ou clé USB, ou bien les imprimer. On sait que l'impression à domicile à un coût relativement cher, donc nous allons voir dans cet article, comment s'en sortir dans le vaste choix qui s'offre à nous […] astuces \ Noel \ photographier \ trucs
En novembre dernier, Darren Rowse du site digital photography school posait cette question simple à ces lecteurs : Qu'auriez vous aimez savoir avant de faire de la photographie ? L'idée m'a semblé intéressante. Vous rappelez-vous quand vous avez commencé la photo, le chemin que vous avez parcouru, les embûches que vous avez affronté, et peut être auriez vous pu les éviter avec quelques conseils simples. Voici donc une sélection des dix réponses qui me semble être une bonne base de départ pour tous les amateurs et débutants dans la photographie. Credit @ Elyse Patten
10 vérités à connaitre avant de faire de la photo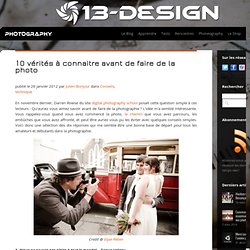 We spent the last week learning all about the basics of photography, from the way your camera works to composing your photos to editing them in post.