Applications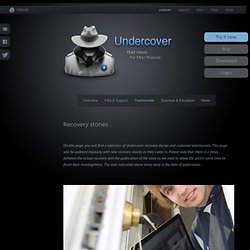 Undercover | Mac | Recovery stories
On this page, you will find a selection of Undercover recovery stories and customer testimonials. This page will be updated regularly with new recovery stories as they come in. Please note that there is a delay between the actual recovery and the publication of the story as we need to allow the police some time to finish their investigations.
Switch between the three main modes: Inspire Me Click to get a random expression without leaving what you were doing. Anytime you feel emotionless - sit back and give yourself a minute.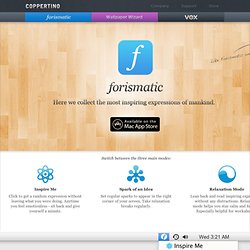 Forismatic for Mac
9 magnifiques écrans de veille | Applecamp | L'univers Mac dans un blog
Bowtie
Caffeine
Description Caffeine is a tiny program that puts an icon in the right side of your menu bar. Click it to prevent your Mac from automatically going to sleep, dimming the screen or starting screen savers. Click it again to go back. Right-click (or ⌘-click) the icon to show the menu.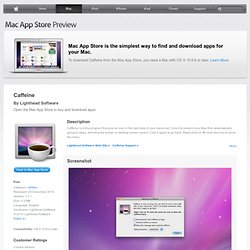 Herald
News shouldn't be like email. Pulp takes your favorite news feeds and presents them in a beautifully friendly & familiar format, making it easy to quickly scan through headlines, previews, and photos to find the stories that interest you most. It's like your very own personalized newspaper, designed for your Mac & iPad. See What's New The latest articles are automatically highlighted, letting you see what's new and how long ago they were posted.
Pulp
Gestures Slide from the left or right edge of the screen to navigate back or forward. Pull-to-refresh also works from the navigation bar, no need to scroll to the top. Slide any article list entry to toggle un/read or un/starred. See Settings for more options.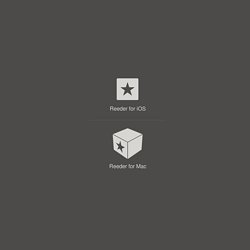 Revamp the Dock With Refinery, giving your Dock a whole new look is as simple as drag-and-drop. The Live Preview feature lets you see your changes as you make them, and you can export your favorite docks as Refinery Dock files, which you can import back into Refinery later. And it only takes one click to restore your Dock to its default state. Customize the Finder Change your Finder sidebar, toolbar, and alert icons easily with Refinery.
Refinery
We're excited to announce that Sparrow has been acquired by Google! We care a lot about how people communicate, and we did our best to provide you with the most intuitive and pleasurable mailing experience. Now we're joining the Gmail team to accomplish a bigger vision — one that we think we can better achieve with Google. We'd like to extend a special thanks to all of our users who have supported us, advised us, given us priceless feedback and allowed us to build a better mail application. While we'll be working on new things at Google, we will continue to make Sparrow available and provide support for our users.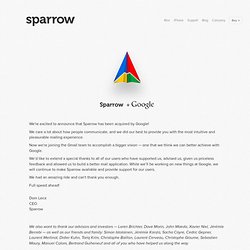 Sparrow
First of all, we would like to thank all of you all who took the time to send us your feedback, suggestions and good vibes. We'd also like to thank our wonderful group of alpha testers for spending their valuable time helping us. As you may have noticed, we're just a few people doing all the work: Jonatan Castro (the designer) and Fernando García Torcelly (the developer).
Squire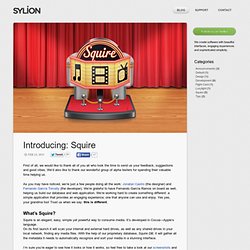 Recurring to-dos Capture your daily, weekly and monthly to-dos. Subtasks Break big tasks intosmaller achievable goals. Share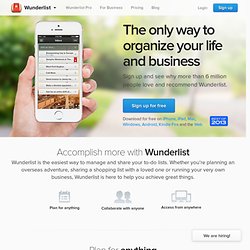 Macs are awesome straight out of the box, but that doesn't mean that you can't make them a lot better with a few quality downloads. Today we've rounded up eighty of the most handy utilities to improve the basic functionality of your Mac in a number of ways. Below you'll find almost every kind of utility you could need, from hardware controllers to maintenance software and file organization tools.