Teaching - training
Webinar | GoToWebinar. Yes! 50 Scientifically Proven Ways to Be Persuasive « alex.moskalyuk. Noah Goldstein's, Steve Martin's (no, not that Steve Martin's) and Robert Cialdini's Yes!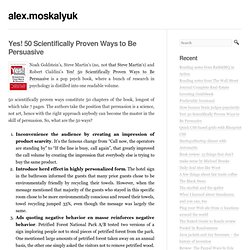 50 Scientifically Proven Ways to Be Persuasive is a pop psych book, where a bunch of research in psychology is distilled into one readable volume. 50 scientifically proven ways constitute 50 chapters of the book, longest of which take 7 pages. 10 Ways To Explain Things More Effectively. April 1st, 2008 By Calvin Sun In the course of your work, you may sometimes need to explain technical concepts to your customers.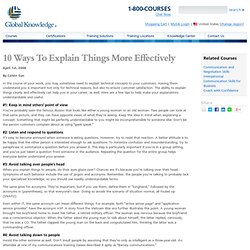 Having them understand you is important not only for technical reasons, but also to ensure customer satisfaction. Suspenso. El suspense[1] o el suspenso[2] (del latín suspensus, a través del francés y éste a su vez del inglés) es un recurso utilizado en obras narrativas en diferentes medios (cine, historieta, literatura, etc.) que tiene como objetivo principal mantener al lector a la expectativa, generalmente en un estado de tensión, de lo que pueda ocurrirle a los personajes, y por lo tanto atento al desarrollo del conflicto o nudo de la narración.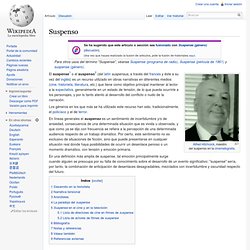 Los géneros en los que más se ha utilizado este recurso han sido, tradicionalmente, el policíaco y el de terror. En líneas generales el suspenso es un sentimiento de incertidumbre y/o de ansiedad, consecuencia de una determinada situación que es vivida u observada, y que como ya se dijo con frecuencia se refiere a la percepción de una determinada audiencia respecto de un trabajo dramático. 52 Habits of Highly Effective Teachers. Being an effective teacher largely boils down to being able to diagnose problems early, roll with changes, and straddle a line between being a ruler and being a leader.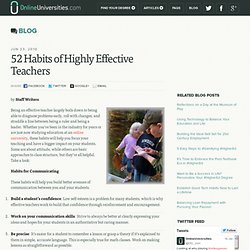 Whether you've been in the industry for years or are just now studying education at an online university, these habits will help you focus your teaching and have a bigger impact on your students. Some are about attitude, while others are basic approaches to class structure, but they're all helpful. Take a look: 10 Reglas de Oro de la educación financiera | Arte Contable. 10 Reglas de Oro de la educación financiera. Principios básicos en la educación de tu cachorro.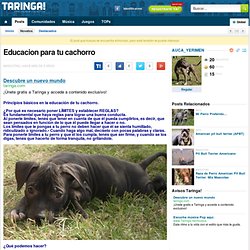 ¿Por qué es necesario poner LÍMITES y establecer REGLAS? Es fundamental que haya reglas para lograr una buena conducta.Al ponerle límites, tenés que tener en cuenta de que él pueda cumplirlos, es decir, que sean pensados en función de lo que él puede llegar a hacer o no.Los límites que le pongas a tu perro no deben hacer que él se sienta humillado, ridiculizado o ignorado.• Cuando haga algo mal, decíselo con pocas palabras y claras.Para ponerle límites a tu perro y que él los cumpla, tenés que ser firme, y cuando se los digas, tenés que hacerlo de forma tranquila, no gritándole. ¿Qué podemos hacer?
Crash course in learning theory. « If pets could design user experiences... | Main | Crash Course in Learning Summary » Crash course in learning theory One formula (of many) for a successful blog is to create a "learning blog".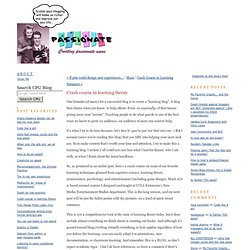 A blog that shares what you know, to help others.
---