Creatividad Presentaciones - Creativity Slides
How to Make a Slideshow with a Transparent PNG Frame. Today's tutorial is headed back to the basics.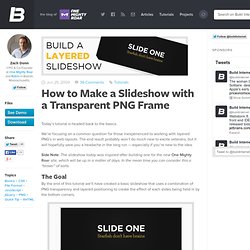 We're focusing on a common question for those inexperienced to working with layered PNG's in web layouts. The end result probably won't do much new to excite veterans, but it will hopefully save you a headache in the long run — especially if you're new to the idea. Side Note: The slideshow today was inspired after building one for the new One Mighty Roar site, which will be up in a matter of days. In the mean time you can consider this a "teaser" of sorts. Your slideshow's little black dress. Have you noticed something lately?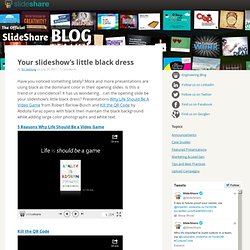 More and more presentations are using black as the dominant color in their opening slides. Is this a trend or a coincidence? "guy kawasaki" on SlideShare. Rules for Revolutionaries. The Art of Innovation (by Guy Kawasaki) Como Generar Ideas Creativas. Notas sobre el proceso creativo. Creatividad Y Pensamiento Creador. Proceso creativo equipo cian. El proceso creativo. Material neuronilla. El concepto de creatividad. Az De Luz El Proceso Creativo Por Fanny Jem Wong. Creativity & Innovation. Design thinking in wild learning. Creative Briefing.
Ideas idea ideas: strategy talk with MAS. Insights Into the Creative Process. Visualization Methods. The Back of The Napkin (Dan Roam) Visual and Creative Thinking:What We Learned From Peter Pan and Wil... Solving complex problems through design. Handy tips for creative thinking. The Best Question in the World. Creative Project Planning ideas. Introduction to Creative Synthesis. Diseño Libre. How To Be Creative, By Hugh MacLeod (a ChangeThis manifest) Unmanaging: Unleashing the Creative Beast. Jason Theodor's Creative Method and Systems. Creativity. Chaos and Creativity. The Creative Method v2. Creative Method Workshop Edition. Creativity, Design Thinking and How These Have To Do With Innovatio... Chrisla. El Caos y la Creatividad. How Do You Design For Creativity? Let Out the Creative Beast. Critical Thinking forUX Designers (Workshop) Design Thinking for Startups - Are You Design Driven? Los Seis Sombreros Para Pensar. Visual Thinking. Creative Language and Creative Process Across Disciplines: Music, P...
Echo Talk / Ideas, Hope, & The Creative Process. Pensamiento lateral. CREATIVIDAD - FANNY JEM WONG. Felipe estrada creatividad. Creatividad e Innovacion en las Organizaciones.
---