Adobe Creative Suite
Photoshop. How To Make Digital Photos Look Like Lomo Photography. A Post By: Darren Rowse The following tip on getting digital images to look like Lomo Images was submitted by DPS reader – Frank Lazaro.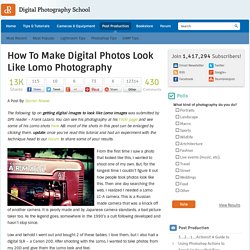 You can see his photography at his Flickr page and see some of his Lomo shots here NB: most of the shots in this post can be enlarged by clicking them. update: once you've read this tutorial and had an experiment with the technique head to our Forum to share some of your results. From the first time I saw a photo that looked like this, I wanted to shoot one of my own. But, for the longest time I couldn't figure it out how people took photos look like this. Best Surreal Photoshop Tutorials. One of the best uses for stock images like those here at StockVault is photomanipulation, namely, taking free photos and altering them to create a digital artwork or creative composition.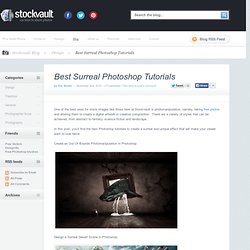 There are a variety of styles that can be achieved, from abstract to fantasy, science fiction and landscape. In this post, you'll find the best Photoshop tutorials to create a surreal and unique effect that will make your viewer want to look twice. Photoshop Brushes Gallery - Brush King. 50 Free Photoshop Brush Sets Everyone Should Have. The Most Wanted Design Tutorials in Photoshop | Web Resources, Design Inspiration, and Fun Spill! Playing with Displace Filter in Photoshop. I have been playing a lot with the Displace filter in Photoshop and I still get impressed with how powerful it is.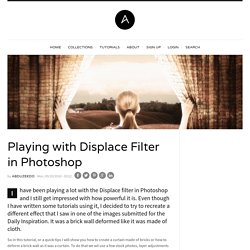 Even though I have written some tutorials using it, I decided to try to recreate a different effect that I saw in one of the images submitted for the Daily Inspiration. It was a brick wall deformed like it was made of cloth. So in this tutorial, or a quick-tips I will show you how to create a curtain made of bricks or how to deform a brick wall as it was a curtain. To do that we wil use a few stock photos, layer adjustments and the Displace filter in Photoshop CS5. Adobe Illustrator. Free Vector Art - Download Free Vector Art Graphics at Vecteezy!
---