Gestion
Si bien el software libre está presente en sistemas operativos hasta soluciones de ofimática básica y avanzada os vamos a presentar nada menos que 50 alternativas código abierto a software privativo de seguridad. Con ello pretendemos dejar claro que en muchas ocasiones siempre podremos hacer uso de software libre y ahorrar de paso unos euros en caras licencias a compañías que ofrecen servicios similares. De hecho os vamos a presentar una lista de 50 aplicaciones de código abierto y las aplicaciones a las que pueden ir sustituyendo. La seguridad es un tema a tener muy en cuenta tanto en un ambiente personal como en uno profesional. Sin embargo en muchas ocasiones sólo prestamos atención a las ofertas de compañías de seguridad que nos ofrecen sus kits de antivirus, firewall y antispyware a un precio fijo y no comprobamos alternativas.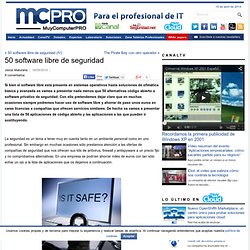 50 software libre de seguridad | MuyComputerPRO
Aplicaciones para PYMES .::. Centro de Excelencia de Software Libre de Castilla La Mancha
Madrid On Rails
If you can see this page, then the people who own this website have just installed the Apache Web server software and the Apache Interface to OpenSSL (mod_ssl) successfully. They now have to add content to this directory and replace this placeholder page, or else point the server at their real content. If you are seeing this page instead of the site you expected, please contact the administrator of the site involved. (Try sending mail to .) Although this site is running the Apache software it almost certainly has no other connection to the Apache Group, so please do not send mail about this site or its contents to the Apache authors. If you do, your message will be ignored .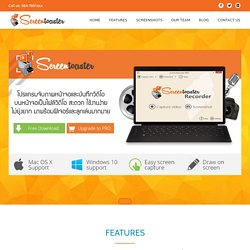 cenatic.es
Las mejores herramientas para crear documentos en equipo [Pag. 1 de 4] | CONSUMER EROSKI
Servicios web para capturar pantallas | CONSUMER EROSKI
INTECO. centro de alerta terprana sobre virus y seguridad informática
http://www.protegeatushijos.com/
http://www.opengoo.org/about.html
Feng Office services are based on an integrated set of software and technology that improve productivity and communication; facilitating collaboration, information, and knowledge management. Feng Office mission is to provide services and technology to improve the quality of team work at small and medium sized organizations. We believe our work and service should produce not only better economic results, but a higher level of satisfaction to our customers, employees, vendors, investors, and community. To achieve this mission we are committed to work with honesty, responsibility and respect.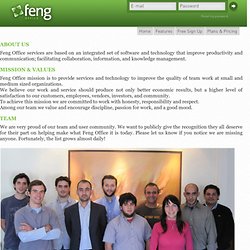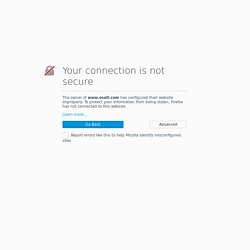 Today the future of internet begins - and open source is readyCompanies world-wide start to embrace the new standard for communication on the internet; the Internet Protocol version 6 - also known as IPv6. IPv6 will at some point replace existing IPv4 which have been used to transport our data through the internet for more than 30 years. The main reason to switch is that IPv4 only allows around 4 billion internet addresses. In order for one device to communicate with another on the internet each of them has to have a unique internet address (IP address). With the number of devices currently on the market - computers, smartphones, smart tvs and set-top boxes - we are already out of addresses. However, clever manipulation allows some devices to share IP addresses with other devices, but this is not an ideal situation.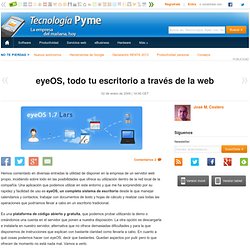 eyeOS, todo tu escritorio a través de la web
Hemos comentado en diversas entradas la utilidad de disponer en la empresa de un servidor web propio, incidiendo sobre todo en las posibilidades que ofrece su utilización dentro de la red local de la compañía. Una aplicación que podemos utilizar en este entorno y que me ha sorprendido por su rapidez y facilidad de uso es eyeOS, un completo sistema de escritorio desde le que manejar calendarios y contactos, trabajar con documentos de texto y hojas de cálculo y realizar casi todas las operaciones que podríamos llevar a cabo en un escritorio tradicional. Es una plataforma de código abierto y gratuita, que podemos probar utilizando la demo o creándonos una cuenta en el servidor que ponen a nuestra disposición. La otra opción es descargarla e instalarla en nuestro servidor, alternativa que no ofrece demasiadas dificultades y para la que disponemos de instrucciones que explican con bastante claridad como llevarla a cabo.
Sendloop - The Easiest and Most Professional Newsletter Sending Service
OpenEMM Home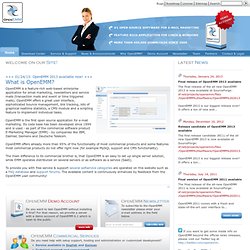 OpenEMM is a feature-rich web-based enterprise application for email marketing, newsletters and service mails (transaction mails and event or time triggered mails). OpenEMM offers a great user interface, sophisticated bounce management, link tracking, lots of graphical realtime statistics, a CMS module and a scripting feature to implement individual tasks. OpenEMM is the first open source application for e-mail marketing.
tienda.winfotinto.com - Inicio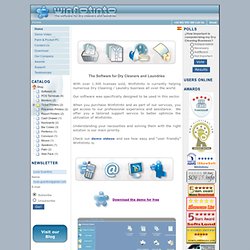 With over 1.300 licenses sold, Winfotinto is currently helping numerous Dry Cleaning / Laundry business all over the world. Our software was specifically designed to be used in this sector. When you purchase Winfotinto and as part of our services, you get access to our professional experience and assistance. We offer you a tailored support service to better optimize the utilization of Winfotinto. Understanding your necessities and solving them with the right solution is our main priority.
Aviso: Esta noticia tiene más de un año. Última actualización: 06/11/2008 MÉRIDA, 6 Nov. (EUROPA PRESS) - La herramienta de software desarrollada por la empresa extremeña RGD Solutions denominada 'Ruralgest' ha sido elegida por el proyecto Prointur como base para relanzar el sector del turismo rural.
Turismo.- La herramienta de software Ruralgest, escogida por el proyecto Prointur para relanzar el turismo rural. europapress.es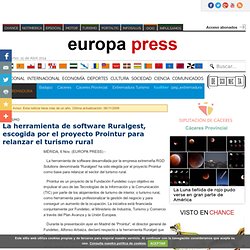 Tenemos la oportunidad de conocer mediante Incubaweb un atractivo administrador de proyectos: ClockingIT , que por su calidad de Open Source puedes tanto usar en línea (mayor comodidad) o instalarlo por tu cuenta (100% a tu disponibilidad). Si te decantas por la versión en línea, como "administrador general" te crearás un tuespacio.clockingit.com al que accederás y desde el cual podrás llevar el control de tantos proyectos como tareas dentro de éstos desees. Los pasos básicos serían:
ClockingIT: administrador de proyectos para tomar en cuenta PymeCrunch »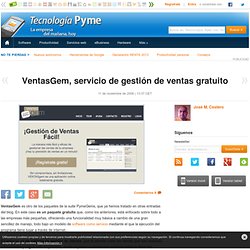 VentasGem es otro de los paquetes de la suite PymeGems, que ya hemos tratado en otras entradas del blog. En este caso es un paquete gratuito que, como los anteriores, está enfocado sobre todo a las empresas más pequeñas, ofreciendo una funcionalidad muy básica a cambio de una gran sencillez de manejo, todo bajo un modelo de software como servicio mediante el que la ejecución del programa tiene lugar a través de internet. En esencia, es un sistema de gestión de ofertas, que te permite tratar las ofertas que has realizado a tus clientes y seguir todo su proceso, desde el primer contacto con el cliente hasta la firma del contrato en caso de aceptación de la oferta. Aunque forma parte de este grupo de servicios, no está integrado con ellos de ninguna forma, por lo que no es posible, por ejemplo, aprovechar estos datos de la oferta para una futura facturación.
VentasGem, servicio de gestión de ventas gratuito
Moneytrackin