Chingonerías
Photo Manipulation At Its Finest (13 pics)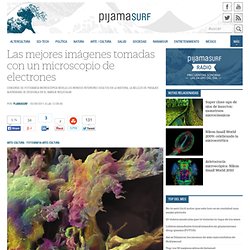 «Hay otros mundos pero están en este», decía el escritor francés Paul Éluard.
Las mejores imágenes tomadas con un microscopio de electrones
Работы Erik Johansson (30 фото - 4.44Mb
Работы Erik Johansson (30 фото - 4.44Mb
We declare the world as our canvas106 of the most beloved Street Art Photos - Year 2012
15 People That Look EXACTLY The Same In Every Photo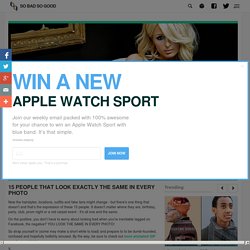 Now the hairstyles, locations, outfits and fake tans might change – but there's one thing that doesn't and that's the expression of these 15 people. It doesn't matter where they are, birthday, party, club, prom night or a red carpet event – it's all one and the same. On the positive, you don't have to worry about looking bad when you're inevitable tagged on Facebook, the negative? YOU LOOK THE SAME IN EVERY PHOTO! So strap yourself in (some may make a short while to load) and prepare to to be dumb-founded, confused and hopefully hellishly amused.
London-based artist Jonty Hurwitz creates 'Anamorphic Sculptures' which only reveal themselves once facing a reflective cylinder. Hurwitz took an engineering degree in Johannesburg where he discovered the fine line between art and science. He has lived in England for many years, working in the online industry though he quietly levitated into the world of art inspired by a need to make 'something real'.
Anamorphic Sculptures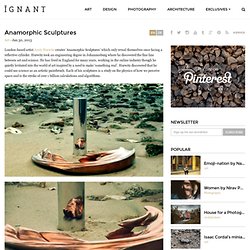 Many people doesn't know, and didn't even heard about these famous abandoned places. Many of these places are really something amazing, but they are also really sad when you take a closer look at them. On the folowing list, you can see abandoned planes, abandoned ships, as well as the abandoned houses, and so many other things, that are really amazing and magnificent. So, check out these amazing abandoned places photos. 1. Christ of the Abyss at San Fruttuoso, Liguria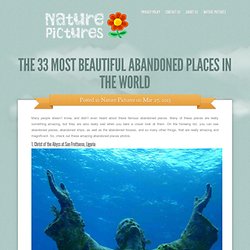 The 33 Most Beautiful Abandoned Places In The World | Nature Pictures
Tim Flach Photography
The Top 75 'Pictures of the Day' for 2012 «TwistedSifter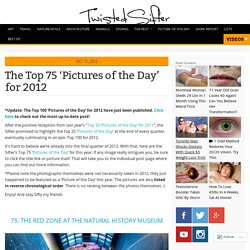 Oct 17, 2012 *Update: The Top 100 'Pictures of the Day' for 2012 have just been published. Click here to check out the most up-to-date post!
Paraíso congelado: fascinantes imágenes de la Antártida
Paisajes sublimes de hielo y paraísos cyan para contrarrestar un los frenéticos tiempos que nos tocó compartir; recordemos que la estética natural conduce a la divinidad Sí es verdad que el camino de los excesos conduce al palacio de la sabiduría, también lo es el que el sendero de la estética natural deriva, inevitablemente, en una comunión con la divinidad. Por eso al contemplar los gélidos paraísos que la Antartida nos convida, no solo nos envolvemos en un proceso sublime que tributa la belleza del universo, sino que de manera simultánea ejercitamos nuestro espíritu y nos exponemos, explícitamente, a los brazos de desarrollo místico. En la Atlántida la conciencia visual retoña como tal vez en ningún otro escenario natural de nuestro planeta.
Adorable God Gifts to Nature The Intricate Lace Paper Art 15 Best Art Pictures of the Week – Feb 23rd to March 1st, 2013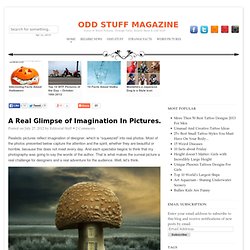 A Real Glimpse of Imagination In Pictures...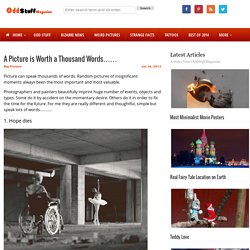 Picture can speak thousands of words. Random pictures of insignificant moments always been the most important and most valuable. Photographers and painters beautifully imprint huge number of events, objects and types. Some do it by accident on the momentary desire.
Pictures of Moments Speak More than Thousand Words......
15 Perfectly timed Photos | Coolphoto
Adding Color To The Most Iconic Photos In History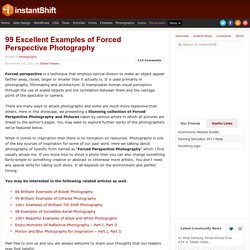 Forced perspective is a technique that employs optical illusion to make an object appear farther away, closer, larger or smaller than it actually is. It is used primarily in photography, filmmaking and architecture. It manipulates human visual perception through the use of scaled objects and the correlation between them and the vantage point of the spectator or camera. There are many ways to attack photography and some are much more expensive than others. Here in this showcase, we presenting a Stunning collection of Forced Perspective Photography and Pictures taken by various artists in which all pictures are linked to the author's pages.
99 Excellent Examples of Forced Perspective Photography | Photography
TYPOE_CONFETTI-DEATH_1_900px.jpg (JPEG Imagen, 900x603 píxeles)
Psicodélicos microcosmos al interior de burbujas: fotografías de Fabian Oefner y Bjoern Ewers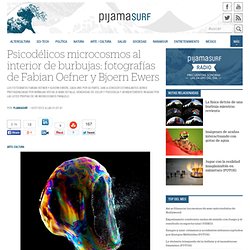 La famosa enunciación hamletana que ganó renovado sentido desde que Borges la incluyó como epígrafe de su Aleph —«O God, I could be bounded in a nutshell, and count myself a king of infinite space»—, se toma frecuentemente como ejemplo de que el espacio puede descomponerse en múltiples, infinitas parcelas que conservan en sí mismas la complejidad suficiente del todo como para considerarse universos propios, mundos ínfimos y al mismo tiempo inmensos cuya medida depende de nuestra percepción y de la mirada que posemos sobre ellos. Así, no sorprende que dos artistas contemporáneos, cada uno por su cuenta, hayan tomado a las burbujas como protagonistas de su obra. Estos fenómenos fluidos que, además, por la forma esférica que adoptan, evocan inmediatamente planetas frágiles, sujetos al vaivén y las circunstancias, prestos a reventar y destruirse pasados apenas unos pocos instantes desde su creación.
Las mejores imágenes del concurso de fotos manipuladas del Smithsonian Institute
Cada año el Instituto Smithsonian lleva a cabo uno de los mejores concursos de fotografía en línea, en categorías como Viajes, Naturaleza, Personas, Americana, y Fotografía Alterada (esta última quizás la más estimulante). Esta masivo centro de cultura, museos e investigación fondeado por el gobierno de Estados Unidos atrae a más de 14 mil fotógrafos de más de 100 países de todo el mundo para participar en su prestigioso concurso. Se pueden visitar las 10 mejores imágenes de cada categoría en la página del Smithsonian, especialmente recomendables las de viajes y naturaleza. Aquí compartimos 8 de las mejores 10 imágenes manipuladas, algunas de ellas análogamente. Una alteración que prefiere antes la elegancia que el surrealismo.
Paulo Latães
Blow Job by photographer TadaoCern
Phoenix, EEUU De paso en la ciudad pesquera de Mahabalipuram, al sudeste de la India, la artista estadounidense Janet Echelman tuvo un atardecer una suerte de epifanía mientras miraba a los pescadores que arriba de sus barcas tiraban las redes para llevar la carga del día. Viéndolos, Echelman imaginó un nuevo tipo de escultura que tuviera la volatilidad de las redes, ese vuelo inmaterial que por un instante las hace parecer tejidas de nada más que delgadas briznas apenas más pesadas que el aire que las sostiene, cambiando a cada momento de forma y de cuerpo sin, esencialmente, nunca dejar de ser algo. En colaboración con varios profesionales de disciplinas distintas—ingenieros mecánicos y aeronáuticos, arquitectos, diseñadores, iluminadores, paisajistas y otros— Echelman creó estas esculturas que comparten con dichas redes sus inestables vuelos, solo que en amplios espacios públicos urbanos que hacen todavía más sorprendente su etérea irrupción. Porto, Portugal
Las etéreas vorágines de Janet Echelman sobre las ciudades del mundo (FOTOS
La fantasía de encontrar un gigantesco monstruo en el patio trasero, no sólo nos remite a la infancia de una persona, nos remite a la infancia de la humanidad. El monstruo primordial, aquel que surge del caos informe, el Leviatán, es parte del Génesis, casi como una contraparte a la creación, dualidad de la divinidad. En la mitología nórdica tenemos al Kraken y en la griega a Ceto, ambos monstruos primordiales ligados a la Tierra, a las fuerzas ctonianas. Acaso la tarea de sembrar monstruos en un patio trasero o en un bosque aledaño, es la continuación natural de los monstruos sembrados en el fondo de nuestra mente. La obra del escultor argentino Adrián Villar Rojas, más allá de lo espectacular que puede ser montar y abandonar un monstruo marino en un paraje, se planta sobre estas fibras arquetípicas para crear un happening del inconsciente.
Monstruos marinos muertos en el bosque, la fantástica obra de Adrián Villar Rojas
Conjuros de la fluidez y la forma: la fotografía submarina de David Doubilet
Girando el mundo 360°: sorprendentes fotografías de Randy Scott Slavin
Unrealistic Scenes on Photography Served
20 Captivating Photos Shot At Exactly The Right
BACK TO THE FUTURE 2 (2011) : Irina Werning - Photographer
The Castle
Split Family Faces
TOP 10: los animales más extraños del 2011 (FOTOS
7 increíbles formas de nubes (FOTOS
Looks like good Photography by Tomas Loutocky
Looks like good Photography by Navis
Paraísos psicodélicos proyectados en películas de jabón
Super close-ups de ojos de insectos: monstruos microcósmicos
Pencil Vs Camera - 57 | Flickr: Intercambio de fotos
Food for Thought 5 - Worth1000 Contests
High Speed Liquid and Bubble Photographs by Heinz Maier
DOUBLE EXPOSURE PORTRAITS on the Behance Network
Playa Buggy - Photo by Scott London
Burning Man 2010 on the Behance Network
Las 10 mejores fotografías microscópicas del 2011
48742_0_1208x1005.jpg (JPEG Imagen, 1208x1005 píxeles) - Escalado (54%)
The Last Words Of 25 Famous Dead Writers
The Other Me
Chris Craymer's Romance: A Beautiful Look Book On Love
Aristocracia microscópica: Nikon Small World 2010
Animal eyes on the Behance Network
Your beautiful eyes on the Behance Network
Increíbles imágenes de nube nave nodriza
AT-110805-colorful-ants-03.photoblog600.jpg (JPEG Imagen, 600x442 píxeles)
70 Photos That Will Take Your Breath Away
Capturan relámpago en rayos X por primera vez
The Ghosts of World War II's Past (20 photos)
Artistic-Photography-6.jpeg (JPEG Imagen, 1024x840 píxeles) - Escalado (65%)
sidewalk chalk guy
free-scenery-wallpaper-1280x800-1004082.jpg (JPEG Imagen, 1280x800 píxeles) - Escalado (68
bogucice | Flickr: Intercambio de fotos
21 Amazing Examples Of Shadow Art: Pics, Videos, Links, News
A Splash of Color by Rackat
Dear Photograph
cntower_timelapse.swf (application/x-shockwave-flash Objeto)
PARIS - panorama | © gillesvidal - photographe
Photography Can Play in That Way! Jamie Beck GIF Creative Photography | Photography RU
The Blues 3